by
posted on March 28, 2016
Support NRA American Hunter
DONATE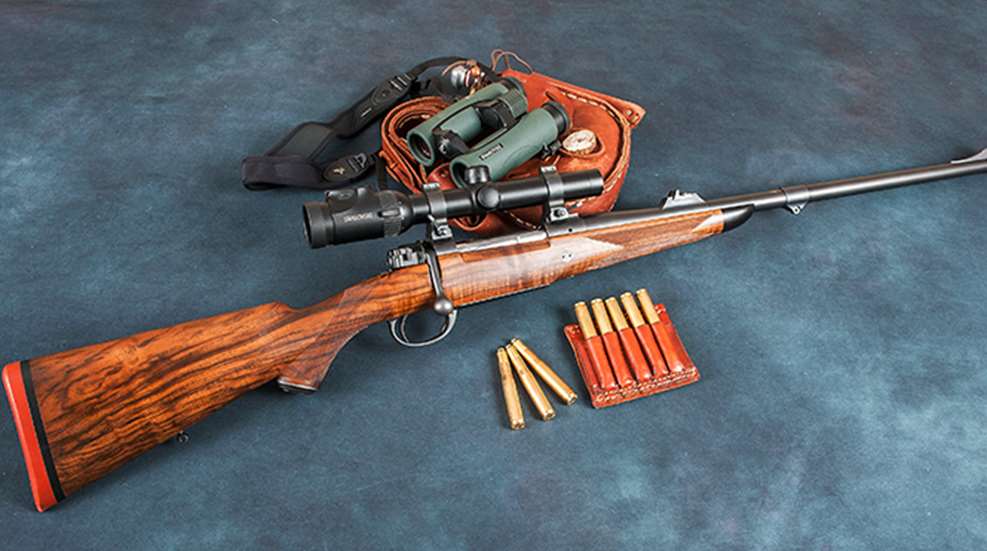 Editor's note: Contributor Philip Massaro put all of this gear to use on a recent bull elephant hunt. Catch up on his story here.
The Heym Express bolt-action rifle is among the nicest rifles I've ever used. A proprietary, controlled-round-feed action, which is built specifically for the cartridge it will be chambered for, is affixed to a 24-inch Krupp barrel. The stock is along the lines of a vintage British rifle: fine cheekpiece, proper drop to use the express sights easily, and a fine fore-end that leads to a quick-pointing rifle.
Heym has the balance of this rifle nailed. It shoulders and swings like a fine double-barrel shotgun. There are 19mm bases machined into the top of the receiver, for use with Talley detachable rings, and that setup worked very well with the Swarovski 1X-6X-24mm scope; it returned to zero no matter how many times it was removed. The Heym trigger breaks crisply at 4 pounds, with no creep and little over-travel.
The rifle liked all sorts of factory ammunition, from Nosler to Norma to Hornady. I decided to handload for this hunt, as I wanted to use Woodleigh Hydrostatically Stabilized solids, which are not loaded by the factory ammunition companies in .404 Jeffery. I cooked up a handload using 80 grains of Alliant Reloder 15 powder in Norma cases, sparked by a Federal GM215M primer, and it printed three shots just under an inch at the 100-yard mark. When it came time to perform on the elephant, I got full-body penetration on a heart shot. Considering that the bulls of the Hwange area are similar in size to the huge Botswana bulls, that's impressive performance.
For a binocular, I settled on the Swarovski 8x32EL. Lighter than most in the EL series, it proved to be perfect for this area of Zimbabwe. I had no problem identifying the smaller antelope in the thick bush, yet watched the vultures circling thousands of feet above the ground. It wasn't cumbersome to carry, and was rock solid when I needed it.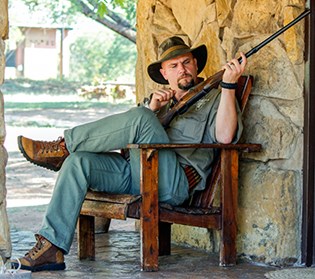 Clothing
Elephant hunting is a game of walking; it's often said that you walk a mile for every pound of ivory taken. I can attest to the fact that you will need comfortable shoes. I have been a fan of the Courteney Boot Company, which makes fantastic safari shoes right in Bulawayo, Zimbabwe. The tire-tread sole is whisper quiet, yet provides plenty of traction. These boots are comfortable enough to spend the entire day tracking elephants and will not cause blisters.
I chose some pre-washed canvas pants from Eddie Bauer for this hunt. They were cool enough in the heat and quiet in the thornbush. Quiet is of utmost importance when hunting elephants, as you'll be up close and personal. Having gone bald years ago, a good means of sun protection is imperative to me. I chose an Outback Trading Company Flinders Reef wide-brimmed hat in a neutral green color. This kept the sun off my noggin, and my head dried quickly even when sweating in the tropical sun.