by
posted on June 21, 2016
Support NRA American Hunter
DONATE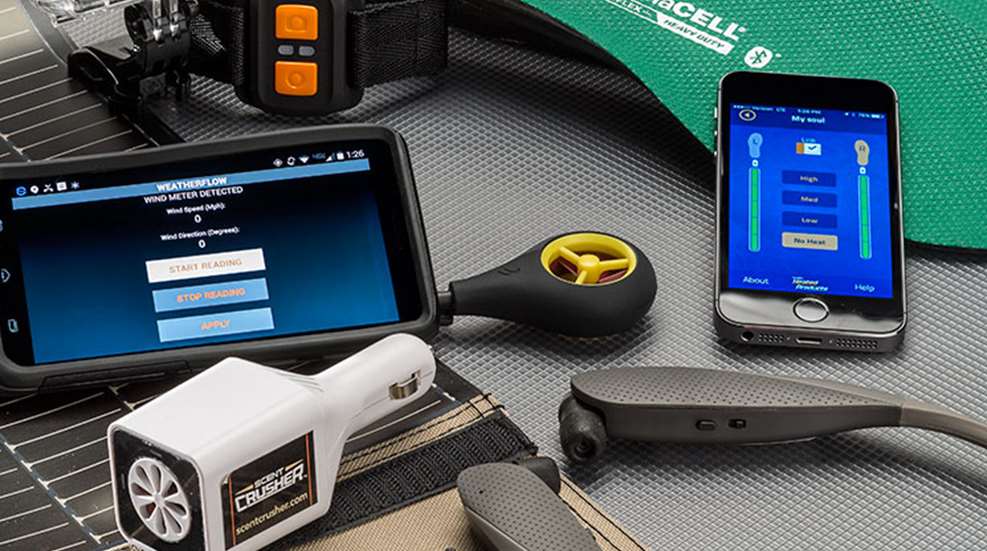 Cyclops Gear CGX2 4K Wi-Fi Action Camera
There's no shortage of point-of-view cameras available to hunters, but this submission from Cyclops Gear takes strides to stand out. It offers 4K HD resolution, optional motion-detection activation and is Wi-Fi compatible via its app. It ships with no shortage of accessories including a handy remote-activation watch (pictured). MSRP: $299.99.
Thermacell ProFLEX Heavy Duty Insoles
The ProFLEX Heavy Duty line of heated insoles features Bluetooth wireless technology and removable, rechargeable, extended-life lithium-ion polymer batteries. They'll keep your feet warm longer than ever before, and you can check battery levels and adjust each sole's temperature with your smart phone through Thermacell's app. MSRP: $199.
Nikon Spot On Ballistic Wind Meter
Nikon's Spot On Ballistic Match technology app lets hunters and shooters match their riflescope and reticle to the trajectory of virtually any ammunition—the new wind meter adds one more piece to this puzzle. It plugs into the headphone port of your smart phone and reads the wind speed and direction, allowing the app to show a hold that compensates for wind drift. MSRP: $39.95.
Bushnell PowerSync SolarWrap Mini-Max
If you have sunlight, the Mini-Max will keep your gear charged when in the field. The diminutive, solar-powered portable charger weighs slightly more than 5 ounces, and charges with just six hours of sunlight. It's a lightweight, packable power source that will keep your small electronics ready to go when you're off the grid. MSRP: $119.95.
ScentCrusher Ozone Go
Don't blow your scent-control methods by climbing into a truck that smells like stale takeout. The Ozone Go is a vehicle air cleaner that kills bacteria and eliminates all smoke, food and pet odors in just 30 minutes. Plugs directly into any vehicle's 12-volt outlet. MSRP: $49.99.
Walker's Game Ear Razor-X
The Razor-X rests easily around your neck while providing retractable digital ear buds with a noise reduction rating (NRR) greater than 26 decibels. Microphones enhance the sounds you'll want to hear—like a whitetail slipping through the woods. No batteries are required, thanks to its AC wall adaptor with USB port. MSRP: $119.99.