by
posted on July 27, 2016
Support NRA American Hunter
DONATE
Your hearing should be taken seriously. Once you lose it, it's not coming back. And tinnitus is nothing to scoff at, either—unless you fancy the idea of having your ears ring until the day you meet your Maker. Noise-induced hearing loss is a burden many hunters and shooters wind up shouldering. Muzzle blasts, after all, aren't particularly quiet. With proper precautions, however, you can give your hearing a better chance at making it to old age.
Among hunters, at least, one of the hang-ups when it comes to hearing protection is finding a solution that saves the ear, but doesn't interfere with the use of a shotgun or rifle. Plugs can handle that job, no doubt. But more advanced solutions have been remained cumbersome, expensive or both. The new Walker's Game Ear Razor-XV just might be the solution. Here are five things you need to know.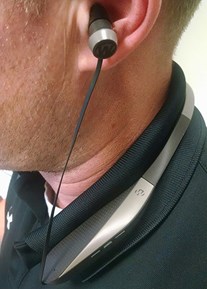 1. It's hearing protection and hearing enhancement, all in one package.
For years, Walker's has worked to deliver products that both protect your enhancing, and enhance it. The company's electronic muffs have remained popular for just that reason. With the Razor-XV, though, you get all of that versatility in a package that's much more subtle and comfortable to use. Hi Gain omni-directional microphones provide clear sound enhancement, so you'll better be able to hear what's going on around you—be it chatter among hunting buddies, or that whitetail sneaking past your stand. By the same token, the unit's Sound Activated Compression circuit features a no fail system for protecting your ears from more harmful noise—like that of a gun shot. It's the complete package.
2. They're comfortable.
The Razor-XV is a neck worn device, and it's a comfortable one. The unit is lightweight, and very flexible. It sits behind your neck, which means it won't interfere with you or your firearm. Earmuff users have always had to wiggle around a bit to make things work when handling a long gun—not an issue with the Razor-XV. The retractable digital ear buds are sturdy, but still provide a comfortable fit. Each unit ships with a number of ear bud options that are easy to swap out, based on your personal fit.
3. They pack a hearty NRR rating.
The Razor-XV headset advertises itself as sporting a NRR (noise reduction rating) of 31 decibels when used properly. I'll spare you the science talk on this go round—just know that the higher the NRR rating, the more protection your ears are being afforded. An NRR of 31 places the Razor-XV firmly in the upper echelon of protection offered by earplugs, and a firm step ahead of what many earmuffs (many of which have NRR's in the low- to mid-20s) can deliver.
4. They're Bluetooth compatible.
Some of the old fogies out there might not like this feature, but hey, they don't have to utilize it. The Razor-XV has Bluetooth connectivity, and you can tie it to your phone (or any other Bluetooth-capable mobile device) with little trouble. Better, the unit features an independent volume control between the microphone and Bluetooth feed. So, yes, you can technically quietly listen to music, a Podcast or anything else you might have on your phone, and still be able to hear that buck running in. It's not a feature I envision many hunters taking advantage of, but those that do will appreciate that option immensely.
5. They're a more affordable hearing protection solution.
The Razor-XV ships with an MSRP of $159.99. That's admittedly a significant step up from the costs of a case of standard foam plugs—but you're getting an awful lot of bang for that buck. The final price tag also falls right in class with most electronic muffs, and well below the cost of custom hearing protection—which can start at well over $1,000.
AmericanHunter.org will have a thorough review of the new Razor-XV later this year. Stay tuned.