by
posted on May 22, 2018
Support NRA American Hunter
DONATE
Vortex Optics has made a name for itself with hunters by producing solid, effective optics that don't cost two house payments. The company has continued this pattern with its new 1X Crossfire Red Dot optic; an efficient, easy-to-use sight for shotguns, rifles and pistols, and can be found on store shelves for around $150.
I mounted the new Crossfire onto my 12-gauge Remington 870 DM Predator and spent some time at the range, and then afield. The Crossfire performed very well, and while it's not a high-end model, it gave me almost everything I'd ever need from a quality red dot optic. Here are five things you need to know.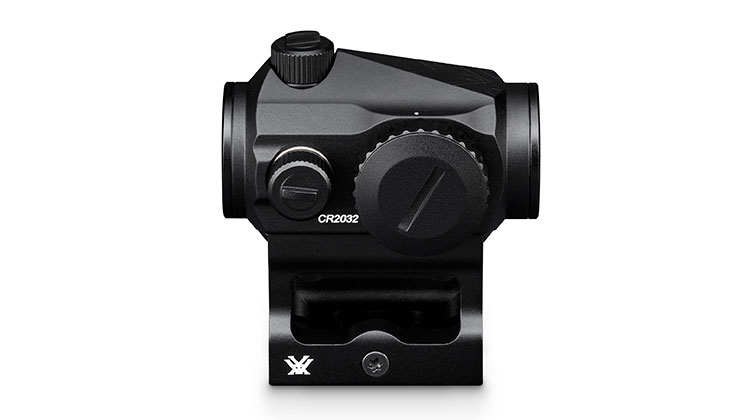 1. Mounting is easy.
The Crossfire red dot features a 2 MOA dot and 11 brightness settings. It's very compact at just 2.5 inches long and weighs only 5.2 ounces. The optic is also is sold with a high-level and a low-level mounting bracket. The high version stood too tall on my shotgun, so I removed the bracket (Torx wrench is provided) and attached the low-mounting version. Per the instructions, I first applied a thread locker compound on the four bracket screws, in this case Uncle Mike's Blue ThreadLocker. The mounting bracket attached easily to the 870 Predator DM's picatinny rail.
2. It zeros quickly.
At the range, I zeroed the Crossfire at 25 yards, using Remington Nitro 3-inch turkey loads with #6 shot. Once I saw where the pattern was hitting on a large piece of paper (several inches low and a bit to the right), I began adjusting the Crossfire's elevation and windage controls. Each click on the controls moves the point of impact approximately one-inch at 100 yards. Many clicks up and a few clicks to the left, and I was on.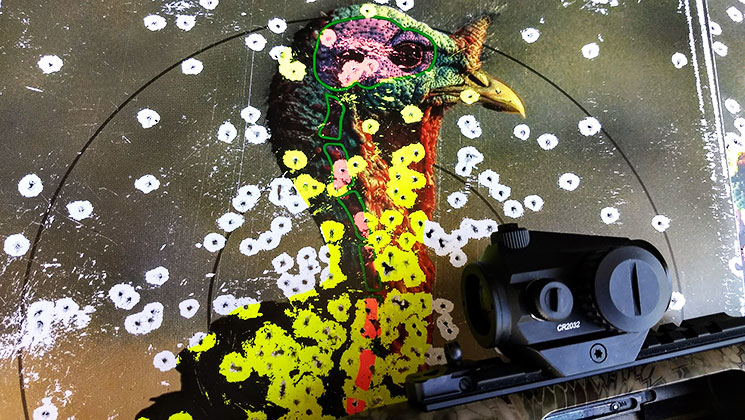 3. It works.
At the range, I replaced my original large sheet of paper with Birchwood Casey's Turkey Splattering Targets. Firing from a rest at 25 yards and aiming about mid-neck, I was able to put 25 pellets into the turkey head and neck kill zones, with just as many pellets into nearby areas. I practiced on several targets and all were well splattered.
4. It's great in various lighting conditions.
My shooting at the range was in full, bright sunlight, and setting the Crossfire to the No. 10 and 11 brightness settings worked best. I took the Crossfire-equipped shotgun into nearby woods and practiced aiming at sticks, leaves and pieces of paper at distances of 20 to 50 yards in dappled light, shade and deep shade. With a few clicks of the brightness control, I found a setting perfect for each lighting situation.
5. The optic makes images so clear, the Crossfire appears to magnify.
Okay, so 1X is not true magnification. But when using the Crossfire, I kept thinking it was doing just that. In the shade, darkened objects were made cleaner with the optic versus my naked eye. At the range, targets set at 50 and 100 yards were noticeably sharper and appeared just slightly larger compared to my unaided eye. Credit the Crossfire's impressive clarity.
True, the Crossfire doesn't have some of the high-end red dot features, like an "off" setting between brightness levels or adjustable dot sizes and colors, but it is a workhorse little optic priced at $300 less than higher-end options—a lot of optic for little money.
Technical Specifications
• Reticle: 2 MOA, red dot
• Brightness Settings: 11
• Attachment/Mount Type: skeletonized mount, high and low versions included
• Magnification: 1X
• Elevation/Windage Adjustment Click Value: 1 MOA at 100 yards
• Lens Material: multi-coated glass
• Length: 2.5″
• Weight: 5.2 ozs.
• Eye Relief: unlimited
• Parallax: free
• Power Source: CR 2032 battery
• Battery Life: approx. 7,000 hours
• Finish: hard anodized black
• Water Resistance Level: waterproof
• Accessories Included: lens covers, skeletonized mounts, T10 Torx wrench, CR 2032 battery.
• MSRP: $219.99; vortexoptics.com