by
posted on February 6, 2019
Support NRA American Hunter
DONATE
Monometal projectiles are absolutely here to stay, and in some states are required by law. Hornady's GMX (Gilding Metal eXpanding) is among the best monometals on the market, and while the company has included them in their loaded ammunition lines before, the new Outfitter series is designed around the GMX exclusively. Known for its deep penetration, good expansion and high weight retention, the GMX makes an excellent choice for the big-game hunter.
Hornady's Outfitter line features nickel-plated cases (my hands can corrode a brass case rather quickly, especially in the environments I hunt), and sealed primers and case mouths to keep things dry as a bone and perfectly clean to ensure smooth feeding. If you've ever kept a brass case in a leather cartridge holder, you've seen the nasty green corrosion, and a nickel case avoids all that mess.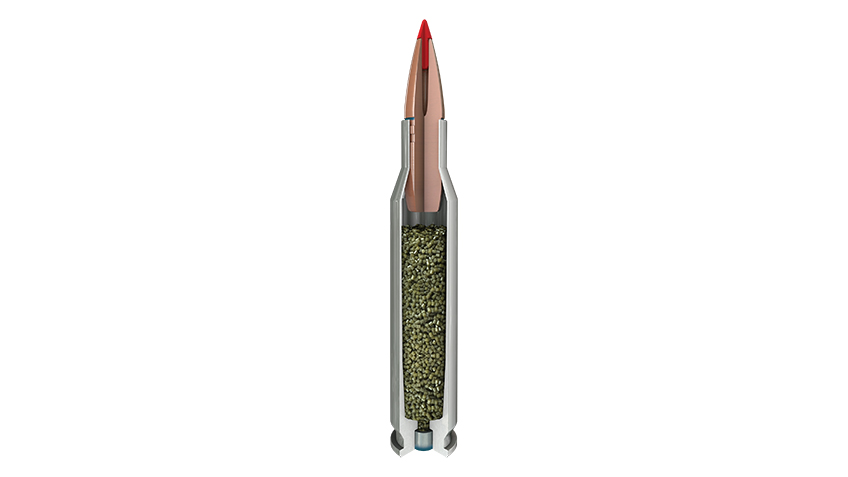 Lead-free (copper alloy) bullets will be longer than their lead core counterparts of the same weight, so in order to maximize case capacity, Hornady has chosen bullet weights on the lighter side of the spectrum. However, the lighter weight doesn't mean lesser performance; due to the structural integrity of a monometal copper bullet, the lighter varieties will often give the performance of the heavier cup-and-core bullets.
Hornady's Outfitter line is available in .243 Winchester (80-grain GMX), 6.5 Creedmoor (120-grain GMX), .270 Winchester and .270 WSM (130-grain GMX), 7mm Remington Magnum and 7mm WSM (150-grain GMX), .308 Winchester  (165-grain GMX), .30-06 Springfield, .300 WSM and .300 Winchester Magnum (180-grain GMX) and .375 Ruger and .375 H&H Magnum (250-grain GMX).
My own experiences with the GMX—which is California compliant—have been nothing but positive; the red polymer tip offers consistent expansion and the bullet has been wonderfully accurate. With a wide range of factory-loaded offerings, the Hornady Outfitter line will serve the adventurous hunter very well.
For more information, visit hornady.com.