by
posted on August 12, 2016
Support NRA American Hunter
DONATE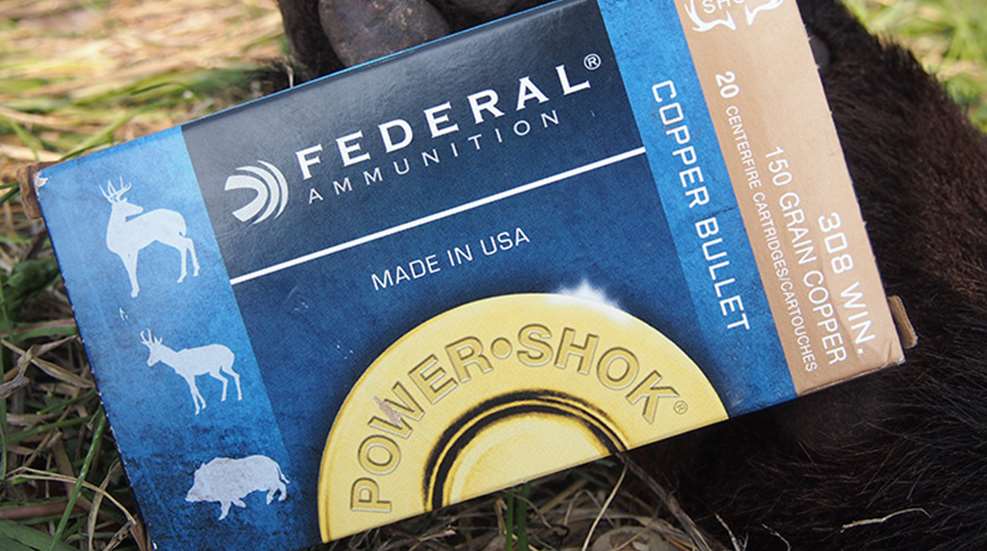 Just in time for hunting season, Federal Premium has introduced its new line of Power-Shok Copper centerfire rifle ammunition, an all-copper round that ships with an affordable price. I had a chance to use the .308 Win. version of the new ammo earlier this year, first at the range and then on a Manitoba black bear hunt. First impressions? It's a quality ammo, with the power to take on nearly all North American big game. Here are five things you need to know.
1. It's accurate.
At the range, it didn't take long for me to start punching the bullseye at 100 yards, and printing three and four shot groups at one inch and better, with Power-Shok Copper in .308 Win. My rifle was a Savage 11/111 BTH, a bolt-action with a 22-inch barrel and a wood laminate, thumbhole stock. For an optic, I used a Bushnell Trophy 4-12x40mm scope.
2. It's hard-hitting.
On my hunt I was able to take a 300-plus-pound black bear. It was a hunt over bait, so the shot was close—25 yards or so. But the mature bruin was built like a tank, and the 150-grain copper bullet still smashed right through both shoulders. When we dressed him, I saw that the bullet had destroyed his lungs and caused massive bleeding inside; the bullet's deep hollow-point helped create a heck of a large wound channel.
3. It provides another lead-free option.
The all-copper, no-lead construction of the bullet means it can be used in those parts of the country that are restricting lead hunting ammo. While we hunters are no fans of these restrictions, such regulations are increasing. The law is the law and more options like the new Power-Shok Copper can only help us to find the best ammunition for our game, and the best ammo to match up with our specific rifles.
4. It's reasonably priced.
A lot of the current all-copper rifle ammo is going for $40 to $50 for a box of 20. Power-Shok Copper? Suggested retail prices of $32.95 to $33.95 for a 20-round box.
5. Four calibers will initially be available.
Power-Shok Copper will be available in the following hunting loads: .243 Win. 85-grain copper; .270 Win. 130-grain copper; .308 Win. 150 grain and .30-06 Spring. 150-grain. Rumor has it more calibers will likely be added to the line in 2017 and beyond.
All the rounds feature Federal brass, and the all-new Catalyst lead-free primer.
"We believe Catalyst is the most state-of-art primer technology available," said Federal's Chief Chemist Joel Sandstrom. "The new primer is hot, consistent, and provides extremely reliable ignition. This results in a more complete and efficient burn of the propellant, which significantly reduces residue with each shot."