by
posted on January 4, 2011
Support NRA American Hunter
DONATE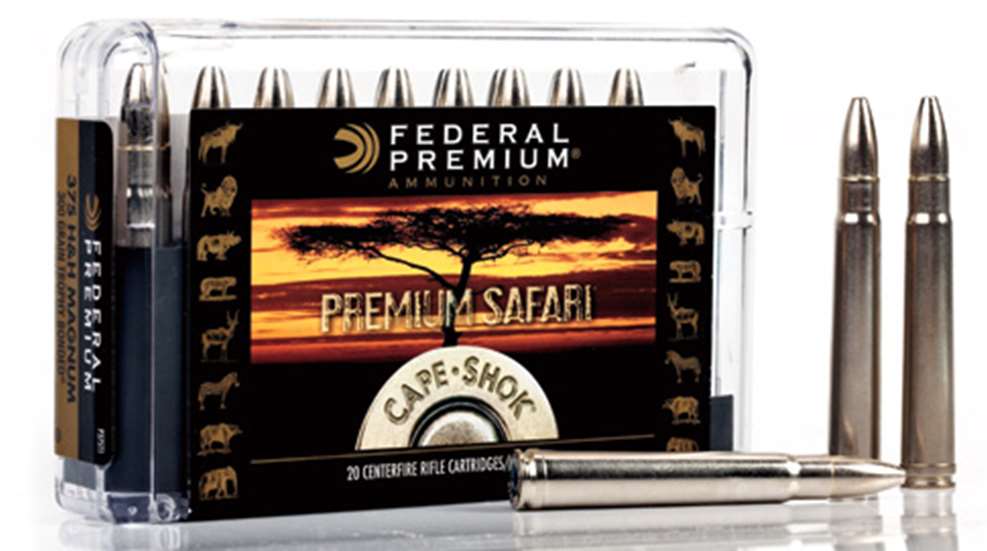 Twenty-five years ago Americans who dreamed of blazing African game trails had a major hurdle to overcome even before leaving home. Unless their rifles were chambered for .375 H&H or .458 Win. Mag., obtaining factory ammunition could be difficult, and regardless of caliber, bullet choices were deficient. Few dealers stocked big-bore cartridges, and hunters eager to shoot a double gun or magazine rifle bearing a legendary name like Rigby or Westley Richards had to find custom loads or try clearing an international shipment from a European maker.
That changed in 1989 when Federal Cartridge targeted a small, but growing market with Premium Safari, an extension of the company's breakthrough Premium brand that combined stringent quality control with custom bullets—for a price. But cost didn't stop big-game hunters from embracing ammo that rivaled top-rate handloads, and soon a new generation was realizing the advantage of controlled-expansion bullets on tough, heavily constructed animals.
Initially Premium Safari offered nine loadings in four big-bore calibers, notably introducing British stalwarts like .416 Rigby and .470 Nitro Express to American gun counters. In short order custom bullets like the Nosler Partition and Trophy Bonded's Bear Claw (controlled-expansion soft-point) and Sledgehammer (solid) were available. Despite scant attention from the sporting press, safari hunters took notice.
Recently Premium Safari Cape-Shok received a makeover that encompasses overall quality control and bullet selection along with slick, see-through, hard-shell packaging. "We have a disciplined internal culture that runs through the manufacturing and assembly processes from case to primer to propellant to bullet," says Federal's Drew Goodlin. "With Cape-Shok, quality is verified by constant testing, pulling samples off the line for checks with chronographs and pressure gauges."
Presently the line offers 10 big-bore calibers ranging from the new .370 Sako Mag. up to .500 Nitro Express, and boasts the largest selection ever of the world's toughest bullets. That's a nod to their customers' understanding of modern bullet performance along with the pros and cons of the leading options.
Understandably, Federal is bullish on its extensive bullet menu, whose most recent additions allow veterans to stick with a favorite, yet help dangerous-game rookies follow recommendations from their PHs. I don't have enough experience to rank these bullets, but I have used them all on a variety of hunts and so I do have opinions.
Trophy Bonded Bear Claw—Since the mid-1990s Trophy Bonded has been Federal's in-house premium projectile, and this soft-point has just been significantly reengineered. Always top-rate, now it should be even better. On my first African safari it staked me to five out of six one-shot kills. Two years ago when my chance finally came inside 15 yards on an old Botswana Cape buffalo, a 300-grain TBBC from my .375 H&H turned the bull sideways to give me a broadside finisher.
Trophy Bonded Sledgehammer—The won't-bend/can't-break construction and a flat meplat (nose) ensure deep, straight-line penetration. Even if you hit bone, this solid can smash right through just about any critter at any angle.
Nosler Partition—The controlled-expansion granddad was the first soft-point that reliably expanded at various ranges and velocities and yet kept the core and jacket intact. May not be the ticket for elephant and such, but the Partition kicks butt on bears and other soft-skinned beasts.
Barnes Triple-Shock X—The famed all-copper bullet is plenty tough enough for the biggest show on earth and in its new (three-ringed) configuration is precise enough from virtually any rifle for long-range shooting. So far I have used this winner on leopard and Cape buffalo (along with a slew of non-dangerous game) so clearly I've got some work ahead of me.
Barnes Banded Solid—No matter what you're hunting, when the chips are down this tough monolithic solid drills through the nonsense.
Swift A-Frame—Popular demand con-vinced Federal to add this bonded, partitioned soft-point in 2010. A favorite of Safari Clubbers, mere mention of the A-Frame is bound to elicit a story. Mine comes from an exchange that occurred hot on the track of a Tanzanian buffalo. One PH told me to load up with solids, but the other insisted my A-Frames might as well be solids. A half-hour later I pumped three of them into a running bull, the first at 70 yards, the second at 100 and the coup de grace at 10. All three were recovered and all three are identical, textbook mushrooms.
Is it just coincidence that the number of Americans hunting in Africa spiked after Federal made safari ammo better and more obtainable? Perhaps. Certainly it's had an influence beyond simply boosting hunters' options. Many industry insiders trace today's hot worldwide market for double rifles back to Federal's intro of .470 Nitro factory loads, and surely the line's success helped convince other ammunition makers to beef up their safari-grade offerings in recent years. While not quite on par with Victorian Britain's heyday of big-bore shooting, there's definitely a renaissance in the works, and I'm glad I'm on board to help make some of the noise.