by
posted on January 8, 2018
Support NRA American Hunter
DONATE
As soon as I saw the whitetail buck slide through the mesquite, I was sure I had a shooter. This was the third morning of a four-day deer and hog hunt at the Spike Box Ranch in Benjamin, Texas, and a tag for a management buck. But Days 1 and 2 had only presented does, very young bucks, and a ten-pointer that looked to be a trophy with a couple more years of growth. 
This Day 3 buck, though, appeared to be at least 4.5 years old: thick neck, broad nose, and a noticeable belly sag. Antlers? He was a smallish eight. But I had an empty freezer back home, and my hunt ended tomorrow at dark. 
The buck made his way to the feeder, didn't find anything he wanted there, and cut over to my right, where he was joined by a doe. The two wandered around the brush at 50 yards. I slid back the window on the blind as quietly as I could, and laid my Remington Model 870 DM Magpul shotgun over the window ledge. The doe trotted off, and the buck looked ready to go, too, turned to his right watching the doe, and gave me a broadside shot.

I lined up the shotgun's ghost ring rear sight and the front post, let out my breath and pulled the trigger. I saw two things flash in front of me almost instantaneously: a cloud of dust behind the buck and the buck bolting away. The way that dust kicked up gave me a twisting feeling in my stomach.
"Did I miss high?" I asked my guide, Dusty, sitting to my right. "Uh, well…."
Actually, the Remington 385-grain AccuTip Bonded Slug hit where it was supposed to, drilling the deer right through both lungs, and exiting to hit the dry West Texas soil behind it.  We found the buck 50 yards away, piled up under a cedar. Later that day, I discovered that my buck represented a first I hadn't even thought about: the first game animal taken with Remington's new Model 870 DM Magpul 12 gauge, the DM standing for the detachable magazine that feeds the gun.
I'd arrived at the Spike Box with a rifle, a handgun, and the 870 DM in my gun case. I'd used the rifle and handgun Days 1 and 2, and had scored two hogs with the rifle. The morning of Day 3, I grabbed the 870 DM and two boxes of slugs, not for any "firsts," but simply figuring it was the shotgun's turn in the rotation.
Remington is marketing the 870 DM Magpul as a "tactical" model 12 gauge. A specific hunting model, the Model 870 DM Predator, is slated to come out sometime in early 2018. However, I've found the "tactical" designation is often more marketing than not. And if you can use a firearm in a "tactical scenario," it will likely work well for the hunter in the field, too. Also, the Predator model is much the same gun as the Magpul model, with the same length barrel (18.5 inches) and magazine feed system. The only differences being a thumbhole stock on the Predator, a camouflage finish and a set of extended hunting choke tubes.
Before I left for my Texas hunt, I spent several range sessions wit the 870 DM Magpul, running a variety of hunting slugs through it with good results. At 50 yards, for example, I got two-inch groups, and often had slug holes touching. Group sizes increased a bit at 75 yards, but still were easily putting shots into a deer's kill zone. Slugs I used included Federal Premium 2 ¾-inch TruBall one-ounce rifled slugs, Remington 2 ¾-inch Premier AccuTip Bonded Sabot Slug and Remington 3-inch Magnum Sluggers launching a one-ounce rifled slug.
At 100 yards, my eyes and the 870's XS Sights came into play. The sight system incorporates a larger "ghost ring" rear sight with a front post featuring a white dot. Younger eyes may well line up the sights and targets at football field lengths and beyond, but I'm well over 50 and I found it near impossible to make accurate shots. Any future deer and hog hunts with the 870 DM Magpul will have me first removing the rear sight and adding an optic of some sort, along the lines of a red dot like a Trijicon MRO link.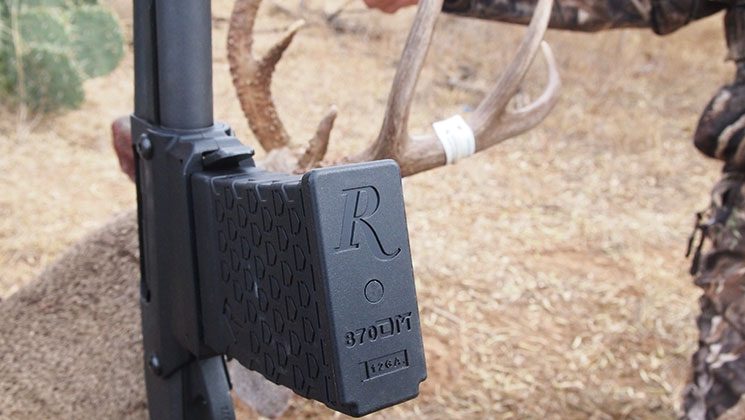 About the detachable magazine: it works well. The magazine is made by Remington, with steel feed lips and a steel top portion built on a polymer body. It loads easily, even with gloves on, fits neatly into the mag well and attaches with an audible "click." I've run over 200 shells through my 870 DM, using a variety of 2 ¾" and 3" slugs and shotshells, and haven't had one failure to eject or cycle. I haven't cleaned the shotgun, either.
Now, that magazine sticking out under the receiver looks like it might get in the way of your shooting. I had the same concern the first time I saw the shotgun. Actually, I found the 870 DM Magpul to be surprisingly nimble and maneuverable, no doubt largely due to the short-ish barrel. In a hunting blind, the magazine actually added to stability. I braced the magazine against the window ledge on my shot at the buck (and later than same morning on a doe, too), just as I do when hunting with an AR-style rifle. Moving through brush, the magazine can get stuck on branches, but only if you are holding the gun away from your body. I'd rate this as a first-rate truck gun, too. 
The 870 DM Magpul is sold with one six-round magazine, though additional magazines can be purchased separately (suggested retail, $34.95). In a state like Texas, with overlapping fall turkey and deer hunting seasons, you could have one magazine loaded with slugs, another with shotshells, and be ready in either hunting scenario. Or quickly switch over. Also of note, Remington will have a three-shell magazine available later this year, too.
I also tried Hevi-Shot's Dead Coyote! 3-inch 00 buckshot load. Not having any coyotes handy, I used Tru-Life targets from Delta McKenzie. Printed in full-color on heavy paper, these targets reflect the life-size dimensions of coyotes (and other varmints), plus feature scoring outlines defining the heart, liver, and lungs. Standing and shooting offhand, I consistently put 7 of the 12 00 buckshot pellets into the coyote's kill zone at 25 yards. Shooting from a solid rest, I think you could easily extend that range by 10 to 15 yards.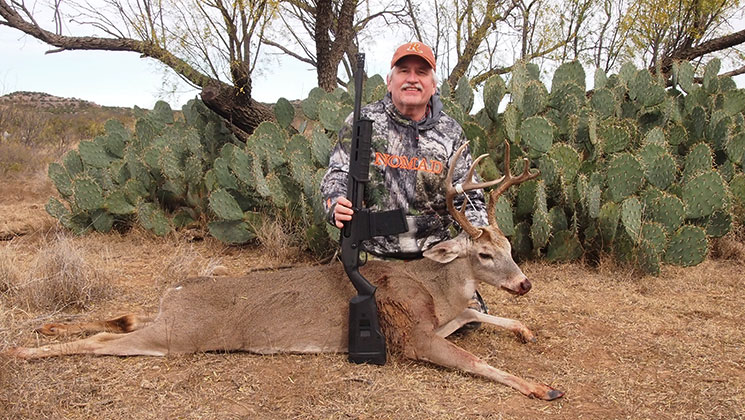 The 870 DM Magpul model comes standard with an extended, ported choke at the end of the cylinder-bored barrel. Other standard 870 choke tubes will also fit the 870 DM models. The Supercell recoil pad does a good job of absorbing recoil and the ported choke helps, too. But this is a pump-action and it's going to kick with the heavy loads. The 3-inch Remington Sluggers, for example, punched my shoulder pretty hard. 
As noted, Remington will offer the 870 DM Predator—the hunting version of the new 870 DM models—later this year. The company will also introduce a DM version in the smaller-sized TAC-14 model, and a more-or-less no-frills standard model.
Technical Specifications
Action: pump-action shotgun
Chambering: 12/ 2 ¾″ and 3″ shells
Barrel: 18.5″ Rem Choke barrel (cylinder bore), with extended, ported tactical choke
Sights: XS steel front sight, and XS Tactical rail/ghost ring rear sight
Stock: Magpul SGA Stock with Super Cell™ recoil pad
Forend: Magpul MOE M-Lok
Weight: 7.5 lbs.
Accessories: ships with one (1) six round magazine
MSRP: $799; remington.com