by
posted on November 1, 2015
Support NRA American Hunter
DONATE
Who doesn't remember back in 2012 when it was revealed that then-vice presidential candidate Congressman Paul Ryan's Secret Service code name was "Bowhunter?" Immediately we hunters knew Rep. Paul Ryan (R-Wis.) was one of us, and now we congratulate our ally on his Oct. 29 election as the 54th Speaker of the House. In addition to being an avid bowhunter who also enjoys firearms, Ryan holds an A rating from the NRA-PVF, is a strong supporter of NRA and the Second Amendment and has been hunters' ally since his election to Congress in 1999 at age 28.
Drawing overwhelming support from 236 members of his own party, Ryan earned support of the full House on Oct. 29 after Speaker John Boehner's September announcement that he would resign Oct. 30. Like speakers before him, Ryan now follows the Vice President in the line of succession to the U.S. presidency.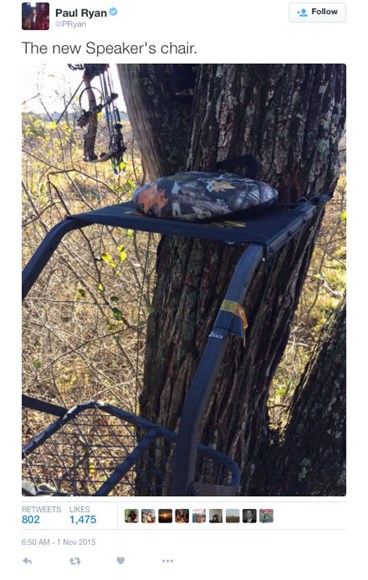 Priding himself on balancing work and family life, Ryan began hunting at age 12 after mowing enough lawns to earn the money to buy a shotgun. As someone who cherishes his time spent outdoors with family and friends, he enjoys passing down our Second Amendment freedoms and hunting heritage to his own three children. Like the rest of American sportsmen, Ryan is quick to explain how the benefits of hunting extend far beyond the hunting woods. For starters, when it comes to giving speeches on the House floor, he has said he was used to maintaining control under pressure, thanks to an experience or two with "buck fever" when a nice buck stepped into view. And when a buck shows, Ryan is ready to take it from field to table as he skins and butchers it and makes his own Polish sausage and bratwurst. 
When the NRA-PVF endorsed Mitt Romney and Paul Ryan for President and Vice President in 2012, NRA members were excited to have a fellow gun owner and avid hunter on the ticket. Following that election, Ryan stayed true to his roots by taking his family hunting, watching as daughter Liza dropped her first deer.
For more facts on Ryan, who enjoys shooting his Mathews bow, he has been a well-received speaker at the annual NRA-ILA Leadership Forum. He regularly sleeps in his office—which he explains simply saves time—and has led a few P90X intense fitness routines for Capitol Hill colleagues. And for anyone who questions his dedication to hunting, one of many things that drew him to his wife, Janna, was that he'd seen her wearing camouflage at a congressional Sportsmen's Caucus dinner! 
Considering the speaker's job is notorious for its extracurricular requirements such as traveling to fundraising events, during the nomination process Ryan repeatedly told fellow House members and the media, "I cannot and will not give up my family time. Our kids are 10, 12 and 13, and I'm not going to do that." We're betting that when it comes to his personal time, the occasional opportunity to hunt is in that mix.