by
posted on April 23, 2014
Support NRA American Hunter
DONATE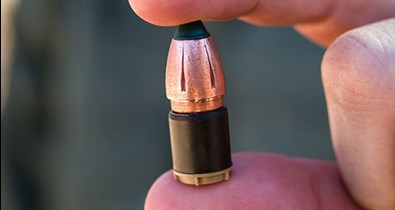 The 143rd NRA Annual Meetings & Exhibits are just days away, and the first new product we've heard about could prove to be revolutionary. Federal Premium Ammunition is striving to redefine modern in-line performance with its new Trophy Copper muzzleloader bullet, which features one of the company's latest innovations: the B.O.R. Lock MZ system.Designed to provide top-notch accuracy in a non-sabot design that's easy to load, scrubs fouling from the breech and ensures consistent bullet seating, the B.O.R. Lock MZ system's foundation is a polymer cup that's permanently attached to the bullet base. Yes, you read that right—it stays attached. This isn't a sabot, but it's not a belted bullet, either. The force of ignition pushes the cup forward onto raised bands along the bullet shank, expanding its diameter. That engages the rifling and seals the bore, optimizing velocity and accuracy.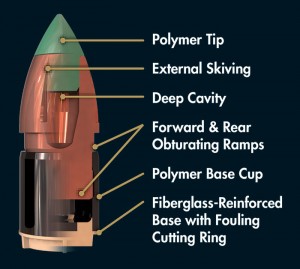 "B.O.R. stands for 'Bullet Obturating Ramp.' The walls of the polymer cup get pushed up and out, into the rifling," said Bryan Peterson, Federal Premium's Senior Product Development Engineer. "You get an excellent seal—and that means better ballistics and downrange performance."The design is meant to serve as Federal's effort to develop a completely new class of projectile."The time was right. We weren't going to get into the muzzleloader market with the same sort of bullet designs that have been around for decades," said Mike Holm, Ammunition Product Line Manager for Federal Premium. "Instead, we used our 90-plus years of ammunition manufacturing expertise to create something special—something that would let muzzleloaders hunt legally in more places, with better accuracy, dependability and ease. It's a true 200-yard muzzleloader bullet."The rear of the B.O.R. Lock MZ cup features a hard, fiber-reinforced polymer ring that scours fouling from the breech as the bullet is pushed into place. The ring is designed to decrease the need to clean between shots, and should make it easy to seat each bullet in the exact same depth every time.Like other projectiles in the Trophy Copper line, the copper-alloy bullet features a polymer tip, with a deep, hollow cavity and skiving that allows for consistent expansion.

Features Include:
• Will initially be available as 50 caliber, 270 grain bullet
• B.O.R. Lock MZ System: Expanding polymer base cup engages rifling and seals the bore for extraordinary velocity and accuracy
• Non-sabot design is approved for hunting in most areas
• Trophy Copper bullet features a polymer tip, with a deep, hollow cavity and skiving that ensures consistent expansion
• High ballistic coefficient flattens trajectories and minimizes wind drift
• Required loading force averages about half that of most sabots
• Fouling-cutting ring scours powder residue from the breech as the bullet is loaded, resulting in consistent seating and reducing the need to clean between shots15-pack units of the new projectile are expected to ship with an MSRP of $24.95.For more information, go to FederalPremium.com.