by
posted on February 12, 2013
Support NRA American Hunter
DONATE
Those with a recent military background are very familiar with EOTech, a company that has become the world leader in holographic optics and sights for small arms. Now crossbow shooters and hunters can enjoy the same benefits of an electronic sight with the EOTech 512.Xbow Sight.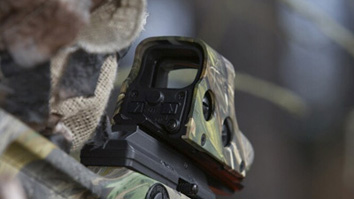 Talk about Star Wars! The Model 512 utilizes the unique properties of holography to create optimal range scaling data in a heads-up display. A pre-calculated ranging scale is projected on the target and measures the back to the belly of the average whitetail deer (16"). All the user has to do is position the base of the scale on the belly and read from where the back intersects the scale, and voila! You now know the distance to the target. With the integral ranging pattern, there is no unnecessary body movement or added noise while in the stand. Both range information and aiming reticle are displayed within the same sight picture to quickly line up your shot.
There's more to it, of course, but once you've played with the product for maybe 30 minutes you'll be ready to rock. The sight incorporates four 1 MOA aiming dots for precise targeting throughout the range of the crossbow. Included with the sight is the Xbow Ballistic Wheel that provides Point of Impact (POI) distance solutions for any speed (FPS) crossbow. All you do is zero in at 20 yards, align the dial to your crossbow speed, then shoot at the other distances to confirm. A handy sticker to attach to the limb of the crossbow is included for the hunter to write down their distances.
At this year's SHOT Show I spoke with EOTech's Ed Schoppman, Vice President Marketing, Sales and Business Development and someone I have shared a hunting camp with, about the product. "The Xbow holographic sight takes all the guess work out of crossbow hunting with optics," he said. "Having ranging and ballistic aiming capabilities all within one viewing window eliminates the need for unnecessary movements in the stand and offers you the ability to transition and get on target quickly".
The product should be available sometime in early April of this year. It weighs just under 11 ounces and mounts to both one-inch Weaver and MIL-STD 1913 rails. It has a run time of 1,000 hours when powered by 2 AA lithium batteries, or 600 hours when using AA alkaline or rechargeable batteries, and is waterproof to 10 feet. MSRP $489.
This thing is the real deal. More information is available here.