by
posted on March 1, 2013
Support NRA American Hunter
DONATE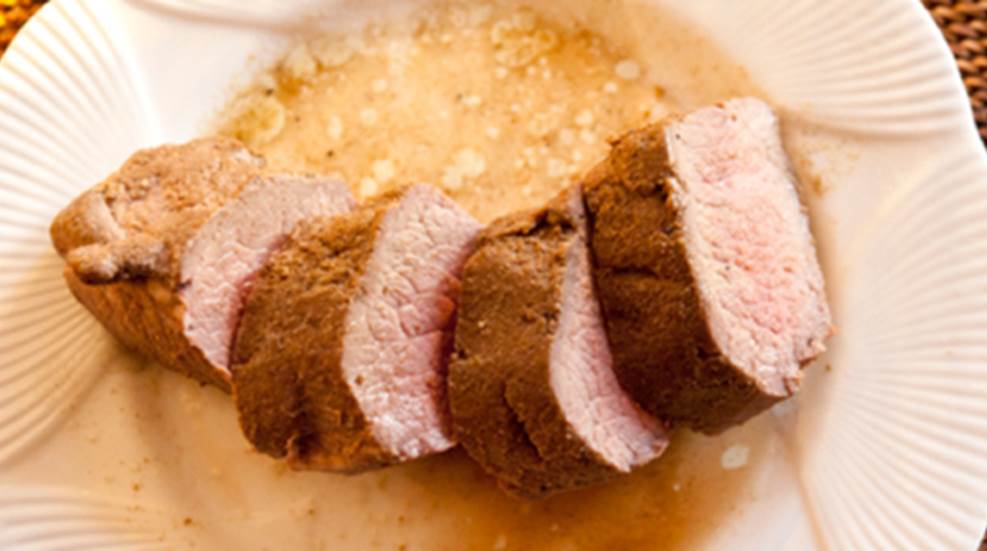 I've long enjoyed this simple preparation for tender cuts of meat, which I use often on lamb chops. It is ready in less than 20 minutes, making it perfect for a weeknight meal. I recently brought some venison home from a deer hunt in Arkansas, along the Mississippi River. The deer was aged for 20 days, which improved the flavor and texture immensely, making it tender and less gamy. I tried this magic rub on the backstraps and the result was just as good as it is on lamb chops.
The key is to salt the meat well to balance out the strong flavor of the cumin. Ideally you will also freshly grind the cumin in a spice or coffee grinder for the most vibrant flavor. Cook the meat to rare, an internal temperature of about 135 degrees F, then let the meat rest under foil for about 10 minutes. As it rests, the temperature will rise slightly and the juices will retreat back into the meat.
Cut the backstrap in thick slices, as the thickness gives leaner cuts of meat a juicier flavor. These slices are also wonderful served room temperature over a salad, so save all of your leftovers.
Try this for a quick and easy weekday meal. The flavors will give the impression that you have devoted much more time to it than it actually takes. You can also try this rub with lamb, bison, steak or any other tender cut of meat that only needs a short period of cooking.
"Cumin Crusted Venison Loin"
• 2 venison back straps
• Salt and pepper
• 1/2 cup ground cumin
• 4 tablespoons grapeseed oil
1. Preheat the oven to 400 degrees F.

2. Lay the venison backs straps in a roasting pan and sprinkle liberally with salt and pepper.

3. Sprinkle the ground cumin over evenly and rub it into the meat uniformly.

4. Drizzle on the grapeseed oil and rub it in as well.

5. Place the roasting pan in the oven for 12 minutes. Remove and cover with tin foil for 10 minutes to rest before slicing into thick slices and serving.
Dish serves six.