by
posted on March 22, 2015
Support NRA American Hunter
DONATE
Marcus Hanson's face glistened, his beard stubble beaded with misty gems as his eyes slowly scanned the dark cobalt sky for movement. His 6-foot-5-inch frame tensed inside the confines of a tight, expertly camouflaged layout blind. His right hand flexed the grip of his shotgun, while his left was positioned to fling open the doors of his hide. For the moment, he was craftily concealed from what was about to descend upon him from above.
Marcus was planted on the edge of a farm-road ditch in a muddy, greening-up field within view of tiny orbs of glowing streetlights that sputtered along the main asphalt drag north out of Stuttgart, Ark. Seven other hunters flanked him—one to the right, six to his left, shotguns in laps, muzzles barely revealed, low but hidden, tense and ready.
Hundreds of white decoys surrounded the layouts, a fake flock that stretched to the front, back, all around and between the supine hunters. Electronic calls chucked in mud wailed snow goose sounds up into gray rain in eerie concert. This was a good setup.
Only hunters' eyes flicked left and right as the shadows floated silently down from high out of the murky morning nothingness. Not yet. Not yet. Wait. Wait …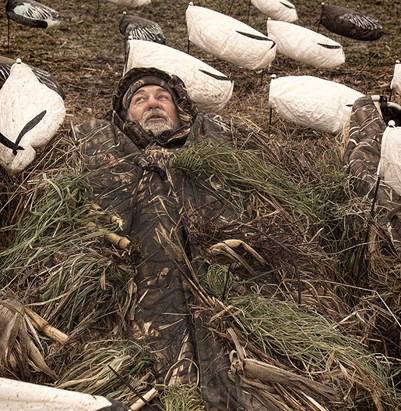 The "Kill 'em boys!" cry had barely left the guide's lips as Marcus launched forward in an explosive sit-up, his big frame blowing open the blind's doors. His Franchi 12-gauge found his shoulder and barked sharply three times, flames and shot catapulting into the big flock of lock-winged snow geese. His steel joined volleys from seven other guns as spent hulls clattered off blinds and into the mud and geese fell, some nearly hitting the hunters as they smashed the ground. The rest of the flock picked up their wingbeats and peeled off sideways to safer skies.
Marcus leaned over my blind on his right, a big grin spreading across his face, hands busily jamming more Black Cloud rounds into the breech: "Epic! This is just epic!"
This trip didn't start out in epic fashion. We had received a call from my buddy Dale Sprouse, another Minnesota native, just a few days before. He was traveling for work in the southern states, and had lined up a snow goose shoot with some friends that was to take place in southern Missouri. Marcus and I wrangled an invite. We eagerly jammed and crammed guns, coffee and gear into every nook and cranny of my Toyota FJ Cruiser, leaving for an all-night drive from just west of Minneapolis to the boot heel of Missouri. We ground on through the night and all the next day in cold, ice, rain and snowdrifts, arriving at the prearranged spot midday, only to get a cell phone call from Nick Posusta, our guide from Eaglehead Outdoors. "Don't even get outta the truck, boys," he said. "This cold has pushed the geese outta here; they mostly went south. Get to Stuttgart, and we'll regroup there."
Oh boy, more driving. Another six hours, another six hours of ice and snow and playing "dodge-'em" with drivers who were not all that expert at navigating such treacherous terrain.
We were chasing geese along the spring freeze-melt-freeze-melt line. Where there was a chance for open water and green fields, there they'd be. By the hordes. But unlike us ground-bound travelers, the geese didn't have to put up with ice storms on interstates, 14-mile pileups of bent and overturned semi-trucks and worse. They'd just pick up and be two states away overnight.
But they did have to put up with us.
We found burgers, a cheap hotel, hooked up with our camo-clad gang and knocked out a simple plan. We learned the startup time, which truck to follow in the morning blackness, and at that point were way too road-weary to worry about more details.
Interesting concept, this spring goose hunting. No limits in most states, very few restrictions on methods. No plugs in shotguns. Electronic calls are a must. And it takes a lot of know-how and just plain work to kill them. How did it come to this?
As our morning progressed and the sun made a halfhearted attempt to punch its way through the fog and gray, geese continued to pour into our set, flock after flock. They met fierce resistance from our gang of eight. Fast sit-ups, blind doors flying open, guns banging away in unison, hulls whistling everywhere. Twice that morning I witnessed 12 snows dropping with thuds in the mud all around us. I personally crushed two triples and smacked more doubles than I can exactly recall. Low hangin' fruit—a rarity.
We took advantage of lulls in the action to scramble out and pick up fallen birds, often times dropping them along the field road and scrambling back into blinds to cover up before the next flock came out of the dirty sky and descended upon us. Epic.
When the cackling flights of snows subsided, we counted 210 birds, all laid out in rows of 20. Poor man's Argentina, we laughed. It was nearly a pickup truck load of snow geese—not a short-bed truck, either. Epic.