by
posted on October 1, 2015
Support NRA American Hunter
DONATE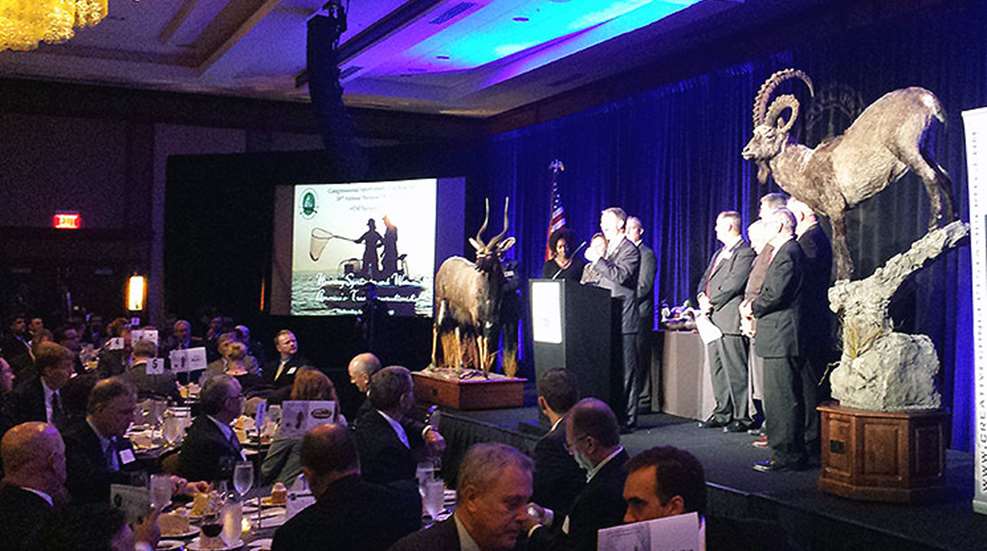 Imagine the fun I had last night in a jam-packed room of avid sportsmen and women at the Congressional Sportsmen's Foundation's (CSF) 26th Annual Banquet & Auction at the Hyatt in Washington. D.C.  We joined 65 U.S. House and Senate members of the Congressional Sportsmen's Caucus (CSC) and leaders from the sportsmen's community for an evening fittingly themed "Honoring Sportsmen and Women: America's True Conservationists." In celebrating the pro-sportsmen policy successes led by the CSC over the past year, the focus was on the benefits hunters and anglers contributed to fish and wildlife conservation, thanks to the American System of Conservation Funding.
As I mingled with table mates and hunting buddies from Host sponsor Winchester Ammunition and NRA supporter Rep. Trent Kelly (R-Miss.), other notables in the room included NRA's own 2nd VP Richard Childress—CSF honorary board member and the face of Richard Childress Racing fame—NRA-ILA Executive Director Chris Cox and fellow NRA Publications staff.
Earlier in the day, the inaugural annual Chairman's Club Lunch brought together CSF's individual supporters. Mark DeYoung, CEO of Vista Outdoor Inc. and Chairman of the CSF Board of Directors welcomed and thanked the Chairman's Club, made up of dedicated outdoors-oriented individuals who share a passion for wildlife, and support our national outdoor heritage. NRA's Richard Childress chimed in, highlighting the important role of the CSC and CSF as a voice for America's sportsmen and women.
Of course, CSC Member, lifelong hunter and conservationist Congressman Paul Ryan (R-Wis.) was in the mix. "The values of sportsmen and women have been a focus throughout my career and I will continue to support the hunting traditions and rights we cherish," he said. "With hunting season underway in Wisconsin, I am looking forward to getting back out in the woods and enjoying the Wisconsin outdoors."
And in other news, I got a photo with "The King." No, not Elvis …In the spirit of NRA's Richard Childress, I'm referring to NASCAR's version: Hall of Famer Richard Petty, the most decorated driver in NASCAR racing history considering he won a record 200 career races and seven NASCAR Cup championships during his 30-year career.
All in all, I'd say I was in good company, starting with event Title sponsors—the National Shooting Sports Foundation and Vista Outdoor Inc.—and Host sponsors Hornady Manufacturing Co., ITC Holdings Corporation, Outdoor Sportsman Group, Safari Club International, Winchester Ammunition and Wine & Spirit Wholesalers of America. Co-Host Sponsors included Amgen, Anheuser-Busch Companies, LLC, Ash Grove Cement Company, Backcountry Hunters & Anglers, Bass Pro Shops, Cabela's Outdoor Fund, CropLife America, Crossroads Strategies, LLC, Dallas Safari Club, FMC Corporation, General Motors, Herbalife Nutrition, Houston Safari Club, Natural Resource Results, LLC, Remington, Richard Childress Racing, Shimano American Corporation, Smith & Wesson, and Yamaha Motor Corporation. And of course, tables a plenty were full of NRA members! 
For icing on the cake, I won a great raffle prize: two two-year memberships in the Dallas Safari Club (DSC). Sometimes you just get a feeling, which is why I told DSC Executive Director Ben Carter I'd win.  And just before the silent auction closed, I got my name down for the NFL Washington Redskins package: NFL Hall of Famer John Riggins' jersey and a Redskins helmet and football. "Riggo's" 1980s Super Bowl performances were off the charts so no wonder this NRA Life member was named the 1982 Super Bowl MVP! Seizing opportunities for great auction items is yet another bonus of attending such events. People get busy mingling and forget to sneak away and bid. As for the live auction, Swift Bullets' Bill Hover won a Colorado elk hunt with my friend Jack Flowers. Small world, as they say, because Jack was in my wedding two years ago. My husband, outdoor TV host Phil Phillips, and I got married on his property and, from firsthand hunting experience, you can get a crack at great bulls, great bucks and the occasional black bear!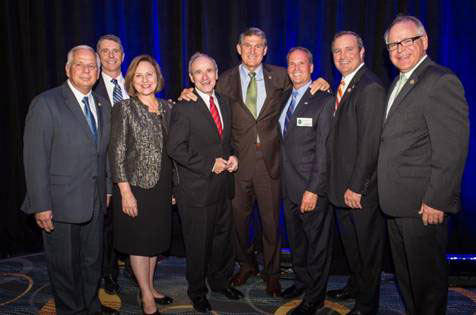 CSC leadership with Vista Outdoor CEO and CSF Board of Directors Chairman Mark DeYoung (third from right) at the CSF Banquet & Auction, Sept. 30, 2015.