by
posted on February 28, 2018
Support NRA American Hunter
DONATE
Given enough desire by a hunter, just about any rifle which is legal to use, can be used to hunt critters. Still, "can" and "should" are very different words. With thousands of campfire hours burned debating what is and isn't a hunting rifle, along with more colorful discussions about the "best" hunting cartridges, just about everyone from hunting legends to grumpy old men, wet-behind-the-ear rookies, keyboard-snipers and us "regular" folks have defended more than one firearm which our peers thought might punch too lightly, carry too heavily or simply be too high-maintenance to trust in the field.
In many of these debates, the military-designed or inspired rifles tend to fair pretty well. Why? Possibly because one would think the military-rifle user tends to judge their boom sticks a little tougher than deer hunters. After all, when the success of a rifle in the military often means the trophy you bring home is yourself, the margin of error tends to be smaller.
So, despite hundreds of years of fireside chatter, there are a few rifle and cartridge combinations—many with military pedigrees—which can stroll through any deer camp receiving nothing but head nods, a few smiles and the occasional high five. The beloved 6.5x55 Swedish Mauser cartridge and its most popular mothership, the Model 1896 Mauser, is one such combination due to its exceptional build quality, low recoil, superb ballistics and inherent accuracy.
The question shouldn't be, can you hunt with a Model 1896 Swedish Mauser, but why aren't you hunting with one now? Let's take a closer look at both the rifle and the cartridge to see why it ought to be a lifelong tool in your hunting rifle collection.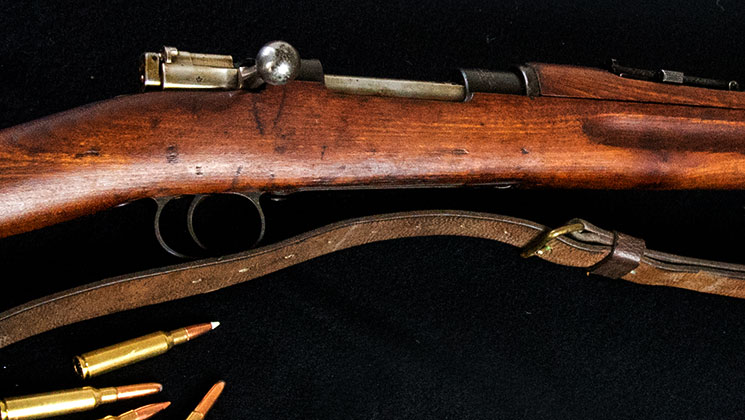 The Rifle
The Model 1896 Long Rifle, which sports a 29-inch barrel, was adopted for military use in, you guessed it, 1896. The rifle weighs about nine pounds and came with open sights which measured out to 2,000 meters. Military folks will tell you its intended effective firing range was about 600 meters with iron sights and 800 meters with an optic, but as the 6.5 craze has taught us, the .264 can do some wildly impressive things with trajectory, energy conservation and accuracy well beyond that distance, but we'll get into more on that later.
The Model 1896 action cocked on close, which, if you have ever operated it, gives it that spongy feeling when you close the bolt. It's certainly different than what we Americans are used to with the far more popular classic Model 1898 Mauser design, which cocks on opening. However, if you use a Model 1896 for any length of time, the difference in feel on a cock-on-close bolt isn't a detractor and may even be preferred. The rifle itself is German in design, and the Swedish began making their own under license from Germany in 1898.
By the way, the Model 1896 isn't the only "Swedish Mauser." Swedish Mausers are actually a family of rifles which use the 6.5x55mm cartridge—which isn't entirely Swedish, but a collaborative effort between Sweden and Norway. Swedish Mauser versions include the Model 1892, Model 1894, Model 1938, Model 1941 and the Model 1941B Sniper, and were produced in various quantities by Mauser in Germany, and in Sweden by Carl Gustafs Stads Gevärsfaktori and Husqvarna Vapenfabriks AB. Regardless of which country the rifles came from, if it was a Swedish Mauser, it was built with superb Swedish high-grade tool steel, which was alloyed with nickel, copper and vanadium, and was always chambered in the 6.5x55mm cartridge.
How well-built are these rifles? I own a matching numbered 1916 Gustafs-built Model 1896, and it works better and more smoothly than a few "modern" rifles, and every bit as good as my best rifles. It certainly shoots well with recent Norma factory loads shooting MOA and better. The two-stage military-style trigger is comfortable and predictable, breaking at about 4 pounds. It has a long sight radius and a well-designed stock, which enable iron-sighted shooters to operate the weapon quickly, confidently and repeatedly due to its long barrel and mild heft, instead of despite it.
Heavy guns aren't harder to shoot, they're just harder to carry. The blind magazine even helps remind trigger-happy hunters that they're out of cartridges, as the follower on an empty magazine mechanically stops the bolt from moving forward. Military designers did this to many battlefield rifles to help focused soldiers realize their rifles were empty during the fog of war, but I've heard of enough sustained-fire engagements taking place on the opening day of deer season to know it's an interlock that probably helps some buck-fever stricken hunters, too. Regardless, as it was proven on the battlefield, and I have validated in the woods, the rifle never gets in your way, and when needed delivers reliable, accurate, and manageable rounds downrange.

The 6.5x55mm Swedish Mauser Cartridge
Now, as sweet a rifle as the Model 1896 is, the crown jewel to its reputation of being a fine hunting tool is the marvelous 6.5x55mm Swedish Mauser cartridge, and even more so, the slick, deep-penetrating 6.5mm bullet it uses. These days, many of you may be more familiar with the magic of the 6.5mm bullet from the immensely popular American-invented 6.5 Creedmoor. What makes the 6.5-bullet family have the well-deserved penetration reputation it does versus other calibers? According to Neal Emery of Hornady, it all comes down to sectional density. "A controlled expansion bullet in .30 caliber weighing 140 grains would be rather short for its weight," Emery said. "A 140-grain controlled expansion bullet of the same construction in 6.5mm is going to be longer, therefore it has a higher sectional density and will penetrate further." Science.
So, just how versatile is the 6.5x55mm? Just ask Sweden's leading ammunition manufacturer, Norma. "There is not much you can't do with a Swede," said Amund Skoglund, Commercial Director, North America, RUAG Ammotec USA, Inc., the parent company for Norma. "In Scandinavia, it qualifies (with 156-grain bullets) to be a class 1 weapon, meaning you can hunt all the large game including brown bear, moose, reindeer, red deer, wild boar, etc. We do recommend using a bonded bullet on large game, since the shoulder joint on a moose can be hard to penetrate with a cup and core bullet. In terms of African game, it's an excellent choice for antelope. Personally, I would not hesitate to use it on oryx- and wildebeest-sized animals, but with a bonded 150-grain+ bullet."
In other words, just about anything short of animals with the first name Cape, and Polar. Traditional bullet weight selections ranging from spunky 129-grainers to Hammer-of-Thor 160-grain round-nosed bullets give 6.5x55mm shooters plenty of choices to match the right bullet weight and design to the game they're after, whether it be near and stout or far and nimble, and all of the loads shoot with superb accuracy, mild recoil and that legendary 6.5mm high ballistic coefficient performance.
If you're looking for a well-built, nostalgic military rifle with plenty of power, accuracy and mild recoil to hunt just about anything you want, then the Model 1896 Swedish Mauser in a 6.5x55mm is an easy choice. Just about every major ammunition manufacturer makes factory loads for the 6.5x55mm, and if you prefer a modern-day bolt-action rifle, you'd work harder finding a firearms manufacturer which doesn't chamber for it than one that does.
Nosler Factory Load Data 6.5 Creedmoor vs. 6.5x55mm Swedish Mauser with Similar 140-grain Loads
6.5x55mm Swedish Mauser
Brand: Trophy Grade Ammunition | Bullet Style: AccuBond
Bullet Weight: 140-grain | BBL Twist: 1-9″
For Use: Deer-Sized Game | Lead-Free: No

| | | | | |
| --- | --- | --- | --- | --- |
| Yards/Muzzle  | Velocity (fps)  | Energy (ft-lbs.)  | Drop in Inches (100YD) Zero  | Drop in Inches (200YD) Zero  |
| MUZ: | 2,650 | 2,182 | -1.5 | -1.5 |
| 100: | 2,476 | 1,906 | 0 | 2.1 |
| 200: | 2,309 | 1,658 | -4.2 | 0 |
| 300: | 2,149 | 1,435 | -14.9 | -8.6 |
| 400: | 1,995 | 1,237 | -33.1 | -24.8 |
| 500: | 1,848 | 1,061 | -60.1 | -49.7 |
| 600: | 1,708 | 907 | -97.3 | -84.8 |
| 700: | 1,577 | 773 | -146.4 | -131.8 |

6.5 Creedmoor
Brand: BTA | Bullet Style: Ballistic Tip
Bullet Weight: 140-grain | BBL Twist: 1-8″
For Use: Deer/Hogs/Antelope | Lead-Free: No
| | | | | |
| --- | --- | --- | --- | --- |
| Yards/Muzzle  | Velocity (fps)  | Energy (ft.-lbs)  | Drop in Inches (100YD) Zero  | Drop in Inches (200YD) Zero  |
| MUZ: | 2,650 | 2,183 | -1.5 | -1.5 |
| 100: | 2,477 | 1,907 | 0 | 2.1 |
| 200: | 2,310 | 1,659 | -4.2 | 0 |
| 300: | 2,150 | 1,437 | -14.9 | -8.6 |
| 400: | 1,997 | 1,240 | -33.1 | -24.8 |
| 500: | 1,851 | 1,065 | -60.1 | -49.6 |
| 600: | 1,711 | 910 | -97.2 | -84.7 |
| 700: | 1,581 | 777 | -146.2 | -131.6 |