by
posted on March 15, 2018
Support NRA American Hunter
DONATE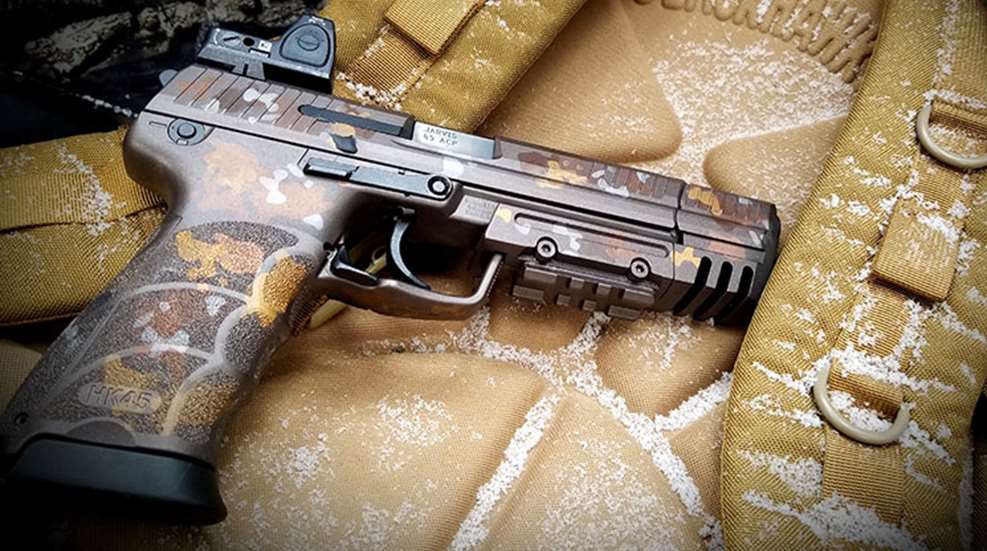 Hunting can be hard; and it's harder with a handgun, especially when you decide to chase one of American hunters' favorite game animals like the whitetail deer. The notion of heading into the woods with a handgun isn't unreasonable—or limited to a revolver.
Single-shots and semi-auto pistols offer some intriguing, if not challenging, options for holster hunters. One such handgun I am personally fond of is the Heckler & Koch HK45. I came across one at my local gun store a few years back, and have shot it fanatically ever since. But, can or should I hunt with my HK45? Let's find out.
Before we get into the HK45 as a firearm, it seems prudent to decide if the .45 ACP cartridge it fires is a legitimate big-game choice in the first place. It is, in the right hands, like any other hunting cartridge. One pair of the "right hands" for most ammunition-related questions is Hornady's Neal Emery, who answered to the .45 ACP as a handgun hunting cartridge this way: "I wouldn't hesitate to use the .45 ACP, but I definitely wouldn't stretch the shots out very far."
On top of Emery's limited-range wisdom, handgun hunters need to know that most states have specific rules about what is and isn't legal for handgun hunting. Here in Virginia, our Department of Game and Inland Fisheries (VDGIF) has its own standards for handgun hunting: "Pistols and revolvers are lawful for deer and bear hunting only in those counties where hunting deer and bear with rifles is lawful. Cartridges used must be .23 caliber or larger and have a manufacturer's rating of 350 foot-pounds muzzle energy or more."
Can the .45 ACP meet VDGIF's requirements in the HK45? Let's take a closer look at the pistol and find out.                              
Every bit the creation of a military need and not a hunter's want, the stout polymer-framed pistol was engineered for combat duty first. According to Heckler & Koch, the HK45 was developed as a product improvement of the highly regarded USP45, first released in the 1995. Along with the HK45 Compact, the HK45 was developed as a possible candidate for the Joint Combat Pistol (JCP) and Combat Pistol (CP) programs administered by the U.S. military in their search for a new service handgun to replace the 9mm M9. Of course, the program which initiated the creation of the HK45 was suspended well before the military selected any handgun. Regardless, Heckler & Koch succeeded in creating quite the sidearm for handgunners in the legendary .45 ACP, which, if you have a checklist for a hunting handgun, possesses quite a few traits that would go in the "plus" column.
It holds ten rounds of ammunition, is durable, accurate, light, easy-to-shoot and reliable. The polymer-framed pistol platform offers a grip-to-slide angle matching a Model 1911's profile, so it feels at least familiar (if not preferable), in the hands of traditional 1911 shooters. Other enhancements include ambidextrous controls with dual slide releases for right or left-handed hunters, an enlarged magazine release for hunters with gloves, plus a modified Browning linkless recoil operating system to help tame the .45 ACP +P ammunition, which the pistol is factory-rated for.
That +P rating, by the way, isn't empty marketing typography, it's technically an indication of overpressure ammunition that has been loaded to a higher internal pressure than is standard for ammunition of its caliber, but less than the pressures generated by a proof round. Simply put, think of +P ammunition as caffeinated ammo, like a lead-filled shot of double espresso—handy for anyone who wants to get a little more performance out of his or her .45 ACP, whether it be for tactical use, target shooting, personal defense or hunting.
I ran some factory-loaded .45 ACP ammunition—everything from decaf through double espresso, if you will—through a chronograph to see if the HK45 could really produce the energy I needed to legally hunt big game in Virginia. Speed, and of course the magical 350 ft.-lbs. of energy were important, but so was accuracy. While other hunting loads were faster, the Hornady 230-grain XTP +P grouped the best, and like all hunting situations, bullet placement is key. The bone-stock HK45 shot the Nebraska-built ammo at 950 fps from the muzzle, creating 461 ft.-lbs. of energy, and 871 fps and 388 ft.-lbs. of energy at 100 yards. So, it's a perfectly legal load, and a perfectly capable firearm with that load for the deer woods.
HK45 Ammunition Velocity and Accuracy Table
| | | |
| --- | --- | --- |
| Bullet | Velocity | Group |
| Gorilla Silverback 230-grain | 752 fps | 1.51″ |
| Black Hills 230-grain FMJ | 842 fps | 1.41″ |
| Black Hills 230-grain JHP | 876 fps | 1.73″ |
| Hornady 230-grain +P XTP | 950 fps | .599″ |
| Hornady 220-grain +P FlexLock Critical Duty | 1,014 fps | 1.33″ |
| Hornady 200-grain XTP  | 882 fps | 1.44″ |
Math? Check. Science? Check. Ethics? Check. I absolutely do hunt whitetails with my HK45 here in Virginia. I set a personal limit of nothing over 25 yards, which is well within the range of both the ammunition and the weapon, but a limit I decided worked best for my skill level and comfort. I haven't pulled the trigger on a deer yet, and maybe I never will, but if one walks close enough, I know for a fact that the combination of my shooting, the HK45, and the right ammo can get the job done.  
Can you hunt with the HK45? It depends on your local laws and your personal choices. Clearly, there are more powerful, better suited handgun cartridges which can ethically harvest whitetail deer at far greater distances than my measly 25 yards. Your skill level and personal choices may be much different, and that's fine. Hunting is a very personal pursuit, and all of us ought to hunt with the firearm we like to when we can legally, ethically and effectively.