by
posted on May 22, 2014
Support NRA American Hunter
DONATE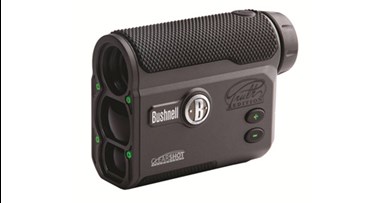 I think it was at the 2008 SHOT Show when Bushnell first introduced its jaw-dropping ARC (Angle Range Compensation) technology. I wondered how it could ever top that rangefinder, but I've gawked at something new and amazing every year since. Jump ahead a few years and we have Bushnell's Truth laser rangefinder with Clear Shot technology.In addition to featuring ARC technology, the Truth rangefinder immediately alerts you of any obstruction upon range calibration so you can verify that a given shot is clear. After ranging a target, you will see a line in the reticle that shows the apex of your arrow's flight. If the dot intersects with a branch or other obstacle, you know the arrow won't clear the obstruction. An unobstructed dot indicates the path to the target is clear for a quick, clean kill. Bushnell's newest wave of the future actually helps you to understand your arrow's trajectory before the arrow ever leaves the bow.
For the nuts and bolts on the engineering side, the Truth actually emits invisible, infrared energy pulses. An Advanced Digital microprocessor and ASIC chip (Application-Specific Integrated Circuit) creates instant, accurate readings, calculating distances by measuring the time it takes for each pulse to travel from the rangefinder to the target and back.
As for the ARC feature, if you're new to bowhunting you'll appreciate how its Bow setting accounts for terrain angles and provides true "shoots-like" distances from 7-199 yards. As the line-of-sight feature displays, just hold down the power/range button another second to get the angle-compensated reading. Both the angle (in degrees) and the angle-compensated yardage pop up below the line-of-sight yardage so you are assured you're selecting the correct sight pin.
The pocket-size, rainproof Truth with Clear Shot provides fast target acquisition from 7-850 yards and 4X magnification for a large, 430-foot field of view (at 1,000 yards). Though higher magnification would offer more precision at long distances, lower magnification is ideal at closer bowhunting ranges—especially when you need that wider field of view to hone in on that big buck in a hurry!