Support NRA American Hunter
DONATE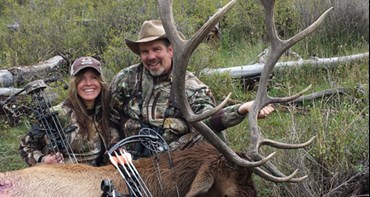 Last weekend my husband, Phil, and I traveled to Connecticut to speak at the Dallas Safari Club/Venator Foundation's Call2Adventure fundraising banquet. Initially, event planner Mark Jones had asked me to speak and to highlight the NRA and women in the outdoors as women are the fastest-growing segment in hunting. When I told Mark I'd just married Phil and that it was bowhunting that had brought us together, Mark thought it would be fun to bring Phil into the mix and share our story.
Though Phil and I had been acquaintances for about 15 years, our paths rarely crossed. He was a big bowhunter and archery outfitter while I was strictly a gun hunter. Then a few years ago I decided to get into bowhunting and asked him for help. As I became consumed with all things archery, appreciating how it brings a whole new excitement level to the hunting experience, I was changed forever. The fact Phil and I eventually got married shows how a shared passion for the shooting sports and hunting forges the strongest of bonds. The key message from our talk and our video clips last Saturday was to impress upon people the fun and importance of bringing someone new into hunting, whether he or she is part of your family, a buddy from work or your next-door neighbor.
We also know there is strength in numbers as we bring more people into our ranks. Once that new person's arrow hits the bullseye, he or she is excited—and hooked. If you are like me, there is tremendous satisfaction in knowing you have changed that person's life by opening up a new world that would otherwise go unrealized.