by
posted on February 10, 2011
Support NRA American Hunter
DONATE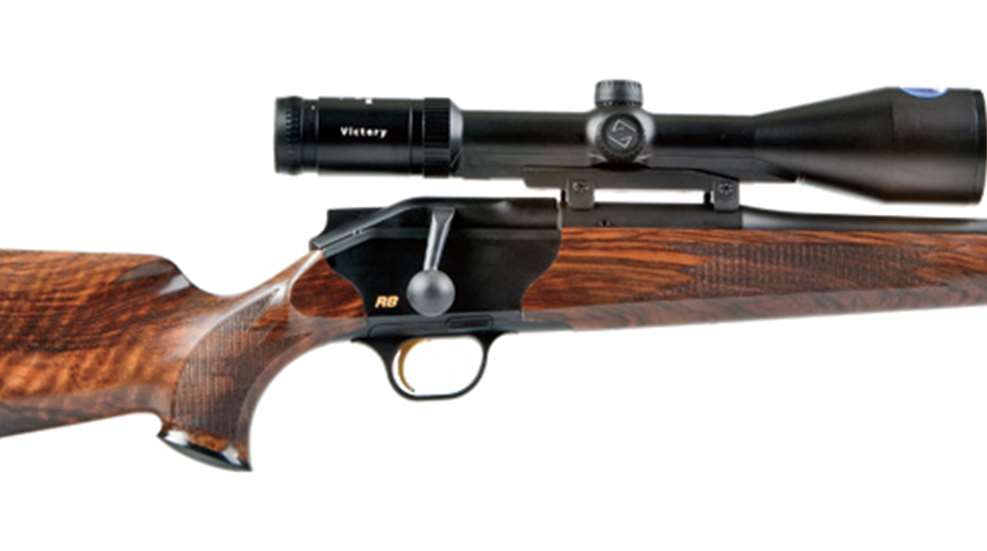 German gunmaking ingenuity has given us rifled barrels (1470) and Mauser's perfected bolt-action (1880s), and apparently they're not done yet. Now the country's largest sporting arms manufacturer, Blaser, has engineered a rifle that seriously rethinks how a firearm should function. The new R8 actually improves on several features that have made the company's flagship R93 Europe's most popular rifle and also boasts some tricks of its own.
Like its predecessor, the R8 utilizes a straight-pull action that doesn't require lifting and rotating the bolt. Instead the shooter simply flicks his wrist back and forth to cycle the action in an effortless reflex that barely causes the gun to budge, thus providing the instant repeatability so critical when intercepting hordes of driven wild boar. But far more than just a speed demon, the R8 may well be the most versatile rifle ever designed.
The lockup between bolt and barrel is a mechanical marvel that strengthens the R93's novel 360-degree system. As the R8's bolt pushes into battery, a slotted collet bears against a tapered radius at the rear of the bolt head, and that expands a pronounced ridge at the collet's forward end. The expanded collet's 13 segments seat into a groove milled around the breech wall. This circular locking lug makes for an exceptionally strong and secure straight-pull action that can handle pressures up to 120,000 psi; rising pressure against the bolt face merely causes the collet to spread even wider and hold on tighter. Accordingly, R8 chamberings are extensive, ranging from .222 Rem. up to .500 Jeffery.
That's especially significant with a switch-barrel gun, and in fact an R8 owner can swap barrels in a few minutes simply by loosening a pair of action screws accessed through the fore-end.
Changing from one caliber group to another—there are five ranging from Mini to Magnum—requires a bolt-head change, but that, too, is a simple swap. With minimal effort and a couple tools, an R8 can be transformed from a gopher gun to a deer gun to an elephant gun.
Barrels are dovetailed to accept Blaser's proprietary, quick-release scope mount, which is supplied with the gun. This allows a scope/barrel tandem to remain intact when barrels are switched or allows an owner to multi-task a favorite optic.
While barrel lengths vary according to caliber group, R8 big-game models often sport 25.75-inch tubes. Longer barrels tend to enhance the ballistic performance of many cartridges and promote a steadier hold for more accurate field shooting. However, those advantages come at the price of lugging an unwieldy rifle. Not so with the R8, which measures just 40.25 inches despite its long barrel, thanks to an extremely compact receiver made possible by integrating the trigger and magazine into a single part. The magazine box actually sits directly atop the trigger group, and is made to accept interchangeable inserts sized to fit specific cartridge groups. Though fully detachable, twin detent clamps make it unlikely the part could be dumped inadvertently, since both sides must be pressed simultaneously to free it from the receiver. But even so an interior switch locks the magazine in place.
This innovative magazine makes the R8 even easier and quicker to unload than most single-shot rifles, a welcome convenience and safety measure when the going involves horses, boats or vehicles. Replenishing the magazine is simple and quiet, since you can use both hands. But when the situation requires, the bolt port is wide open to allow top-loading.
Safety has long been a Blaser hallmark, and accordingly the R8 is fitted with the company's signature tang-mounted sliding safety. In the forward position an obvious red indicator is revealed that signals it's ready to fire. Applying thumb pressure releases the catch and allows the safety to slide back, and with that the gun is de-cocked. This mechanism goes beyond normal blocking-type safeties by allowing safe carry with a round in the chamber, a key consideration for dangerous game and in some other circumstances.
Eight different appearance options are available, most with fancy walnut in a two-piece stock configuration that bares the receiver for engraving and inlay, though for practical sorts there is a composite, one-piece Professional model. Our test gun was a Jaeger, sporting spectacularly grained dark walnut and superb wood-to-metal fit. At first I found the gun's Euro lines a bit jarring and its cheekpiece fluting over the top. However, in use, the straight, high comb managed recoil well and the sharply angled, palm-swell pistol grip placed the trigger/bolt hand just right.
Though the R8's looks and fire controls differ from familiar bolt-actions, I warmed to it quickly during a Blaser press outing that provided a variety of hands-on exercises ranging from running pigs and popup targets to metallic gongs at 600 yards. I was (mostly) delighted with the results, and bench testing confirmed it can be quite accurate.
Even so, I couldn't help second-guessing my decision to take this rifle on a long-time-coming Arizona elk hunt (see p. 43). Would I remember to flick rather than crank the bolt? Would the trigger/magazine unit remain intact and functional in a hard-knocks environment? And almost certainly I was going to mess up that pretty stock!
When my chance came toward the end of the hunt, there were no second thoughts. At my first shot the bull lurched but remained upright, and the follow-up just happened without a whole lot of conscious effort on my part. My guide then asked why I shot again before giving the elk a fair chance to fall down. So much for my worries about handling the R8 in a real-world encounter, though I was right about dinging the stock.
All this ingenuity comes at a hefty price, and clearly some features—like action speed and extensive caliber interchangeability—address European priorities. Even so, what serious hunter can't appreciate a slick-working, inherently accurate, highly shootable rifle he can easily transform to an optimum configuration for any four-legged game on Earth, especially when it's a safer mousetrap? The Blaser R8 takes some of the boldest steps in firearm design I have seen in 30 years writing about guns, and it will be interesting to see how it influences gunmaking in the coming years. 
Specs:
www.blaser-usa.com
Type: straight-pull bolt-action centerfire rifle
Caliber: 35 calibers; (.300 Win. Mag. tested)
Barrel: 25.75" (tested); hammer-forged
Trigger: single-stage; 2.15 lbs. pull weight
Magazine: detachable, 3-rds. with lock
Sights: none; removable scope mount
Safety: two-position, decocking
Stock: grade III Turkish walnut; length of pull, 14.5"; drop at heel, 1.5"; drop at comb, 1.25"
Weight: 6.4 lbs.
Accessories: extra barrel and magazine, $1,053; extra bolt, $298
MSPR: $3,769 (tested); $3,200 (Professional)