by
posted on November 21, 2014
Support NRA American Hunter
DONATE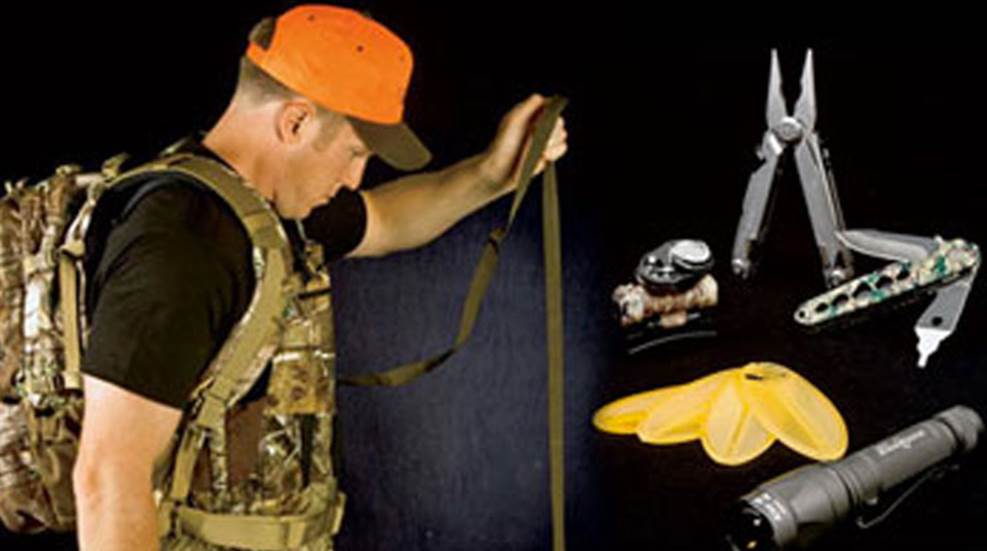 Let's face facts: You can't hunt without your gear. It just doesn't work. That said, everyone has their own approach to packing a bag before a hunt—you've got minimalists, hyper-prepared pack rats and everything in between. As far as we're concerned, to each their own—so long as you're hunting safely and legally, pack as much or as little gear as you'd like.
Our editors couldn't help but wonder, though—what's really essential? The office chatter started, and this feature was born. The question: If you were limited to three pieces of "gear," (not counting your firearm/bow and the corresponding ammunition/arrows), just what would you deem most important? The rules are as follows:
• Three pieces of gear, maximum.
• Firearms, ammo, bows and arrows are not counted as "gear."
• Clothing doesn't count against you, either. You're properly dressed for the season.
• We are ruling out clothing (like hats or gloves) that come with electronics, like a flashlight. If you want a light, it counts as one of your three items.
• Everything else counts as one of your three pieces of gear, cell phones, snacks and bottles of water included.
• And, no, you can't say "a bag that I can put 10 more pieces of gear in."
Now, on to our editor's choices:
J. Scott Olmsted, Editor in Chief
For starters, I can't go without a knife. I've carried a knife in my pocket since childhood, when my dad taught me that every man has a knife on him at all times. That's not always possible today, what with airline security. (Don't get me started on school security: I can't imagine being a high school student today and going without one daily.) But on a hunt I can't be caught without a knife. Secondly, I'd carry a bottle of water. I might want a drink if I huff and puff during a walk. Plus, like the knife, a bottle of water is a nod toward success—I expect to bag a buck, so I'll need the knife to dress the deer and what's left of the water to rinse my hands. Lastly, I don't think I can ever go without a lens cleaner these days. I wear eyeglasses, and I constantly clean smears from them. If I huff and puff (as mentioned earlier), I'll sweat 'em up and need to clean them even more often.
Adam Heggenstaller, Executive Editor
I'm taking a bottle of water, a binocular and a knife. Water will fight off thirst as I slip quietly through the cedar thicket. I plan on taking four or five hours to cover the half-mile or so where I know the deer will be hiding, so I'm going to need a drink at some point. My bino will help me spot that 9-point I'm looking for before he sees me. The 10x42 is staying home; the lighter 8x32 will be plenty for picking horns out of the shadows 50 or 60 yards away. Although I won't need a rope—a long main beam will make a fine handle for dragging—my knife will eliminate the extra weight I have to pull back to the car after I get the drop on the brute.
Karen Mehall Phillips, Senior Editor
Adam is on the right track because how do you leave camp without grabbing water and a knife? But to highlight three different options, No. 1 would be my rangefinding binocular—especially if I'm hunting with my Mathews bow. No. 2 would be a multi-tool that has both a blade and a guthook, such as Real Avid's Viscera 3-in-1 Field Dressing Tool. Last but not least, if the temps are frigid and the plan for the day is to sit on stand, No. 3 has to be handwarmers because my hands get colder than most. What good is it if that buck finally shows but my fingers are tingling painfully or they're too numb to shoot? I was just hunting in a wind chill of minus-10 in South Dakota and wouldn't have lasted 10 minutes without them!
Jon Draper, Assistant Editor
I'm taking water, a knife and fire. Water is obvious, 1-liter minimum. It's not enough to weigh me down, but enough to avoid dehydration for a day or so. A knife is a necessity, gutting can't be done without it and survival becomes that much easier should I get stuck overnight. And fire, be it matches or a lighter. If I have to stay the night, a fire can keep me warm and signal for help. Of course, it won't be needed for more than lighting my stogie at the tailgate as I'll be dragging out a beauty of a 10 point before 9 a.m.
Shawn Skipper, Web Managing Editor
This one's easy: a knife, a binocular and my cellphone. If we were talking four, five or six "essential" items there would be more room for debating one thing against another—but with three, it's no contest. The knife is a given. You should have one with you, just in case, at almost all times—and especially if you're venturing into nature. Whether you need do some emergency firearm repair or wind up in an actual emergency survival situation, a knife's an important thing to have at your side. The bino, meanwhile, makes spotting those pesky whitetail a little bit easier. My eyes aren't great to begin with, especially in low light, so I want a pair of field glasses with me. And yeah, I'm sure some of you are already pointing out that my rifle probably has a scope on it—but using it to glass the field would violate at least one major safety standard. Lastly, there's my cellphone. Old-timers may scoff at it, but phones are just darn handy. They can serve as a timepiece, help me keep an eye on the weather, assist in finding my hunting location should I get lost (Apps nowadays are amazing) ... and that's just thinking small. Oh, and nearly all of them can double as a flashlight now, too—not a great light, but a light nonetheless. Mock me if you want, but my phone's staying on me.
Justin McDaniel, Digital Managing Editor
When I'm deer hunting, you can count on me having a flashlight, hand warmers and an ultra-sharp knife in my pack. There's nothing I hate more than fumbling in the dark to get to my stand, so rather than breaking every stick on the ground and getting caught on every briar, I like having a flashlight at the ready. My personal favorite at the moment is Bushnell's compact T100L Rubicon, which at less than 4 inches still offers 152 lumens and takes just one AA battery. And who doesn't need a good flashlight when following a blood trail after dark? On a frosty morning, having a HotHands shake-to-activate hand warmer in each glove makes a world of difference, and I especially appreciate that they keep my trigger finger from getting stiff and hold their heat all day. Once I have my deer on the ground, a sharp knife—with a gut hook—makes the cleaning and evisceration process much easier. I have a lock-back Gerber knife with a no-slip rubber handle that I've used years, and I wouldn't head to the deer woods without it.
What three pieces of gear would you settle on, if that's all you could carry? Sound off for us in the comments section below.