Support NRA American Hunter
DONATE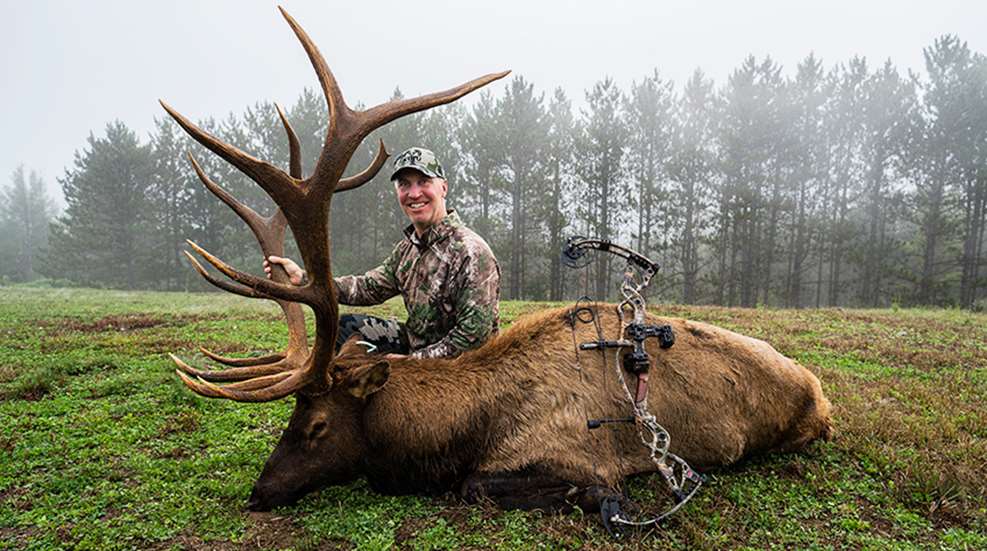 Pennsylvania hunting history was made when the state's inaugural archery elk season opened on Saturday, Sept. 14, 2019. Jim Lickfeld of Williamsville, N.Y., killed Pennsylvania's first archery-season bull elk, and it could become the No. 1 state record.
In total, there were five bull elk tags available for the state's first official archery season, and Jim, who has hunted deer in Pennsylvania since 1983, was one of the lucky hunters to draw a tag after filling out an application and paying $11.90 to enter the lottery. On Aug. 17, Jim was notified he'd won one of the archery bull tags in Pennsylvania's Hunt Zone 10. He then purchased the required nonresident bull elk tag for $250.
Jim normally kept his shots to 25 yards on deer in his home state of New York, but after scouting the area in Zone 10, he quickly realized longer shots were possible, so he began practicing out to 40 and 50 yards. He was soon consistently placing lethal shots.
Jim knew a guide was necessary, and selected Trophy Rack Lodge, owned and operated by Larry Guenot, to help him find and take a bull. Using the contacts he's gained over the years, Larry recruited Al Morris from Utah—a five-time world champion elk caller, who works with Pennsylvania-based call company FoxPro—to help with the hunt.
On the season's opening evening, after hearing several bulls throughout the day, Jim and his team called in a monster.
When Al whispered "57," Jim adjusted for the long shot. Knowing his arrow's trajectory from his Hoyt Carbon Defiant bow, Jim held 20 inches high with his 40-yard pin and let his arrow fly. His double-lung shot dropped Pennsylvania's first archery bull of the season. The bull measured a green score of 370⅝ inches.
"The elk didn't make it 60 yards," Jim told American Hunter staff. "We saw it go down. It ran hard, stopped, staggered and dropped. I practiced at 50, but felt confident at 57. I saw my arrow in flight, but lost sight of the nock. I initially wasn't sure if I hit it, but Al knew right away it was fatal, and he was really excited."
The state archery record for a typical bull is 349½ inches. Though an official dry score has yet to be determined, it's likely there will soon be a new Pennsylvania state-record archery bull elk.