by
posted on March 25, 2016
Support NRA American Hunter
DONATE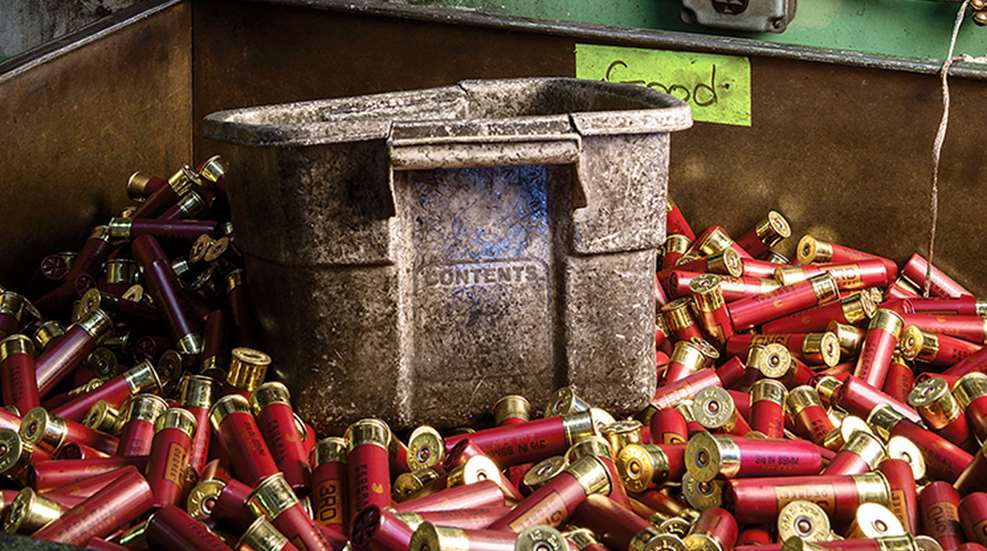 There are these bins that look like small grain silos in the back of the Federal Premium Ammunition plant in Anoka, Minn. They're fed from the outside by railroad cars. Shards of colored plastic are dumped into some. The bins feed machines just inside the rear door that melt the plastic and push it out as long tubes that are stretched and thinned from machine to machine under heat and pressure until they are finally chopped into shotgun shell hulls.
You follow along and see the hulls crimped and primed, and watch metal shot loaded in after gunpowder and wads. You notice that only a few people are manning these lines of machines, though you are proudly told these machines run 24 hours a day, seven days a week. You look on in awe as you realize what a volume business ammo making can be.
"Wait," I say, "what's that?"
It's a half-century-old machine that's stained from grease and beaten from use over generations. The machine was once forest green, but now has the weathered look of a junked car. But this thing is full of life. It has been rebuilt. Shaking hydraulic tubes make its metal parts churn. A handwritten manila-colored sheet on one side of the machine says "3rd Degree." There are red shotgun shells falling into a bin under the sign.
J.J. Reich, communications manager with Federal Premium, says, "We needed to go back to using the 1940s machine to make our newest turkey load. Our high-tech speed loaders do a precision job of loading Premium ammo, but our newest turkey load is so complicated we need a nine-stage press to load the powder, wad system, three stages of shot and buffer, then crimp and seal. The machine is slow, but slow and careful is sometimes what you need for a complex product that is customized to do one job: kill turkeys at any range—close-, mid- and long-range."
The front 20 percent of the shot charge in Federal's 3rd Degree is No. 6 Flitestopper lead pellets, which, due to their circumventing band (and thus non-spherical shape) spread fast to make it easier to hit close-range birds; the next 40 percent of the payload is No. 5 copper-plated lead shot; the last 40 percent of the shot charge is No. 7 Heavyweight shot, which helps maintain a tight pattern at long range. A technician actually has to manually adjust the machine to switch from building 12- to 20-gauge shells.
This customized turkey load is a good example of modern ammunition manufacture. Sure, there is still plenty of growth in volume, especially on the heels of a major ammo shortage, but to compete ammo makers are increasingly making semi-custom ammo for an increasingly diverse and educated market.
Much of it is being done right here in America.
The total U.S. consumer (meaning you, not the government) ammo market in 2012 was about 9.5 billion rounds, according to the National Shooting Sports Foundation. Interestingly, 74 percent of the cartridges and 92 percent of the shotgun shells available in the U.S.  market in 2012 were made in America.
That's not new. What is new is the ever-expanding explosion of growth in the semi-custom ammo market. Whether you are a hunter, target shooter, competitor or all of the above, you need to be aware of these trends, as simply buying the same ammo you always have might mean giving up accuracy and performance.
Growth after the Shortage
A few years ago a shortage in many popular types of ammo was so severe rumors spread over the Internet that the federal government was buying up ammo to purposely cause it. Ammo makers published explanations to quell the paranoia. The NRA also investigated. The consensus was that consumer demand—fueled by record high gun sales—was behind the shortages. Since then, this strong demand has fueled a transformation of the ammunition industry.
Advanced Munitions International (AMI), for example, recently announced it is building a new plant in Maryville, Tenn., that will employee about 600 people. This is a $553 million development project expected to be completed in late 2018. Meanwhile, Browning announced it is offering a full line of ammo; Ruger has introduced technologically advanced ammo for the self-defense market; and SIG Sauer is expanding its lines of Elite Performance ammo. Also, during the height of the ammo shortage, Remington committed to spending $32 million to expand its ammunition plant in Lonoke, Ark.
Other big ammunition makers also responded. Last October, I toured Federal Premium's plant in Anoka, where about 1,400 employees work three shifts. The machines never stop humming. When I visited in 2003 there were about half as many employees. Federal has since expanded into new buildings, fit new machines in wherever it had space, and increased production in popular and more obscure calibers.
The Semi-Custom Explosion
At the Federal plant I saw "Premium in Progress" signs on various workstations as employees manufactured ammunition designed to increase performance for customers who demand the most accurate or best-performing bullets for hunting, self-defense or target shooting.
I met people like Scott Schamber. He started as a warehouse temp for Federal in 1971. He worked in shotshell, rimfire and centerfire production before moving to Centerfire Quality in 1988. Today, he runs the department. He told me, "Making quality ammo has been a lifelong obsession for me. I'm proud that I've helped customize the process to make Premium ammunition for hunters and marksmen who want the best of the best."
For its Premium lines, Federal uses the most advanced bullets, like the Trophy Bonded Tip and Trophy Copper. It uses "B-lead styphnate" primers (Federal calls these Gold Medal match-grade primers). A lot of customization also comes in mixing, selecting and tweaking powder recipes to customize a load for specific features and benefits.
I met the men and women who constantly inspect and shoot the Premium loads to ensure quality in every box. The customization has gotten to the point that, if there is a problem, Federal will know which employee oversaw the ammo being loaded—they are all personally accountable for quality.
Nosler, of course, entered the premium cartridge market about a decade ago. But a hot ammo market is now pulling in even more competition. A half century ago, for example, Browning got into the ammo business, but it basically sold what everyone else was selling. It soon fell out. Now Browning is again putting its name on ammo. This time it is following the semi-custom trend. Winchester Ammunition manufactures Browning's new ammo, but the specifications come from Browning.
The entire Browning line will roll out during 2016. Centerfire rifle ammo will initially be offered in .243, .270, .30-06, .30-30, .308, .300 Win. Mag. and .300 WSM. Rifle hunting cartridges are loaded with BXR (rapid expansion) and BXC (controlled expansion) bullets in non-standard weights to stand apart from the competition. The BXR bullet uses a tip made of copper and polymer to transfer energy into whatever you're hunting. The BXC is for big, big-game animals, and has a brass tip and bonded core.
In 2009 Hornady was early into this semi-customization trend with its Superformance loads. The ammunition uses customized propellants (at normal charge weights) to push bullets from various big-game rifles 100-200 fps faster than conventional ammunition.
Steve Hornady, president of Hornady Manufacturing, said, "Our Superformance has earned an important niche, but we're not in the market to compete with the big ammo makers. It has always been our model to create innovative, high-performance bullets that meet the demands of hunters and shooters who want the best. So, by that definition, we are a company that concentrates on customized solutions. Our new ELD-X bullet is a good example of how we solve problems for the increasingly diverse and high-tech marketplace."
The ELD-X (Extremely Low Drag-eXpanding) is an "all-range" bullet. Hornady says it uncovered a problem with current tipped bullets, specifically those with high ballistic coefficients. Basically, engineers found that after 150 yards or so standard polymer tips tend to melt in flight. The ELD-X uses what Hornady calls a "Heat Shield" tip that remains intact in flight and delivers better accuracy.
Ruger also has stepped into this increasingly diverse and semi-custom market with its ARX Ammunition made by PolyCase Ammunition. PolyCase uses a different method to manufacture projectiles. At its factory outside Savannah, Ga., it shapes bullets with injection-molding. Many manufacturers use injection-molding (including a lot of gun companies), but ammo makers have not, at least not on this scale. Most bullets are pounded into shape. With injection-molding, PolyCase can make a bullet in virtually any size or shape. The downside is you can't injection-mold heavy metals. Still, for certain applications
PolyCase seems to be onto a piece of the future.
When asked where all this is going, Steve Hornady laughed and said, "All I can tell you is we'll keep innovating." Ammo has come a long way in just a few decades, he added, and we can expect the market to continue to meet increasingly specific demands.