I've never been much of a turkey hunter. Never had anything against the sport—I just didn't garner any experience in it while growing up a few miles from the coast in the great state of Delaware. The past few years have offered me a few opportunities at tagging my first thunder chicken—most notably a borderline disastrous trip to Wyoming—but my trophy wall has remained fan-free. So when Editor in Chief J. Scott Olmsted asked if I wanted to join the fine folks at Carlson's Choke Tubes for a Rio Grande hunt in Kansas, I was primed.
I flew into Denver, where I joined fellow NRA Publications employee Courtney Olson. We crossed into the Sunflower State on a warm Thursday evening, checked into our lodgings and met up with company-owner Scott Carlson to do a little scouting. Scott served as our impromptu guide over the weekend, and left us with plenty of local knowledge to go with the Grade-A choke tubes we'd be fitting our shotguns with. Courtney and I had each settled upon Winchester's Long Beard XR, which Carlson's makes a load-specific choke for. They do it for a number of other ammunition lines, too—like Rooster XR and Federal Premium's Black Cloud.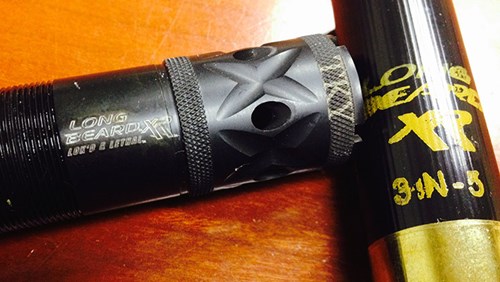 That said, the results of Thursday's scouting mission were largely voided by a Friday morning storm. The rainfall set in just before 7 a.m., and we settled on fixed box blinds that Scott had in one corner of his property. Not quite what we'd had in mind, but it beat getting wet on the first day of the trip. Friday evening was a different story—the weather passed, temperatures went up and the stage was set for a little turkey-driven action. Courtney and I set up a pop-up blind on the edge of a cornfield-bordering pasture. We were confident that the deadfalls at our back would keep birds from sneaking in behind us.
As usual, we were dead wrong. We saw no shortage of hens and jakes cross the cornfield in front of us, but were surprised to hear gobbles coming from behind us with just a few minutes of legal shooting time remaining. We stuck our heads out the back door and, sure enough, three toms were strutting 150 odd yards away, having found a way through the deadfall-pitted tree line behind us. Turkeys 1; Humans 0.
Granted, we may have been skunked on Friday, but we'd achieved one victory—we knew where the birds were, and where they'd been hanging out. With that in mind, we split up on Saturday morning. Courtney went back to the first pop-up blind, while Scott and I set up a new one nearly 500 yards away, on a fence line that bordered yet another cornfield. There, we waited. And when light began to break on the Kansas horizon, we heard birds. They came Scott and I's way, albeit slowly, first appearing on the far side of the corn, along a tree line a few hundred yards in front of us. We spotted a bevy of hens, a handful of jakes and two potential toms in the group. Over the course of nearly 90 minutes, the entire group gradually made its way across the field. Among the group, only five birds seemed to have any interest in our decoys—four jakes, and one of the toms. They approached our set up with something bordering on apprehension. Scott occasionally called to them, but did little to sway their interests. Around the 100-yard mark, the jakes gave up on us and made for the trees. The tom, however, now alone, continued his cautious approach. Though a mature bird, he'd yet to strut. Moving just a few yards at a time before pausing to eat, he crept in on our jake/hen decoy combination, as we waited in silence. An eternity seemed to pass as he closed the gap from 60 yards to 40, and I finally, slowly, shouldered by Weatherby SA-459 Turkey. I put the reticle of my Weaver on his head, and waited.
"Take him?" I asked Scott.
"Take him."
And like that, it was over. A light squeeze and a bang later, and my Rio was flopping on the ground 40 yards from our blind. At 27-years-old, I'd finally tagged my first turkey. So, what next? Harvest another, I suppose. And, since I was the owner of both a spring turkey permit and a turkey game tag, I could.
And so I returned to that very same spot—and very same blind—later on that day. We'd pulled out not long after I shot my bird, and spent the afternoon learning a little bit more about Scott's operation. More on that later. Around 4 p.m., we returned to the hunt. Courtney, still without a bird of his own, likewise returned to where he'd been that morning. We figured he had the hot spot for the evening, and that I might largely be spectating.
In stark contrast to the morning, however, I'd now be alone in my blind, with no "guide" of sorts to assist. Scott was to go scouting for the following morning.
And so began our evening sit. Temperatures had reached the mid-80s, and it was none too comfortable holed up in the pop-ups. After a little more than an hour of sitting, I'd taken out my phone to see what was going on in the world when I was interrupted by a gobble—and nearby. I tossed the phone aside and listened intently. I couldn't see the bird from the two blind windows that I'd cracked open, so I had to peel back a third. There, some 150 yards away and just stepping across the fence line into the field, was no-doubter tom. The game was on.
Unlike the cautious fellow from earlier in the day, this gobbler had some spunk. He broke into full strut almost immediately, fully intent on stealing my hen decoy away from the equally-false jake we'd set out. Twenty five yards or so into his journey, though, he pulled up, closed his fan and raised his head to get a better look. Sensing trouble, I hit my Primos box call—the only turkey call I'd developed any competence in—to reassure him. Without hesitation, he went back into his strut and started closing the gap between us with more haste. Around the 60-yard mark he stopped, and forced me to hit the call again, before committing fully.
Not wanting to waste time or risk the movement of trying my rangefinder, I gave the tom the eye test, and let him strut in to about where I'd felled one of his brethren that morning. Though he'd probably have come closer, I raised my Weatherby and loosed a shell as soon as I deemed him in range. Maybe I'm impatient; maybe I'm just more familiar with shooting birds at 30-40 yards out. Maybe it's both, I don't know.
I do know, however, that this one didn't even flop. The tom folded over backwards and punched his ticket without even a kick. I later ranged the downed bird at 32 yards. He'd actually gotten a little closer than the first before my trigger finger won out. Either way, I'd filled the second of my two tags. That's a daily double I'll take any day.
Courtney, who I'm sure grimaced at least a little bit upon hearing me shoot yet again, finally did have a bird cooperate with him on Sunday morning. That's him and his bird on the left-hand side of the featured image. I'm on the right, with my second tom. The first—and my first—is embedded below. I'd call that a good weekend.