by
posted on December 27, 2012
Support NRA American Hunter
DONATE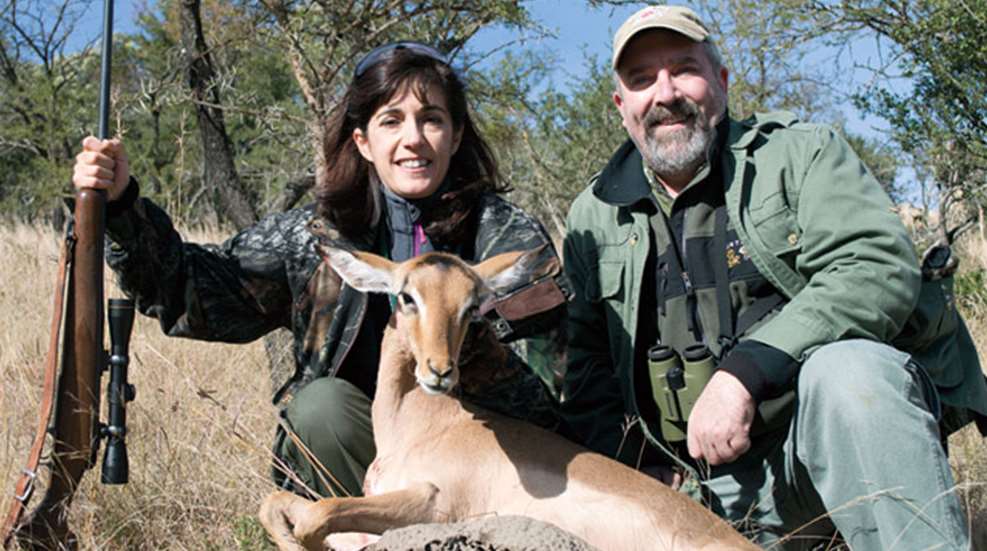 Armed with Kimber rifles, American Hunter Editor-in-Chief Scott Olmsted and his girlfriend journeyed to South Africa for a Plains-game hunt of a lifetime, taking Impala, Kudu, Cape Eland and more. The pair also captured images of the unique flora and fauna scattered across the South African countryside, which they share in this photo gallery.
Gallery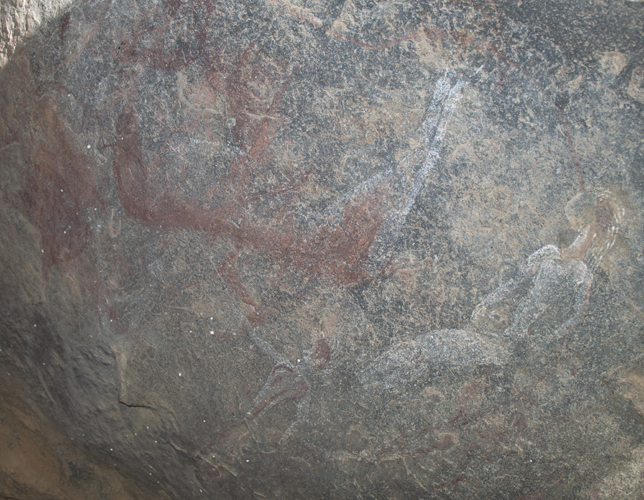 Cave Paintings
Modern-day humans aren't the first hunters to appear on this landscape. Cave paintings made with vegetable dyes are found on the grounds of Bombazi Wilderness.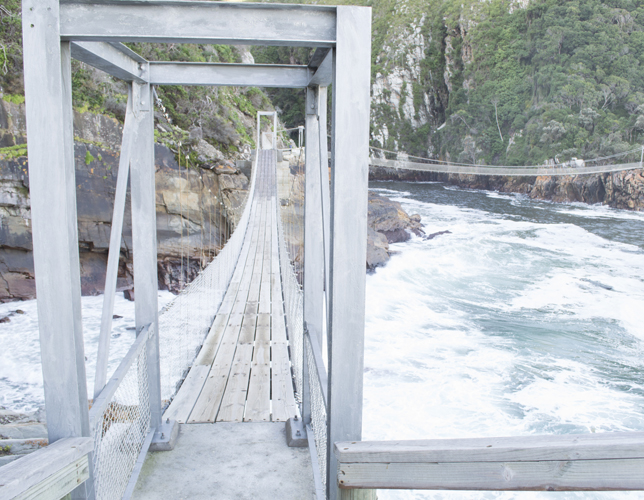 Suspension Foot Bridge
A suspension foot bridge built in 1969 carries tourists over the mouth of the Storms River, which spills into the Indian Ocean at the northern end of the Garden Route in South Africa's Eastern Cape province.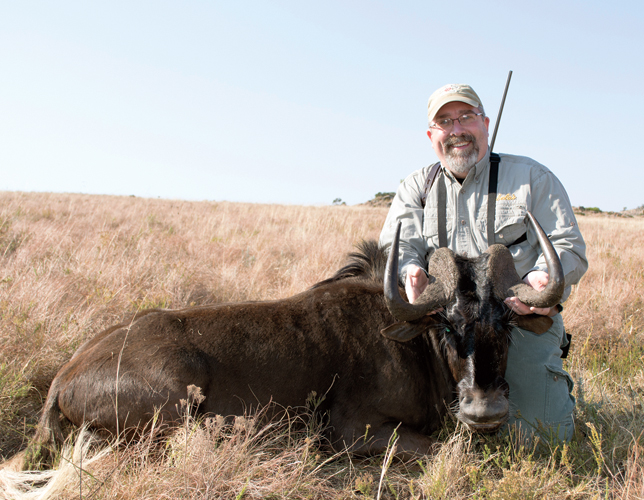 Black Wildebeest
While blue wildebeest are found throughout southern Africa, black wildebeest are native only to South Africa. In four trips to South Africa the author had never killed a black wildebeest; on this trip that all changed, thanks to a well-placed shot from his Kimber Model 8400 in .300 Win. Mag.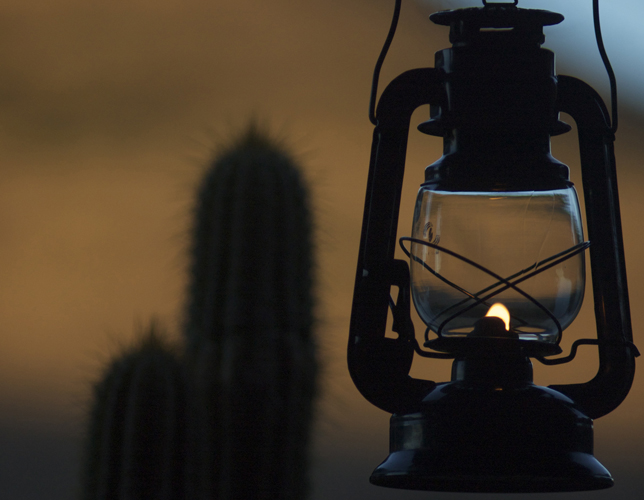 Gas Lantern
A gas lantern signals the end of the day at Bombazi Lodge.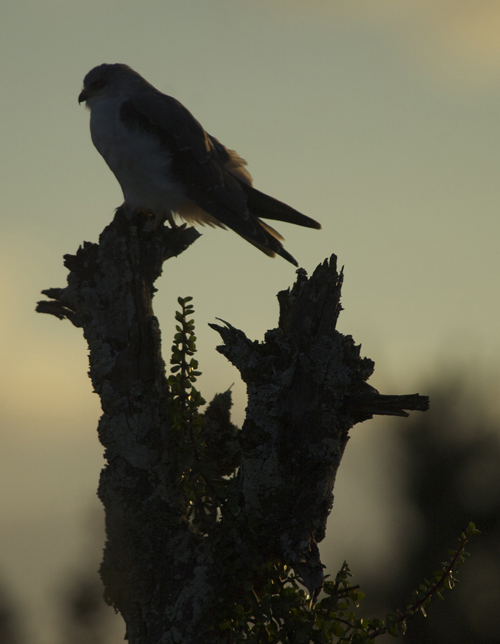 Hawk Perch
A hawk searches for dinner from a perch at sundown inside Addo Elephant National Park.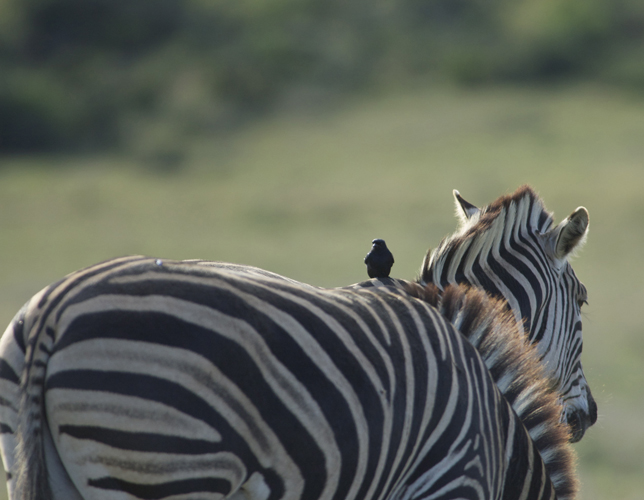 Tick Bird Catching a Ride
A tick bird hitches a ride atop the back of a Burchell's zebra in Addo Elephant National Park.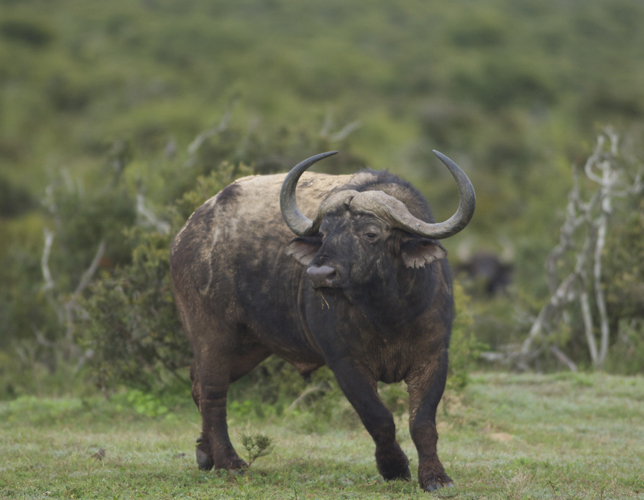 Cape Buffalo Senses Danger
… Soon, a Cape buffalo bull wheels when it senses danger approaching. Then …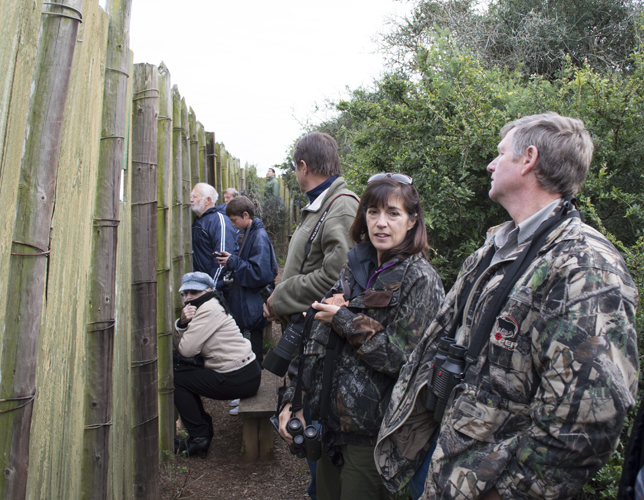 Inside a "Hide"
Inside a "hide," a wildlife-viewing blind that protects visitors behind an electrified fence, visitors whisper and watch a herd of Cape buffalo at a watering hole. Moments earlier, a pride of lions had been spotted nearby. Would the cats come to hunt the buffalo? …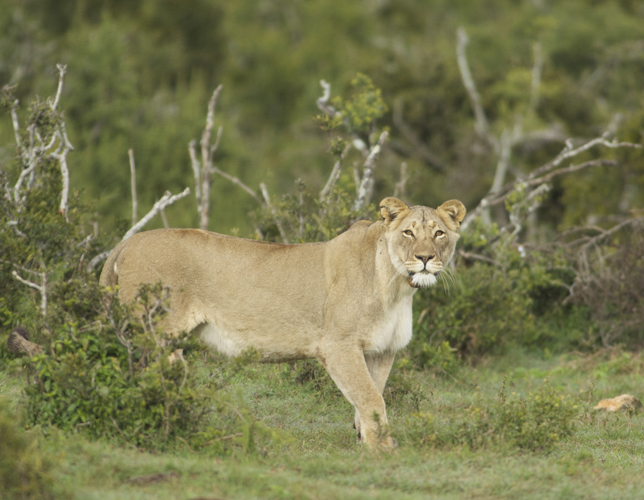 Lioness Hot on the Trail
… Moments later, a pair of lionesses appear, hot on the trail of the buffalo.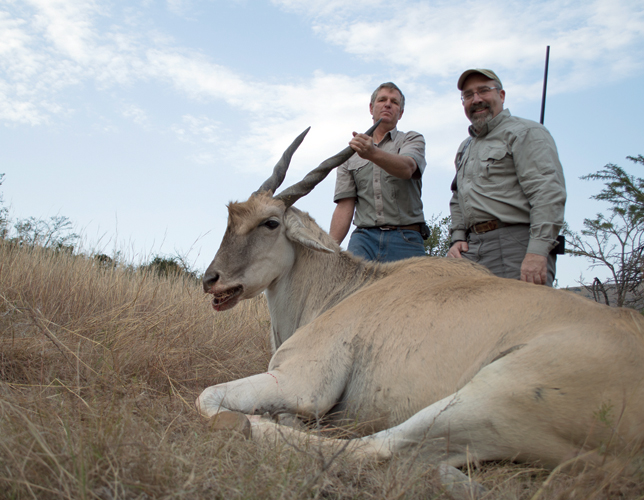 Cape Eland
Before he accomplished the feat, the author had never seen an eland bull fall to a single shot. But that's exactly what happened when he felled his bull at Bombazi, thanks in no small part to an accurate rifle (a Kimber Model 8400 in .300 Win. Mag.) and a well-placed bullet (a Winchester 180-grain E-Tip).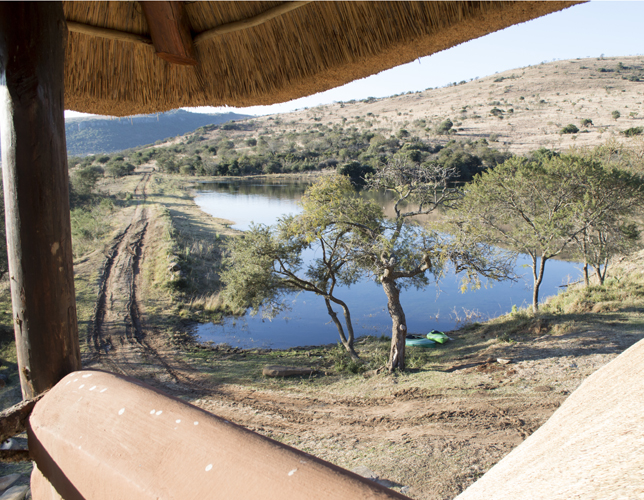 View From Bombazi's Lounge
One watering hole overlooks another: The view from Bombazi's sundowner lounge invites visitors to sit back, relax and await wildlife at dusk.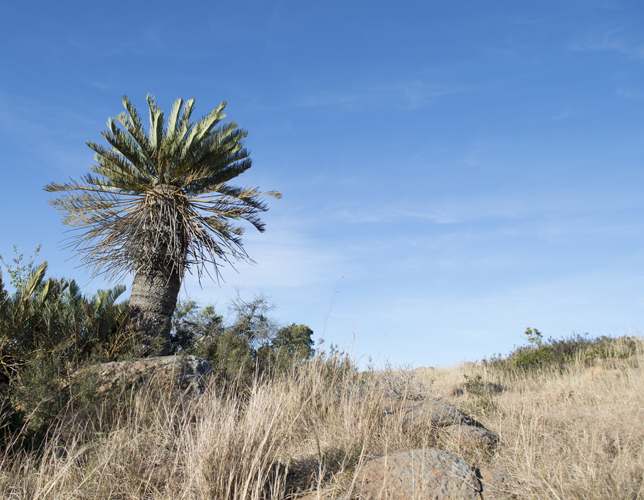 Cycad Tree
Cycads cover the landscape at Bombazi Wilderness. The ranch owners have placed numerous signs on the ranch to aid visitors with flora identification.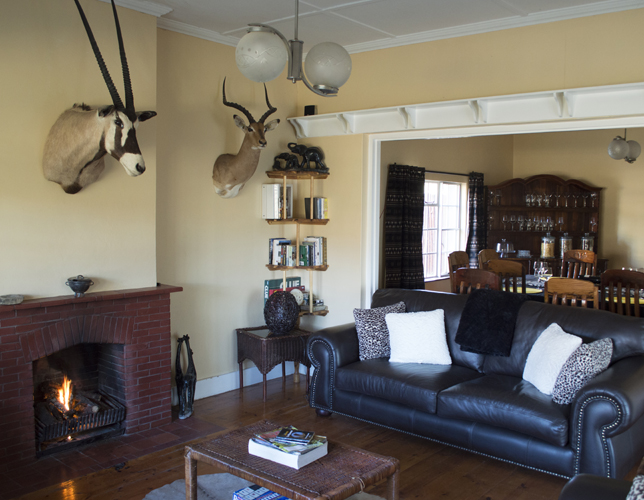 Farmhouse Sitting Room
The sitting room in the farmhouse at Bombazi Wilderness Lodge is an inviting place to talk about the day's events, while dinner simmers in the kitchen.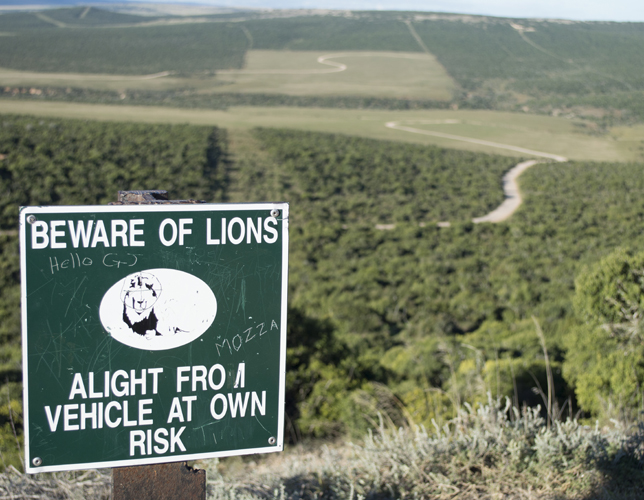 Beware of Lions
The sign says "Beware of Lions." Indeed Addo Elephant National Park is home to the Big 5—elephant, rhino, buffalo, leopard and lion—but daytime visitors are lucky if they get to see a cat. The author's party was among the lucky ones.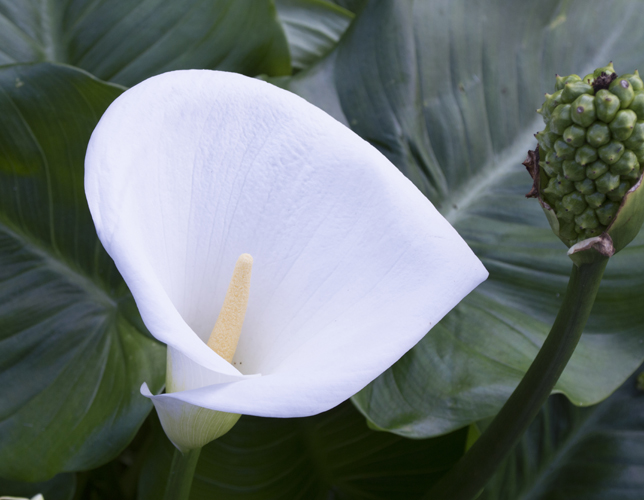 Lilies
The hillsides at the mouth of the Storms River were once covered by real yellowwoods, huge trees standing a hundred feet tall that supplied a burgeoning timber industry a century ago. Today, the hillsides are covered by smaller flora, including abundant lilies.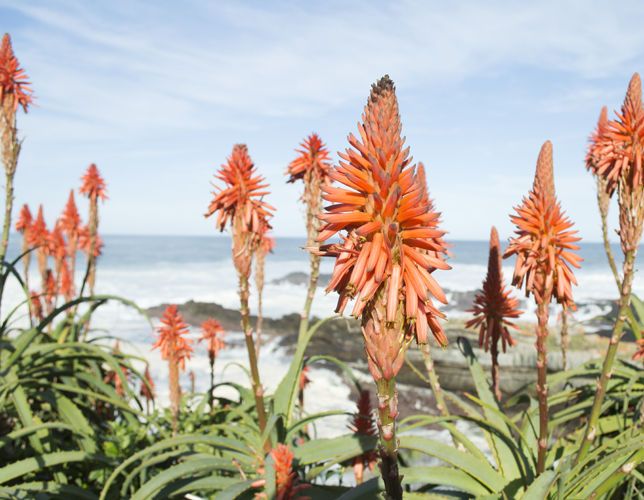 Bitter Aloe
Bitter aloe covers the coastline at the mouth of the Storms River in the Eastern Cape province, at the northern end of the Garden Route.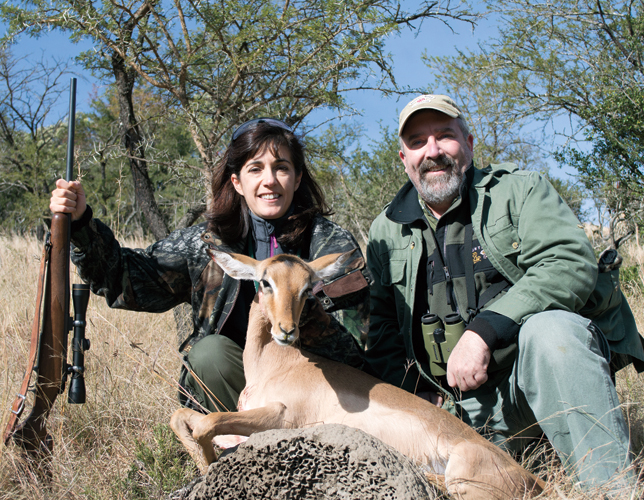 Impala
Before their trip, the author and his girlfriend, Meryl Berman, practiced shooting for a month of Saturdays. Berman had to learn from scratch. When the time came, she did exactly as she had practiced back home in Virginia: She chose a shooting position, used available support to steady her Kimber 84M in .243 Win., and made a 140-yard shot. It was her first hunt, but clearly won't be her last.
Kimber Rifle On Elk Hide
The author's Kimber M8400 in .300 Win. Mag. has accounted for many trophies—and many of them came from Africa. It is one of his favorite rifles. In South Africa, firing a 180-grain Winchester E-Tip bullet, he used the Model 8400 to take a black wildebeest and a Cape eland bull—both with one shot.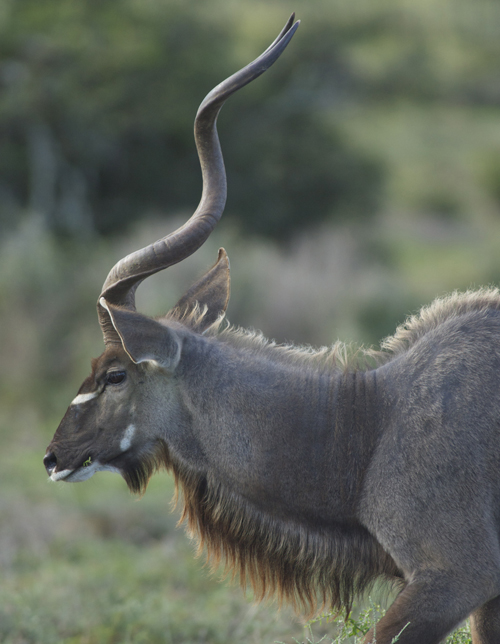 Kudu
Greater kudu are known as the "elk of Africa." In fact, the kudu in the Eastern Cape province of South Africa are known as Cape kudu because they are descended from a small gene pool. Bombazi Ranch is home to numerous kudu and other plains game, but no dangerous game, which means visitors are free to roam the ranch at will.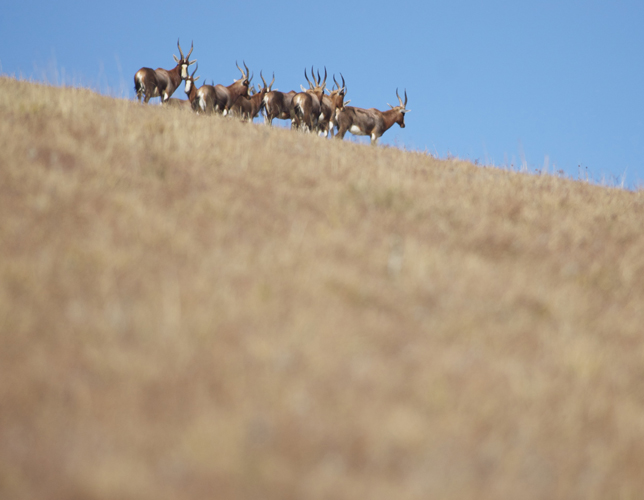 Blesbok on a Hillside
Blesbok stand guard on a hillside on the Bombazi Wilderness Ranch. Bombazi's 10,000 acres are a haven for hunters and wildlife lovers. Think of it as a bed-and-breakfast for hunters.