by
posted on September 9, 2013
Support NRA American Hunter
DONATE
NRA E-Media's Tom Rickwalder captured these images while he and American Hunter Editor-in-Chief Scott Olmsted hunted game in Africa's Caprivi Strip. From crocs and wildebeest to hippos and elephants, the Kimber Caprivi and Mountain Ascent have helped to get the job done.
Gallery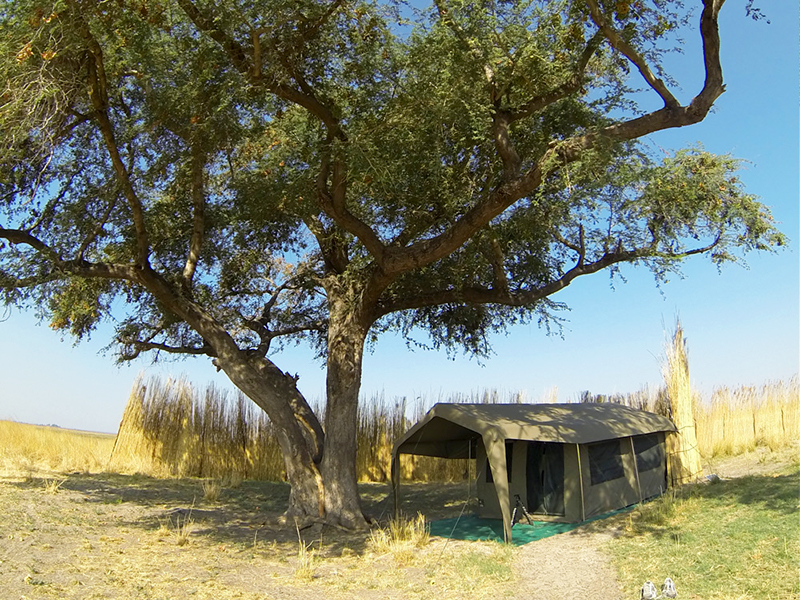 Kwandu Camp
The first concession hunted by the party lay in the Caprivi Strip, in the Namibia corner where Namibia, Botswana, Zambia and Zimbabwe meet. Kasika Camp was situated on a channel of the Chobe River, in the Strip, directly across from Kasane, Botswana.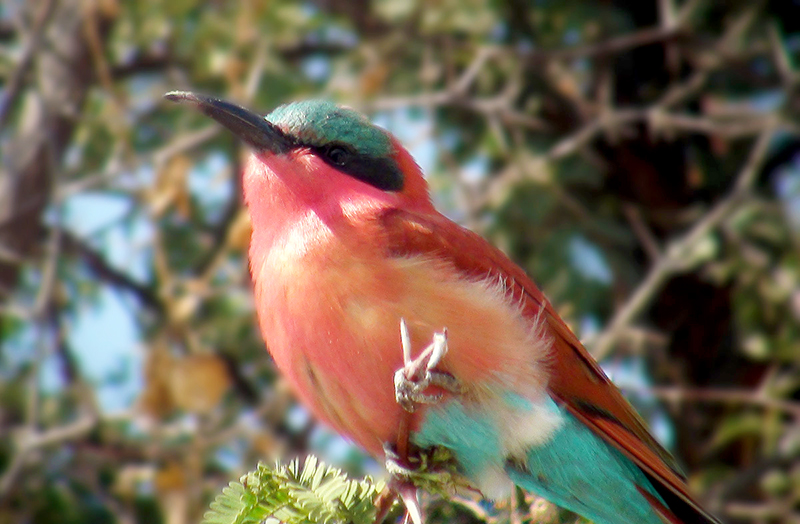 Carmine Bee-eater
Southern Carmine bee-eaters were prevalent in two locations on the Strip: on the Chobe and on the Kwandu rivers. Only 600,000 of them fly the world.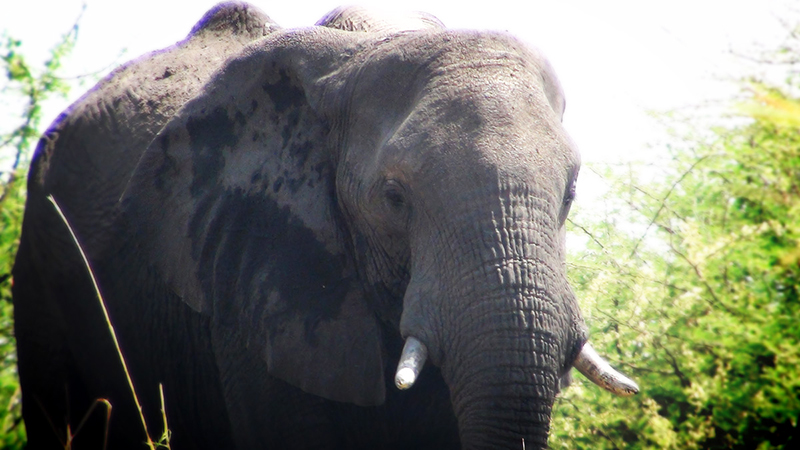 Elephant
Big Boys and Girls—The elephant population on the Caprivi Strip migrates back and forth across the Chobe and Zambezi rivers between Botswana and Namibia. Though all elephants are big, these "Botswana bulls" are the largest in the world.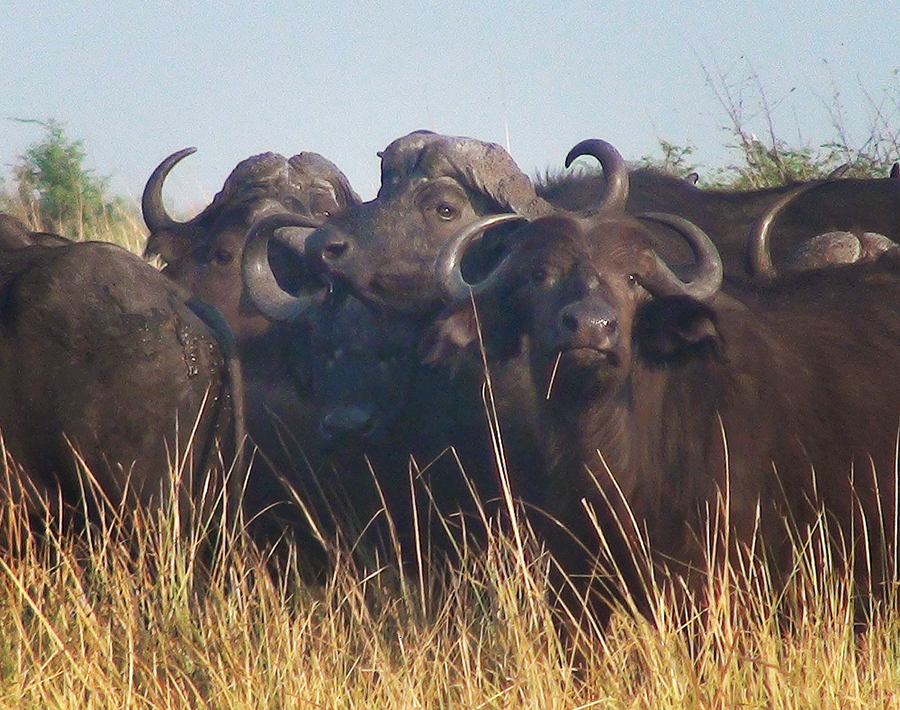 Cape Buffalo
If a guy made a careful plan—and if he was lucky and quotas allowed—he could hunt four of Africa's Big Five on Namibia's Caprivi Strip, including Cape buffalo and, if a problem animal was identified, a lion.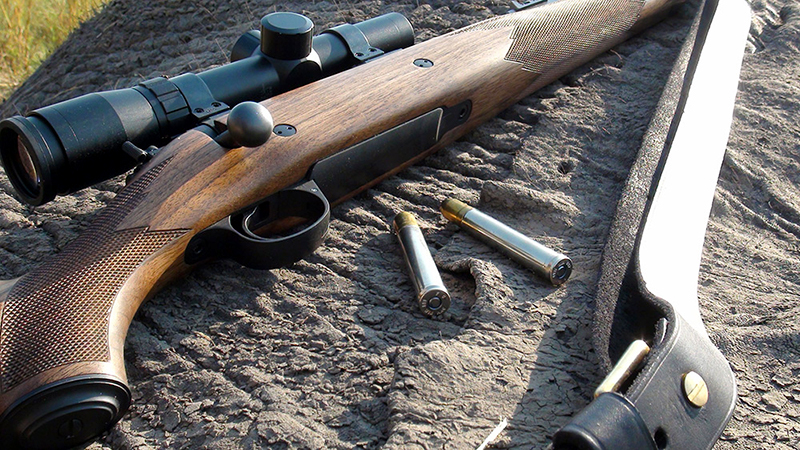 Kimber Caprivi
Olmsted's Kimber Caprivi was chambered in .458 Lott, which means it also could fire .458 Win. Mag. He chose to shoot it in .458 Win. Mag., a cartridge that has probably killed more sport-hunted elephants than any other. The Federal Premium loads were stuffed with 500-grain Sledgehammer Solids, which left the muzzle at 2090 fps packing 4,850 ft.-lbs. of energy. The scope was a Weaver Dangerous Game 1X-5X-20 mm.
Scott Olmsted's Elephant
Elephant hunting is supposed to take days of work including lots of tracking and lots of walking. Things turned out differently in the Strip. The hunting party found an "own/use" bull in the Impalila Conservancy thanks to local intelligence. A 4-mile walk, a climb up a tree and keen eyes helped find a group of seven bulls about a mile away at that point. Less than two hours later, American Hunter Editor in Chief Scott Olmsted downed Earth's largest land mammal, a 45-year-old bull elephant with one broken tusk.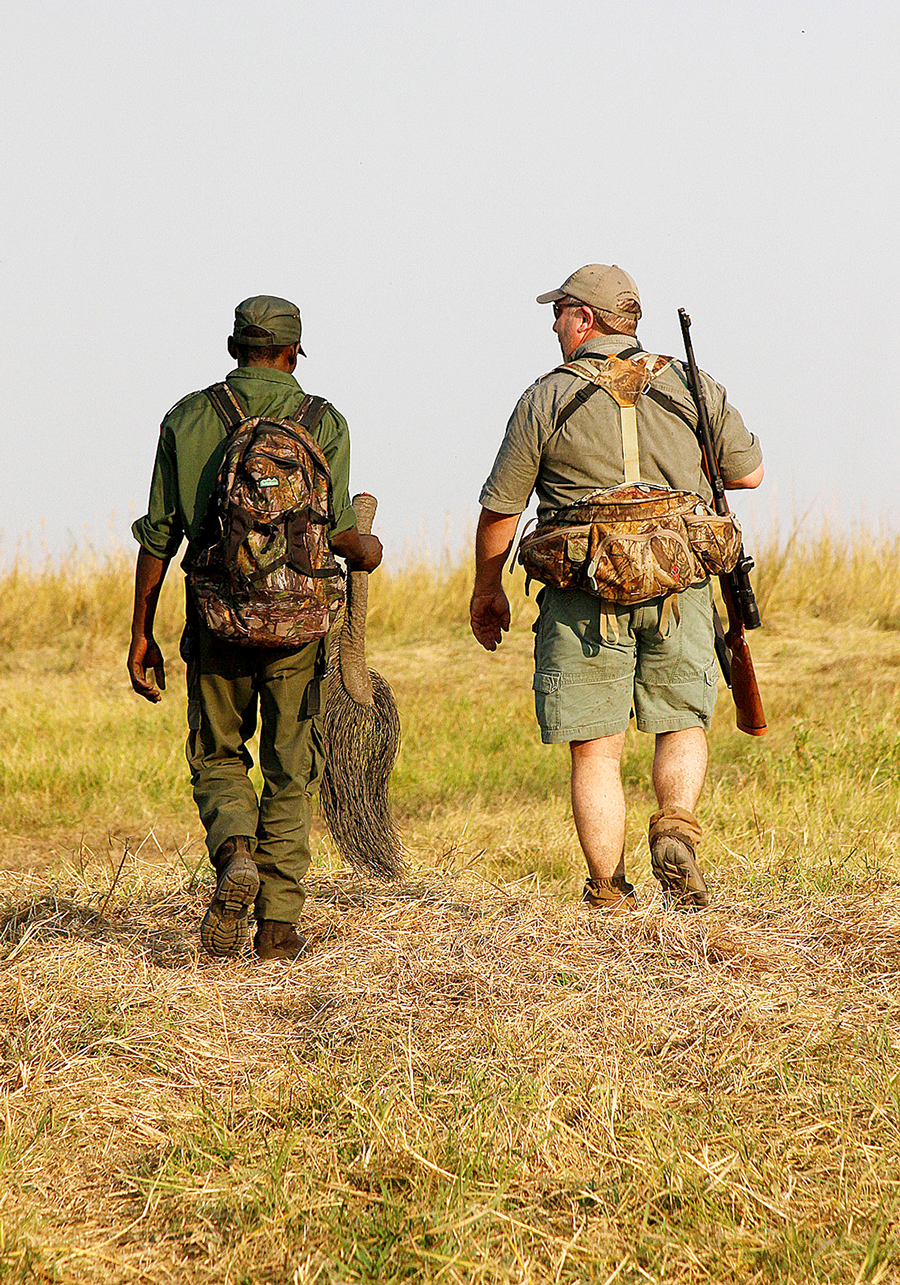 A Tail
Traditionally, "white hunters" cut off the tails of the elephants to prove ownership. Olmsted shot an "own/use" bull, meaning the animal was owned and used by the people living in the Impalila Conservancy where it was killed; he would get no trophy, no meat, nothing except the tail to prove he killed the biggest big game in the world.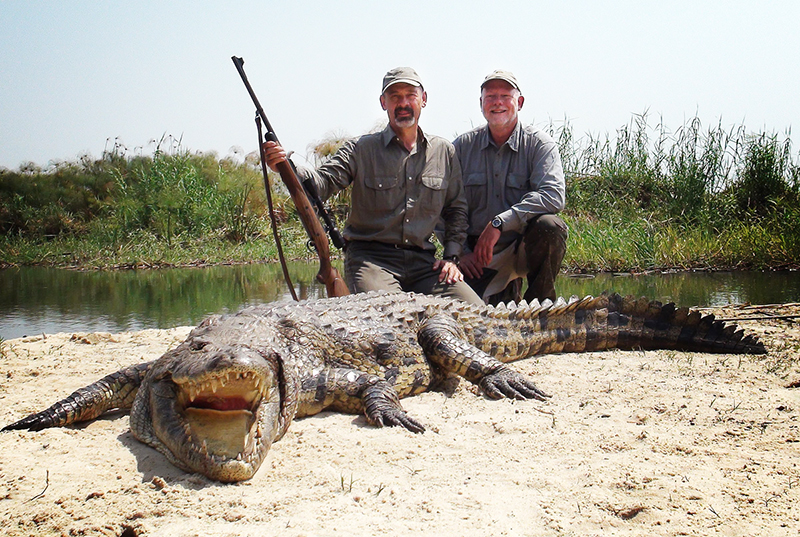 Ron Spomer and his crocodile
Crocodiles are found in abundance on the Chobe and Zambezi rivers along the Strip. American Hunter Field Editor Ron Spomer, seen here with VP of marketing for Kimber Firearms Dwight van Brunt, shot a 10-footer, the largest croc any of the PHs had seen along the rivers the entire season.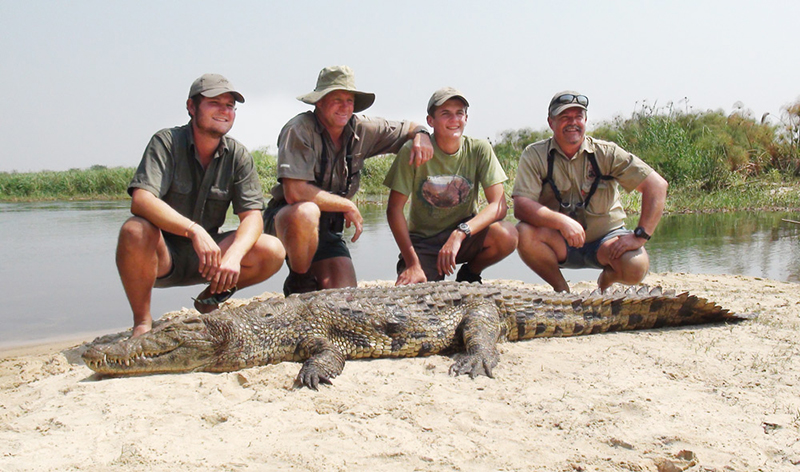 Professional Hunters
The professional hunters employed by Jamy Traut Hunting Safaris included Karel "Kabous" Grunschloss, left, and Danie Botha, who, as a PH licensed to hunt "big game" in the country, conducted the dangerous-game stalks. Also in camp was a family of South Africans who drive every year from their home in the Western Cape province to help out; teen Reinhardt Bronner, second from right, and his father, PH Dries Bronner and his wife, Renette (not pictured), were indispensable during the week spent in the Strip.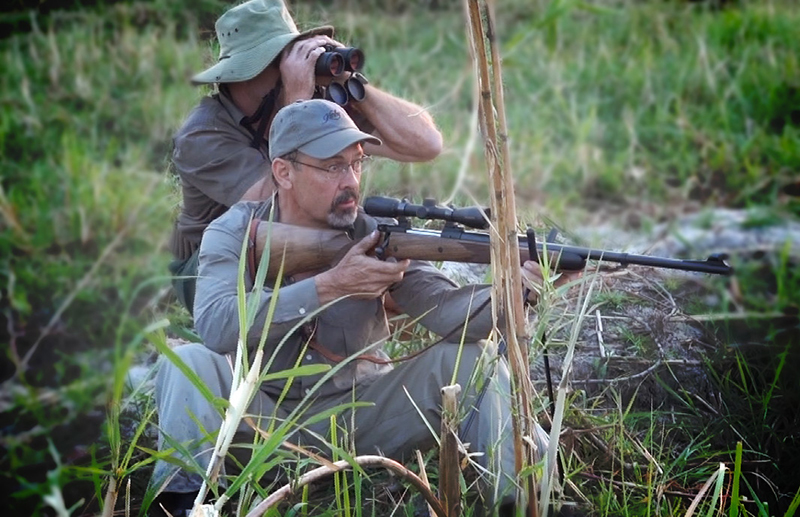 Ron Spomer's Kimber Caprivi
Ron Spomer's Kimber Caprivi was chambered in .375 H&H Mag. It fired a Federal Premium load stuffed with 300-grain Trophy Bonded Bear Claws. The scope was a Weaver Grand Slam 2X-8X-36 mm.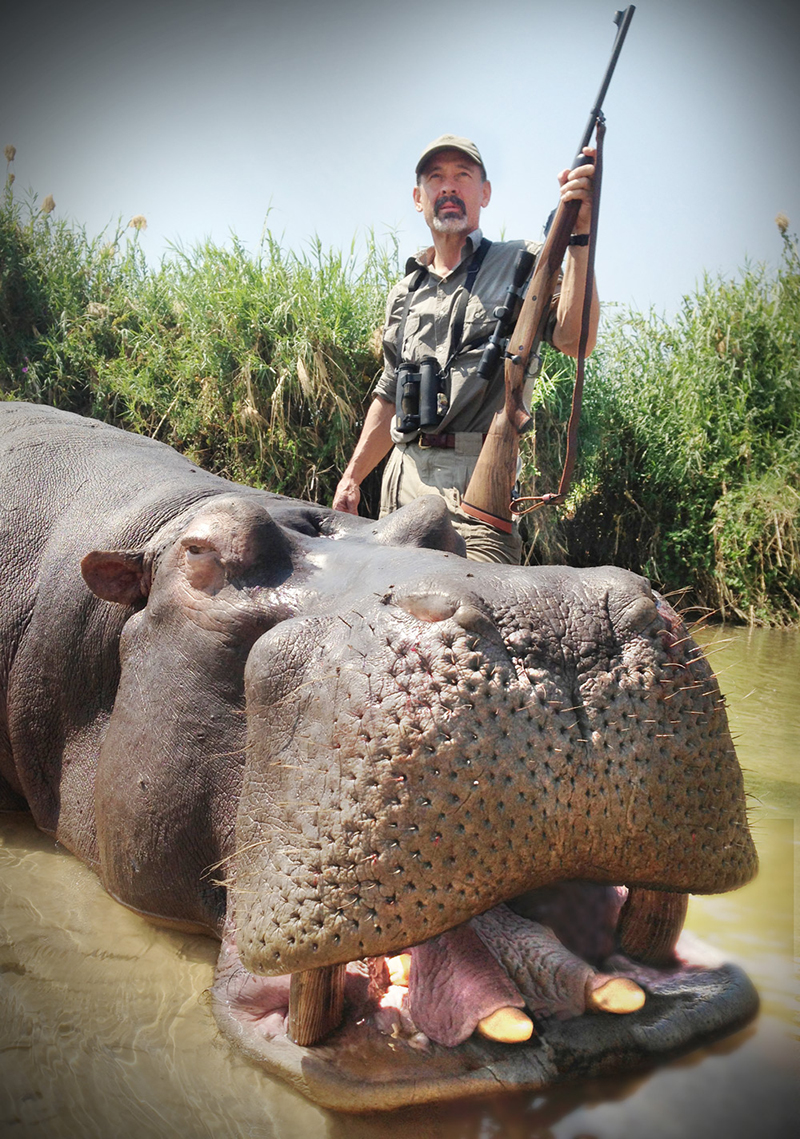 Bull Hippo
American Hunter Field Editor Ron Spomer poses with a big problem: Getting a bull hippo into position for a trophy shot is not an undertaking to be considered lightly. It took seven men lots of grunting to roll this big boy.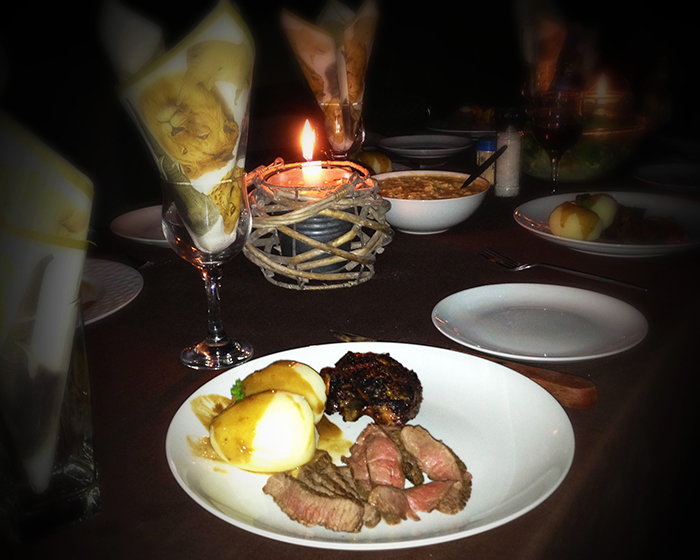 Red Meat
Believe it or not there is no fat on a hippo. Beneath a layer of skin an inch thick, which looks akin to whale blubber, lays tasty red meat.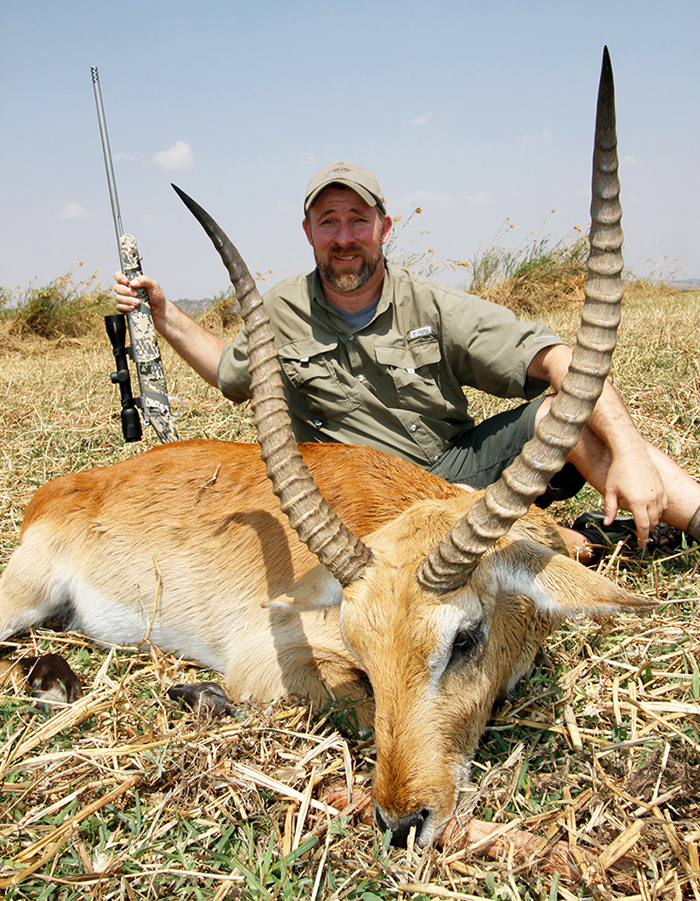 Red Lechwe Ram
NRA's Tom Rickwalder, along to film the hunt for NRA E-Media, was fortunate to get in on the action, shooting several head of plains game, including his first ever, a fine red lechwe ram.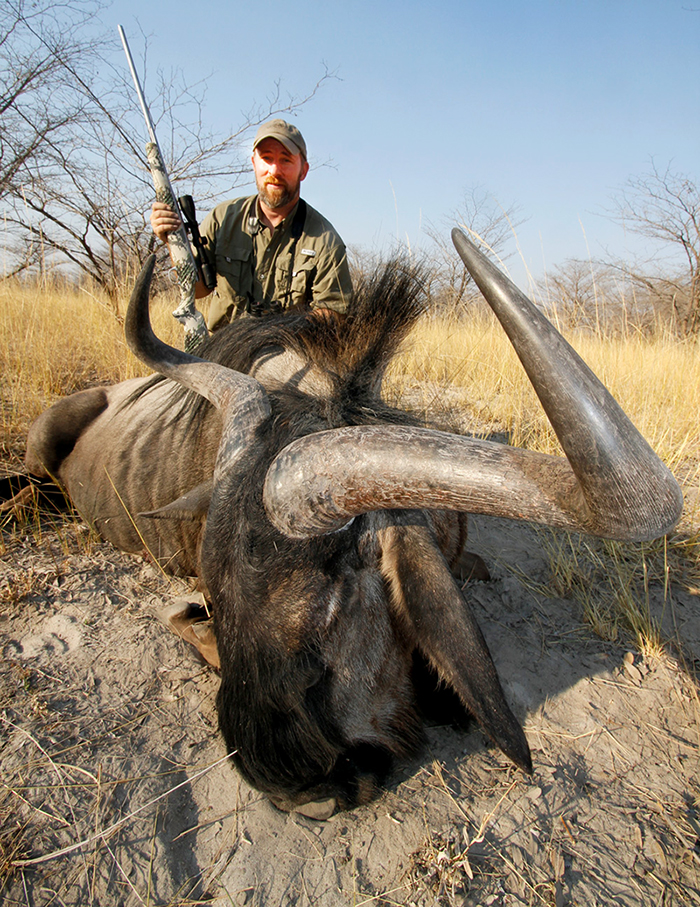 Blue Wildebeest
From Kwando Camp, in the Mayuni Concession, Tom Rickwalder continually spotted blue wildebeest while the party hunted reedbuck, impala and red lechwe. Finally, it was decided he would shoot one, if only because it seemed like his destiny. He used a Kimber Mountain Ascent in .30-06, topped with a Weaver Grand Slam 2X-8X-36 mm.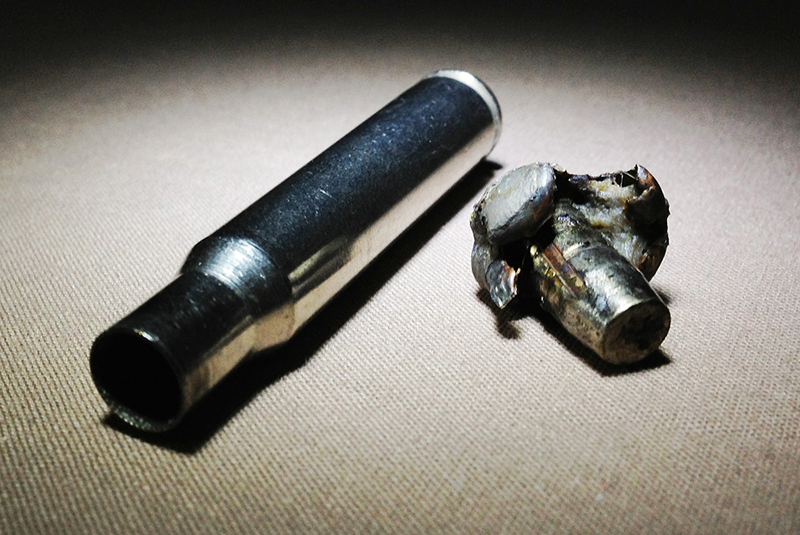 Federal Premium Load
The Kimber Mountain Ascent fired Federal Premium loads packed with 180-grain Trophy Bonded Tips. One bullet did the job on Rickwalder's blue wildebeest.