Support NRA American Hunter
DONATE
The snap of steel striking cold mountain air in an empty chamber cut the dusk crisply, echoing faintly against dark spruce trees on the far side of our meadow. A 6-point bull elk lifted his head to gaze in our direction, questioning the faint sound as an unnatural addition to his surroundings. Water dripped from his muzzle as I whispered in approval to the tall youth stretched next to me in the short alpine grass: "Good, now move to another position and do it again." He crawled forward to a downed aspen tree, found a dead rest across it and snapped the Browning X-Bolt again, muzzle dead still as the click cut the mountain air once again. This time the bull ignored the sound, his head nodding gently as he sucked water from a wallow. It was almost dark, and tomorrow was opening day. Shouldering our packs, we hiked up the mountain to a small point overlooking some of the finest elk country on Earth, spread our sleeping bags on the ground and fell asleep to the sound of bulls bugling from every point of the compass. Here we could sleep with the elk, the nighttime thermals carrying our scent above and past them and toward the valley far below.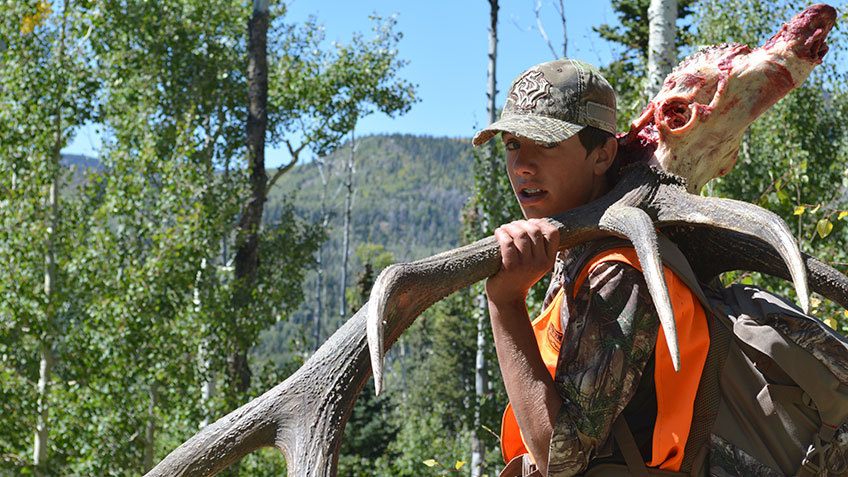 Several months earlier I'd received a call from Gerald Roundy, a boyhood friend who had moved away from the small wilderness town where we grew up. He told me his oldest son, Rhylan, age 16, had beaten the next-to-impossible odds in Utah's draw system and pulled a premium 2016 bull elk tag. We visited at length over the phone, excitement sparking our conversation about trophy bulls, speculating about Rhylan's chances of taking a really great bull that fall. I killed a truly huge 2014 bull in the same unit with a traditional flintlock longrifle, and helped my brother pull a magnificent bull from the unit in 2015. Could I find a third monster in 2016? It was possible, but unlikely.
I told Gerald that in my opinion the experience was more important than the size of the bull, especially for a young hunter pursuing his first elk ever. That said, we both knew a 350 B&C bull was very doable in that unit, and agreed that Rhylan should strive for a bull of that caliber or better. In his quiet way, Gerald kept returning to the possibility of Rhylan killing a true monster bull. "Lots of guides want to take my money," he said, "but I'd rather do the hunt ourselves. What do you think our chances are of killing a really big bull?" I told him 400-class bulls were as uncommon as 7-foot-tall men, and our chances were similar to our chances of winning the lottery. But we both knew without speaking it aloud that a monster bull was what we really wanted for Rhylan.
■ ■ ■
Several days before the season opened I slipped into a high-elevation meadow just before dawn, settled into my favorite vantage point and blew a soft cow call. Almost immediately a bull answered from across the meadow. Another cow call drew a second eager bugle from the bull—obviously on his way to investigate this sexy-sounding cow. Moments later I caught my breath as the bull strode into the meadow, looking and bugling for his romantic hookup. While not the biggest bull on the mountain, he had a huge frame, good mass and fair tine length. His most notable feature was a hooked third on his left side I estimated at about 22 inches long. I conservatively guessed the bull at 370 and headed off the mountain excited about our prospects for opening day.
Another bull, even bigger, lived in the same region as the bull with the hooked third. I had never seen him, just trail-cam photos from a month earlier, right before he went AWOL on a testosterone-filled search for estrous cows. In my experience big bulls are rarely found in their summer haunts when the rut kicks in—they leave their bachelor pad in search of popular elk sorority-girl hangouts. I wasn't sure this bull, a true monster 7x7, would show up back in the area. But after seeing the big hooker bull in the same territory I knew where I wanted to be with Gerald and Rhylan on opening day.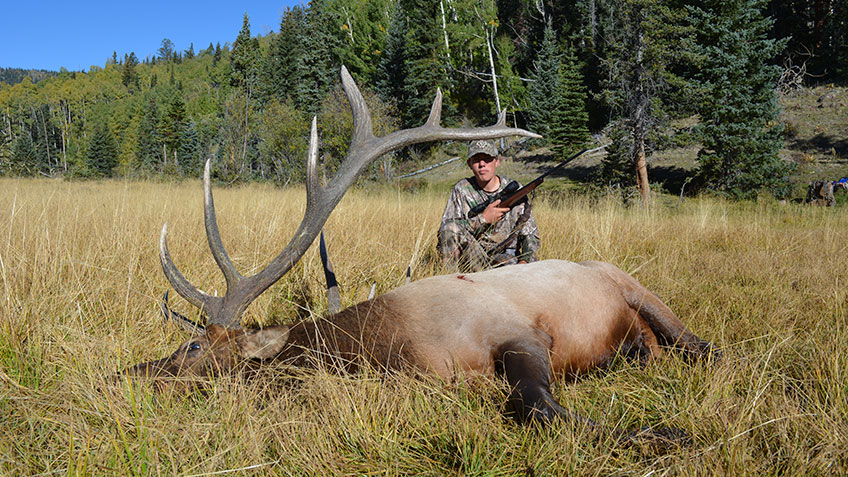 Drawing a premium elk tag in Utah is typically a once-in-a-lifetime event, and should be treated as such. Preparation should be thorough and savored. Equipment should be in top condition, and skill level with one's chosen tool should be high. But a busy schedule and weekend high-school rodeos prevented Rhylan from spending time at the range, and a week before the season opened Gerald told me they were having trouble getting his rifle zeroed. I told him not to worry: I knew a trick or two to help young shooters get on target, and we could shoot when they arrived in town.
A warm fall day found us at my favorite place to shoot. I showed Rhylan correct prone shooting form and slid a cartridge into his rifle. After he fired I pretended to slide another round into the chamber, but palmed it instead. Watching closely, I chuckled as Rhylan gave a massive flinch. He looked up at me, eyes wide and astonished. He hadn't even known he was flinching. Rhylan is a sharp, steady young man, though, and in short order was reclaiming his nerves and shooting tight little groups. I sent him home with an assignment to dry-fire practice at least 50 times per day from prone and sitting positions. That night we looked at photos of elk and discussed shot placement. He was almost ready.
Several days later found us hiking into elk country with sleeping bags and enough food in our packs to keep us fed for a day or two. Along the way we encountered several bulls, and I implemented the final part of my strategy to prepare Rhylan for his first shot at an elk: He dry-fired at each bull from multiple spots, perfecting a steady squeeze from various field positions. Nightfall found us at the beginning of this story, having a slumber party with a bunch of partying elk.
■ ■ ■
Gray was showing in a thin line above the eastern horizon when I awoke on Sept. 17, 2016. The elk seemed to have partied themselves into a stupor; the morning was quiet and still. I woke Gerald and his two boys, brushed the frost from my sleeping bag before I stuffed it and crammed a granola bar into my mouth. Opening day was here.
Meadow after meadow was silent and still as we slipped clandestinely through the high country. As dawn turned into mid-morning, all we'd seen were three spike bulls contentedly browsing away the morning. I headed for the big bull's stronghold in hopes that we'd find the elk waiting out their hangovers. Sure enough, as we crested a ridge we could hear bulls bugling far below. The party was heating back up.
Buried in a vast sea of black timber, we snuck our way closer to the elk, trying our best to keep the capricious morning thermals from ruining our stalk. Several bugles sounded at less than a hundred yards, the timber too thick to allow even a glimpse of the bulls. We inched our way closer. Finally one bull lined out, headed for a mid-meadow wallow to get a drink and cool off. I told Gerald and his boys, "He's headed for the meadow. Let's go—we need to beat him there and set up." We took off, sneaking through deadfall and timber as rapidly and silently as we could, fearing we would be too late.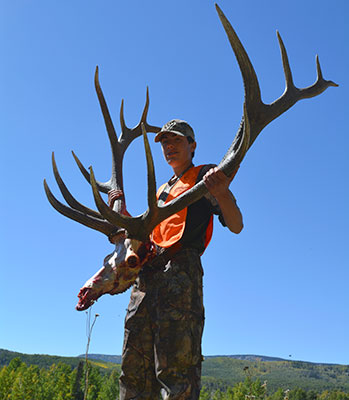 When we reached the meadow nothing moved. We inched forward, glassing the black fringe of timber for movement, for the tan hide of a watching bull. Nothing—we'd beaten the bull to the meadow. I whispered to my companions, "Let's move to that point 30 yards ahead and set up". One last look at the empty meadow and we were off, long strides closing the distance toward the point when I heard Gerald's younger son, Hayden, say, "There's an elk."
I hit the ground and looked through my binocular at the head and shoulders of a tremendous bull that had partially emerged from the trees and was sucking water at the meadow's edge. I immediately knew we were looking at the 7x7 monarch—one of the most magnificent bulls I've ever seen on the hoof. Turning to Gerald and the boys, I whisper-shouted, "We need to kill that bull."
Shrugging out of my pack, I laid it on the ground next to me for Rhylan to shoot over. We watched the bull, fearful he would turn and disappear back into the timber. To our delight he took a few steps farther into the meadow, still intent on slaking his thirst. Gerald ranged the bull at 200 yards as I whispered to Rhylan to stay calm, and squeeze the trigger when he was ready.
Up until that moment the morning had been quiet, almost boring, from an elk-hunting perspective. Then 30 seconds of adrenaline-filled excitement led to absolute bedlam following Rhylan's first shot. I watched it hit, and was cautiously optimistic the shot was good. But the bull soaked up the 150-grain Partition with fortitude common to huge old bull elk, and just stood there. That rattled Rhylan, who rushed his next shot, missing the bull completely. Inspired, the bull took off on a run for Montana. Fortunately, he headed across the meadow rather than reversing direction and disappearing back into the timber. A third shot actually connected as the bull quartered away at a dead run. The fourth and last shot disappeared into parts unknown. The rifle was empty.
Fear that the bull would reach the timber and escape had us all in a stranglehold. Rhylan yelled in a whisper for Hayden to throw the spare magazine to him, slammed it home and got back on the bull as the elk fish-hooked and stopped, facing back into the meadow. I quietly urged Rhylan to calm down and take a careful shot. The sound of bullet meeting elk meat was a welcome sound, and the high-country monarch lay still in the tall meadow grass.
■ ■ ■
The events leading up to a moment like that one are monumental. For a bull to achieve such maturity, maintain health and carry the genetics to grow antlers of almost biblical proportion is incredibly difficult, to say the least. Certainly, living in a limited-draw unit helps, but the bull still has to survive his first antlered fall, carrying his first proud spikes through a forest of orange-clad hunters, all devoted to making him into meat. If he survives that year he's got a free pass until his antlers grow big enough to be interesting, but he's still got to survive tough winters, mountain lions and other predators, and fights with other bulls. In addition, he must escape any antler growth-compromising injuries.
About year four or five, our bull is starting to tempt hunters—especially hunters who are not especially picky or are in the last days of their hunt. If his luck and savvy hold, he'll escape another three to seven years—the close calls, the whip-like cracks of missing bullets, and other encounters with hunters imparting more caution and greater wisdom. At this point he can become very hard to kill.
At the height of their potential (most biologists agree a bull elk will grow his best antlers from age 6 to 12, with 7, 8 and 9 being prime) most bulls will sport a rack gross-scoring 330-370 B&C points. In most elk woods that's huge, and any hunter with an ounce of sense would be over-the-top excited to put his tag on such a bull. But these in Utah are not most elk woods. (That said, a 350- to 370-class bull is still a great bull, and most hunters should think very hard before passing such an animal.) Almost every year several bulls are taken in this unit that break that magical 390- to 400-inch mark.
The unit for which Rhylan drew his tag is one of the best (perhaps the best) units in Utah. Genetics and living conditions (nutrition, topography, cover, water) lend themselves to producing huge bulls—some of which routinely grow antlers that crowd the 370 mark. A few bulls (even in less-than-ideal years) grow spectacular racks that push into the 380s. The only ingredients necessary for these bulls to achieve super proportions are several stress-free mild winters in a row followed by a wet spring and summer that produce an abundance of forage. Stir those in, and our old, savvy, reclusive bull will grow antlers to make any serious hunter weak at the knees. At this point our bull is in or past his prime, has spread his superior genetics across his mountains, and is ripe for harvest.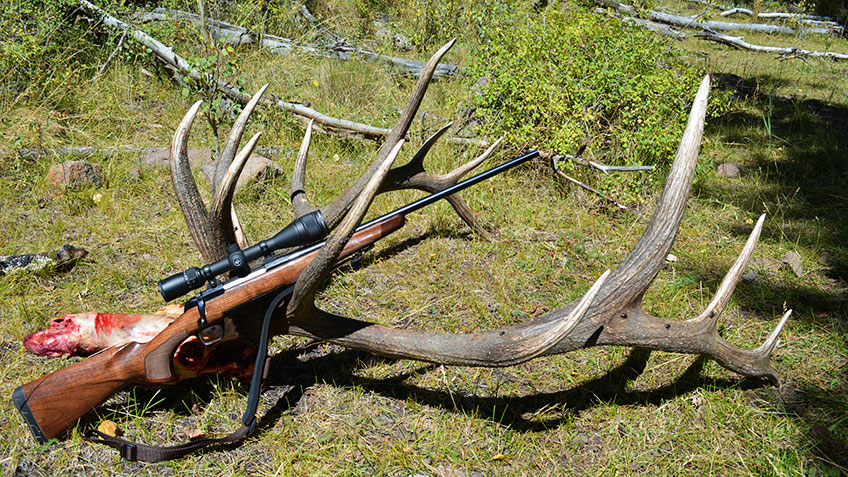 Many, in fact most, Western elk hunters strive for years to draw a bull tag in a premium unit. Some never will—especially with point totals creeping ever upward, never to return. It's a huge problem with no ready cure (a subject for another day). Most who draw will never draw again during their lifetime. Rhylan pulling the tag and taking that bull was monumentally serendipitous. On his third attempt—as a youth of 16—Rhylan pulled the best tag he'll ever draw, and killed a bull the likes of which most serious elk hunters spend their lives dreaming about but never even lay eyes on.
On that beautiful September day we approached the fallen monarch in his high-country wilderness, attempting to believe what had just happened. Rhylan studied the bull with wide eyes, the enormity of what he had accomplished just beginning to sink in. As we photographed the bull I couldn't get over his mass, color, tine and main-beam length, spread—everything lending to extraordinary beauty. We skinned and quartered the bull, staggering uphill to hang the heavy quarters and tender backstraps in a shady spruce thicket. Tired but happy, we shouldered our packs and headed out of the high country, antlers strapped atop Rhylan's pack. That night, the meat horse-packed safely out of the mountains and hung to cool, we taped the bull.
I unofficially green-scored the bull at 397 gross. Later, after the mandatory 60-day drying period, the bull was officially scored at 3956/8 gross, and 3837/8 net typical, qualifying him for Boone & Crockett's all-time records book. More importantly, Gerald and his boys had an awesome elk-hunting experience. I was honored to give a hand, and Rhylan was blessed with an animal that will take him decades to fully appreciate.