I had sat on stand patiently, as still as possible, since before dawn, with no results. Chickadees, red squirrels and the occasional crow would break the monotony, but there were no deer to speak of. Just as I had decided I was as cold as I could be, and it was time to come off stand and ward off the hypothermia, the unmistakable rustle of oak leaves and stamping of hooves broke the silence, and brown fur at Mach II grabbed my attention, as the deer crossed from right to left.
I will never forget the way the sun glinted of his hide, or how impossibly fast he seemed to run through the tangle of trees. I shouldered my .308 Winchester, put the crosshair about four inches in front of the shoulder, swung with him and broke the trigger. When he folded and piled up, I'm not sure who was more surprised. That rig—a Ruger Model 77 MKII topped with a Tasco 3-9x40mm scope—was the best I could afford, and before I had better financial means, accounted for a whole bunch of whitetails.
I have since been exposed to, owned and experimented with the best glass on earth, but the fact remains: I got the job done back then with a scope that makes my eyes roll to this day. Having seen both sides of the coin, I fully understand that when the family budget dictates how much can be spent on a riflescope, you need (not want) the best bang for the buck, and every dollar counts. With that in mind, let's look at five riflescopes which represent a great value for the big-game hunter. Value doesn't mean inexpensive, but rather giving a set of features worthy of the investment. And while everyone's budget is different, I'll include some different price points for different budgets, but all of the scopes I'll include are solid and dependable.

1. Leupold VX-Freedom 3-9x40mm CDS Duplex
The 3-9X magnification range still reigns supreme, as it covers the majority of hunting situations very well. At the bottom end of 3x magnification, close-in shots are still handled cleanly, yet the top end of 9X magnification has proven to be enough within the most common hunting ranges. Leupold's VX-Freedom line is rugged and dependable, with glass that belies the price point. The inclusion of a CDS (Custom Dial System) elevation turret gives plenty of flexibility. The VX-Freedom has a tube with enough length for all sorts of mounting situations, and the simple Duplex reticle gives a wonderfully uncluttered look in comparison to many of today's riflescopes. The 40mm objective lens gathers enough light to make that 'last light' shot yet can be mounted close to the bore. MSRP $299.99; leupold.com.

2. Burris Fullfield E1 4.5-14x42mm
Should you want an affordable scope with a bit more magnification, look at the Burris Fullfield E1 4.5-14x42mm. This scope is part of Burris' latest revamp of the popular Fullfield line, and this model offers parallax adjustment via a left-side knob, capped adjustment knobs and the Burris Fullfield E1 reticle. Allowing for elevation and wind deflection adjustments out to 500 yards, The E1 is a perfectly logical choice for hunters who pursue game at longer ranges. And it's backed by the Burris Forever Warranty. MSRP $263; burrisoptics.com.

3. Bushnell Elite 4500 2.5-10x40mm
Bushnell riflescopes have long been a favorite of the budget minded, and I've used various models over the years. The Elite 4500 series seems to possess the balance of features that makes for a fantastic value for the hunter on a budget. The 2.5-10x40mm model is a great all-around choice, handling a wide number of hunting situations. I took one to South Africa, mounted atop an accurate .300 Winchester Magnum, and took a kudu bull and a good waterbuck with that rifle. The Elite 4500 is simple and rugged, handles recoil well, and delivers a nice, bright image. 2.5-10X is, for all intents and purposes, the same as most 3-9X scopes, so this makes for a good choice as an all-rounder, and it worked perfectly for me on shots from 50 yards—when that kudu bull broke cover an offered me a running target—to a 250-yard shot on an unsuspecting waterbuck, and more in between those distances. The turrets are capped, so holdover will need to be estimated or determined via the duplex-style reticle. The 4500 isn't complex, and that's the beauty. MSRP $269.99; bushnell.com.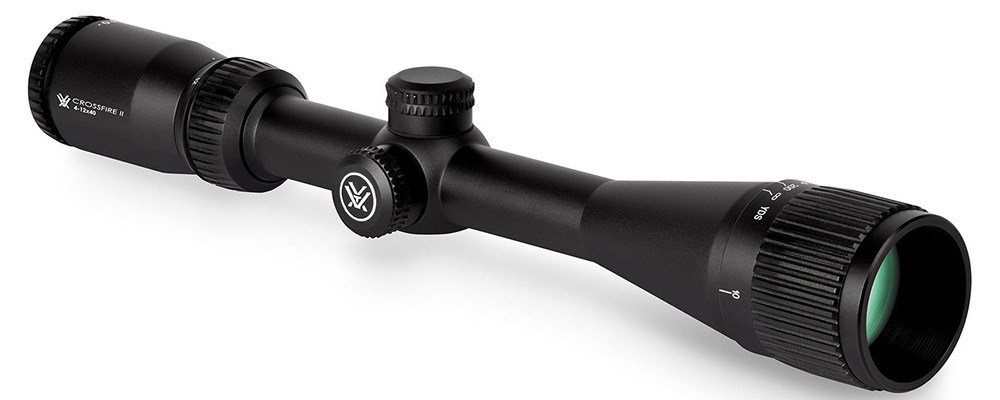 4. Vortex Crossfire II 4-12x40mm AO
With almost four inches of eye relief, the Vortex Crossfire II is a good choice for a flat-shooting magnum. The top end magnification of 12x will certainly aid in connecting at longer distances, and the 5½ inches of mounting space will help when mounting the scope on magnum receivers. The AO is located on the bell end of the scope, and Vortex uses capped turrets in conjunction with their Dead-Hold MOA reticle, which gives one-MOA hashmarks for elevation and windage on the crosshair without cluttering the image. Vortex even includes a sunshade and lens covers in addition to their Lifetime Warranty. MSRP $299; vortexoptics.com.

5. Leupold VX-3HD 3.5-10x40mm CDS-ZL Duplex
Leupold's newest scope line is nothing short of wonderful, yet is affordable and will serve a hunter for a lifetime. I took this scope to Hawaii where I put through its paces in terrible onshore winds, while taking a quartet of axis deer at ranges out to 250 yards, in all sorts of differing light conditions. The scope tracked perfectly, and handled any task I asked of it. It was mounted atop a Nosler Model 21 in .27 Nosler—not a hard-kicking rifle, but no slouch either—and I really appreciated the quality of glass and lens coatings at last light, and while looking nearly directly into the sun. At the bench, the reticle moves precisely as you tell it to; while so many scopes advertise ¼-MOA adjustments, only to find out that measurement isn't quite accurate, Leupold means it. While it is the most costly scope on my list, I feel it worth every penny, and also worth saving for. I love the CDS elevation turret, boldly marked in ¼-MOA increments, which allows the user to quickly dial for elevation changes, and the Zero Lock gives a quick visual assurance that the turret has been brought back to zero. The Duplex reticle is simple and stark, and it should be; with the speed and simplicity of the CDS dial, and shots requiring holdover can quickly be dialed. I'm a huge fan of the entire VX-3 line, but I'm happy to report that the VX-3HD line is a big improvement. MSRP: $499.99; leupold.com.