by
posted on March 18, 2010
Support NRA American Hunter
DONATE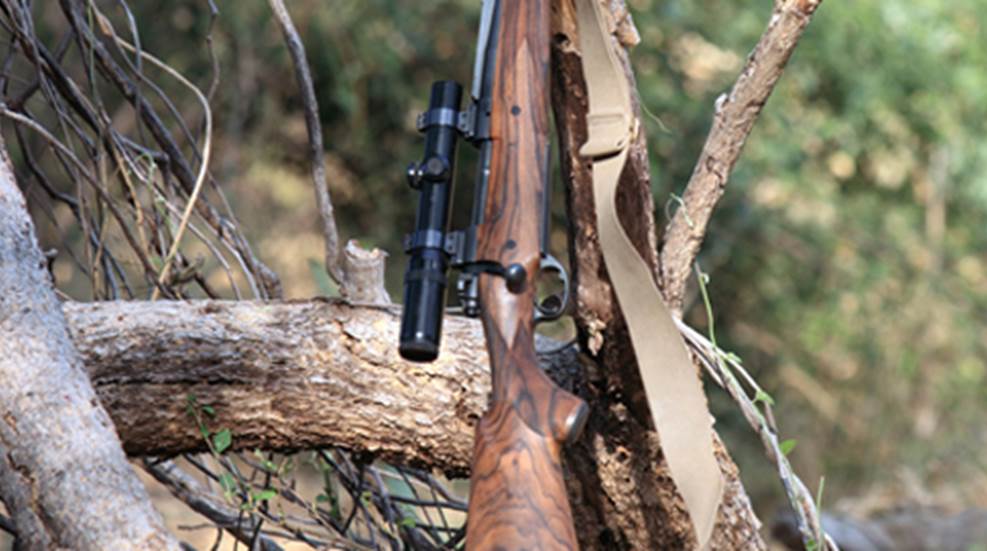 Caliber choices for dangerous game in Africa are restricted by law in most countries to .375 H&H Mag. and up. There are some odd-ball rules having to do with "joules" of energy in Zimbabwe and one or two countries allow 9.3 mm metric calibers, but by and large you can go with the .375 H&H Mag. as the ground floor.
As I contemplated what rifles to take on a recent Tanzanian safari, my choices were colored by what by game I would be hunting, along with the legalities of caliber. I ended up with a classic "three-rifle battery" of a .300 H&H Mag.for a "light" rifle, a .500 Nitro Express double for a "heavy" and for a "medium," a .416 Rigby built on a Winchester Model 70 action by Tucson gunsmith Sterling Davenport.
Bearing in mind that my "heavy," the rifle I affectionately call The Old Girl, is equipped with iron sights and would be my primary rifle for elephant and buffalo, while my "medium" .416 Rigby would be for buffalo in cases where iron sights might not be suitable and, more importantly, for lion.
The .416 Rigby has been called "ideal lion medicine" by no less an authority than John Taylor, the author of "African Rifles & Cartridges." Frankly, I think the .404 Jeffery has a better track record in Africa because Rigby never made more than 150 bolt-action in its eponymous cartridge versus the thousands of Game Department rifles bought in the less expensive W.J. Jeffery guise in .404.
That said, a .416 Rigby is such a classic African cartridge, immortalized by Robert Ruark in the hands of his PH Harry Selby, that the nostalgic appeal was irresistible.
Davenport opened up the Model 70's bolt face and magazine box to accept the long .416 cartridge. A 23-inch custom Douglas barrel was installed to which he fitted a tasteful quarter rib with a single V-sight accented with an ivory triangle.
This rifle was built when Ted Blackburn still offered his beautifully crafted bottom metal for a Model 70, so my rifle was fitted with Blackburn's signature floor plate and trigger guard.
A hooded barrel band front sight from NECG was added along with a barrel band sling swivel. The rifle was custom stocked with a blank of marble-cake exhibition grade California walnut.

When the time came, my .416 Rigby was "enough gun" for a superb lion as well as a Cape buffalo we ran into in the long grass. For the ideal "medium" caliber for Africa, you'd be hard pressed to top a .416 Rigby.