by
posted on August 24, 2009
Support NRA American Hunter
DONATE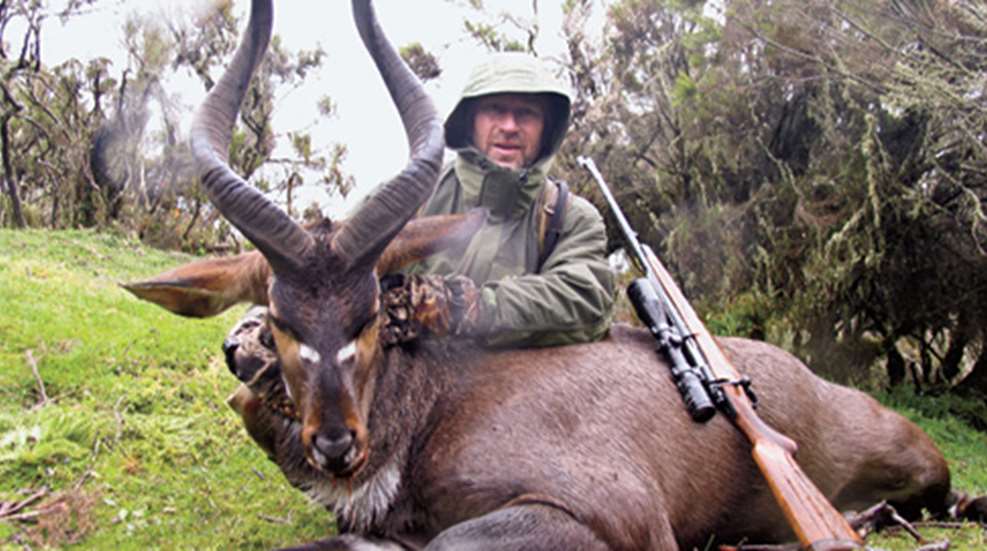 For power and versatility, I wanted a riflescope that could shoot to my own personal limit on ethical hunting, 400 yards, which meant a variable riflescope with high magnification and an easy-to-see reticle.
Cutting to the chase, after considering all the "top dogs," I picked a Schmidt & Bender 2.5x-10x Classic with a 56mm objective and a No. 8 German post reticle. Retailing for $1,839, this uber-premium riflescope is certainly among the best, alongside other European top-of-the-line models. Some people would say it is "the" best riflescope out there. I am one of those people.
Nothing shows its dedication to quality more than S&B's obsession with the glass it uses. It's often said that the Germans make the best optical glass in the world, but that's not always true. Even though the Germans invented glass (the term "glass" was first coined during the Roman Empire when the Roman glass-making center was in Trier, Germany) they're not the only game in town. There are manufacturers in Eastern Europe and Asia that are capable and proven in producing top-quality "camera-grade" glass.
Consequently, S&B sources the best glass from worldwide vendors. "We buy a camera-grade glass that meets an ISO standard," said Mark Cromwell of New England Custom Gun, the U.S. importer of S&B. "Some of it is from Germany, some of it is from other countries. There are only a handful of companies in the world that make this grade of glass, and we buy from all of them."
The S&B's adjustments are rugged and precise, too. Precision refers to how well the elevation and windage adjustments function and hold. A basic test is called "shooting the square." If you go up 20 clicks, then left 20 clicks, back down 20 clicks, and right 20 clicks, you should be right back at the original point of impact with a perfect square of bullet holes. I did that, and my sample came right back to the original point of impact.
I also like the fact that Schmidt & Bender uses a first, or front, focal plane system in which the reticle is etched on a lens in front of the focal plane of the scope. This means that the reticle remains constant in size relative to the image or, to put it another way, if the crosshairs cover an inch of area at 100 yards, even if you dial up the magnification, they still cover an inch. This makes "hold-over" aiming more precise, as the reticle remains the same size relative to the target.
Additionally, etched reticles are more durable than mechanical reticles (wires suspended in the erector tube). "Schmidt & Bender was the first manufacturer to switch exclusively to etched reticles," said Cromwell. "It is a very tedious process and one that S&B does very well."
The bottom line is how clear and sharp is that riflescope going to be on a rainy, cold, jagged mountain when that once-in-a-lifetime trophy emerges from the mist like a ghost in the fog?
It was pelting rain when I was shaken from my tent, half-asleep, at 3:30 in the morning, a mug of hot coffee mercifully provided. I wriggled into my boots and shrugged on a Cabela's rain suit, grabbed my rifle and joined my PH, Danny Negussie, and the clutch of hill people who would be our guides. It was too dark and too wet to ride the mountain ponies that are normally used, so we climbed the rain-slicked hillsides on foot. We still had another 45 minutes to go to reach the spot where Danny wanted to be at sunrise to glass a likely hillside he suspected the most elusive of all the spiral-horn family might use to return from their night feeding.
Four bulls emerged from the tree line below us, and I followed them in my riflescope, craning my neck to see over our rocky hiding place. Two were clearly immature bulls, one was bigger, the other had a better shape to his perfectly symmetrical lyre-shaped horns. Despite the downpour, my S&B riflescope showed the bulls making their way to us.
They closed to 75 yards, virtually spitting distance in mountain nyala terms, and then spooked. Maybe it was the wind, maybe they saw us, but as they ran, I tracked the prettier bull. When he paused that fateful pause to look back, my Barnes TSX took him hard in the shoulder. My trophy-of-a-lifetime was down cleanly.
My Schmidt & Bender had withstood a hard fall, then tracked a running target easily, the thick German post standing out on the dappled gray, rain-soaked hide like a black crucifix on a white robe. It was a hunt of hunts and, in my personal opinion, Schmidt & Bender is the riflescope of all riflescopes.
Magnification: 2.5x-10x
Objective Diameter: 56mm
Tube Diameter: 30mm
Exit Pupil: .543" (2.5x)- .232" (10x)
Eye Relief: 3.7"
Field of View (@ 100 yards): 39.6' (2.5x)-12' (10x)
Weight: 22 ozs.
Material: aluminum alloy
Reticles: various; No. 8 German (tested)
MSRP: $1,839