by
posted on February 26, 2018
Support NRA American Hunter
DONATE
During last year's opening morning of Missouri's youth spring turkey season, I was invited to tag along with some family to assist with calling in a mature gobbler for my young cousin Cyrus. After meeting that early spring morning, we eased into the blind well before daylight, and as the morning progressed, the turkey sounds began to fill the air. Toms were gobbling in multiple directions, along with several hens yelping back and forth to each other as if they were still shuffling to see who the dominant hen would be.
After listening for several minutes to the sounds of spring at its best, three mature toms had committed to the occasional calling that I had been doing from a mixture of a diaphragm call as well as a slate call. The sounds of wings dragging in the leaves combined with a spit and drum had all three of us watching out the side window of the blind. As three gobblers came into view, they immediately got the attention of the three decoys we had place 20 yards in front of us. After rubbing against the decoy for a few seconds, I heard Cyrus' father give the signal to take the shot, followed by the snap of the shotgun. We quickly realized that a shell had never been put into the barrel. I continued calling as Cyrus and his father worked to get a shell into the chamber quietly. As the action of the automatic shotgun closed, all three gobblers spooked straight up into the air, and then settled back down. As soon as they hit the ground, Cyrus made a successful shot on a mature tom. The hunt would never have been possible had we not been well-hidden in a ground blind.
Hunts like that are one of the many reasons why I love hunting turkeys out of a ground blind. Even though ground blinds have been around for several years, 2018 seems to be the "year of the ground blind" due to several companies coming out with unique designs that have never been seen before, and are sure to catch the attention of many hunters. Here are the top three new and innovative ground blinds introduced this year.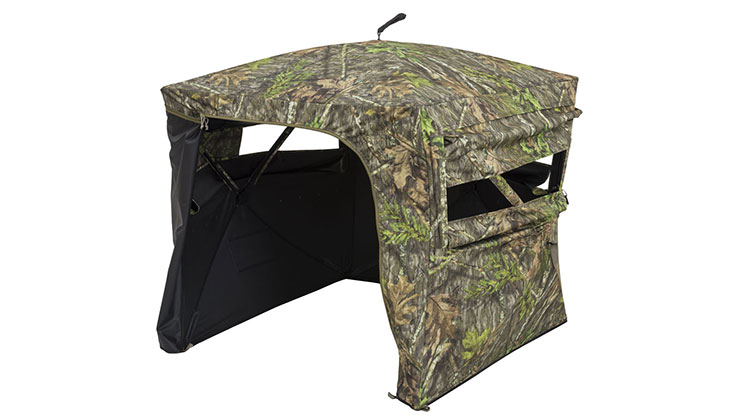 ALPS OutdoorZ Deception Blind
Although not a blind for multiple hunters, ALPS OutdoorZ has created the perfect blind, specifically designed with the turkey hunter in mind. The uniquely-designed NWTF Deception blind is the only hub-style blind of its kind on the market. Featuring a low-profile of only 46 inches, I was skeptical as to how effective it would be. However, once I actually got the blind set up, I fell in love with the compact design, as I realized how concealed a turkey hunter will be inside. The Deception blind is lightweight and perfectly suited for a low-profile chair that would provide an exceptional vantage point.
The smaller, unique 4-hub design makes for simple, quiet setups that don't have to be done prior to the hunt. The aluminum hubs are constructed with engineered tips and pins, and the frame uses strong, flexible fiberglass poles. Durable polyester fabric with blacked-out backing helps to keep the hunter concealed. The Deception also features a 270 degree Silent-Trac window system for limitless window positions, and an extra-large door opening for easy access while carrying gear. An oversized number 10 zipper on the door ensures smooth and hassle-free operation. Two interior gear pockets keep things organized and ready for action. It includes stakes and tie downs to secure a position, and a convenient shoulder strap carry bag makes for easy transport and storage. The Deception comes in Mossy Oak Obsession, making it perfect for spring turkey hunting anywhere in the country. MSRP: $139.99; alpsoutdoorz.com.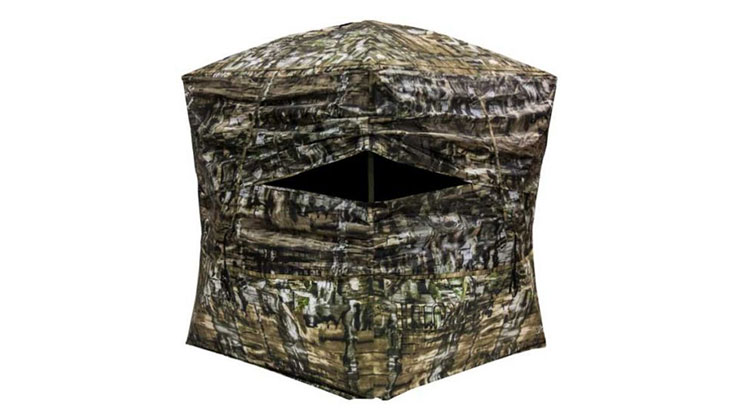 Primos Double Bull SurroundView 360° 
Likely the most talked about blind of the year, the revolutionary Primos Double Bull SurroundView 360° blind is dubbed the "Blind Without a Blind Spot." From the outside, it looks like a normal hub-style ground blind, but once inside, the wow-factor is immediately felt due to the ability to see much more area than normal. The SurroundView 360° comes with four one-way see-through walls with a movable black-out wall. With its dimensions of 60″x60″x70″ it's big enough to comfortably fit multiple hunters. The SurroundView 360° includes five shoot-through ports, and is suited for shotgun or archery hunters. With plenty of room for movement and the ability to view complete surroundings, this would be a great blind to introduce a kid or newcomer to the sport of hunting. MSRP: $499; primos.com.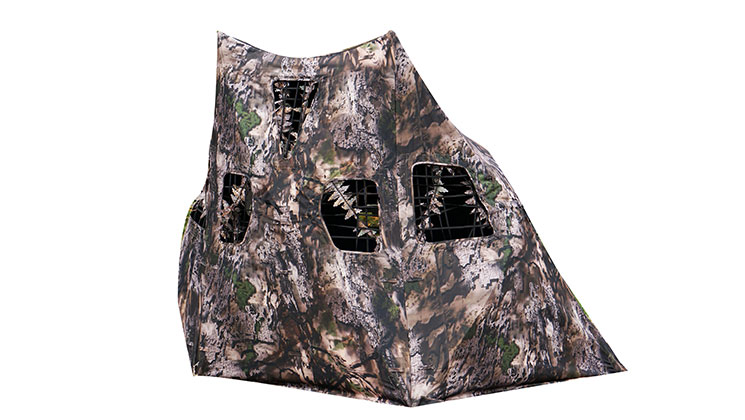 New Archery Products Mantis 3 Hub Ground Blind
Planning to bowhunt for turkeys this spring? The Mantis 3 Hub Ground Blind is for you. Designed with the archery hunter in mind, the Mantis 3 features a massive 48 square foot floor space area and an interior slope design that resembles a leaning teepee. The asymmetrical design of the blind along with its peaked roof, results in roof hubs that won't hold snow/rain. One of most unique designs of this blind is its Dragnet Window System, which offers adjustability and concealment that has never before been seen. A simple pull of the elastic-style straps position the windows for shooting lanes. The Mantis 3 is made of durable 600 Denier oxford weave poly fabric that resists rips and tears, yet it's still up to 50 percent lighter than traditional hub-style blinds. This is one of the roomiest blinds I have ever come across—it's big enough for multiple hunters and is also wheelchair accessible. MSRP: $299.99; newarchery.com.