Support NRA American Hunter
DONATE
So you want to try a crossbow. We don't blame you; in many states, a crossbow will add weeks to your whitetail season. As increasing numbers of hunters are finding, the learning curve with crossbows isn't nearly as steep as with compound bows. You still have to practice, of course, but a few days a week for a month or so before the season opens should have you drilling the vital zone with deadly proficiency.
In fact, the toughest thing about getting into crossbow hunting may be getting into a crossbow. You can spend a little more than $200 to nearly $2,000. Each model comes with different features, and manufacturers complicate the decision by describing them with catch phrases and cute names that rarely explain technical attributes or benefits with any depth. Where do you start?
At American Hunter, we decided to leave the marketing hype to the press releases and test five new crossbows under real-world conditions. The models we tried have MSRPs that range from $329.99 to $569 and could be described as entry- to mid-level crossbows. Why did we not test high-end models that come with all the bells and whistles? Well, when most people begin a new method of hunting they normally don't go whole-hog. Your first deer rifle probably wasn't a Sisk or even a Kimber. The results below will give you an idea of what you can expect for a crossbow that doesn't blow a tight budget—which, it turned out, is quite a lot.
How We Tested
Our team consisted of Executive Editor Adam Heggenstaller, Associate Editor Jon Draper and Web Development Manager Tom Rickwalder. All of us have two years of experience with crossbows. We're relatively new to crossbow hunting—just like you may be.
The first test determined each crossbow's speed by firing five arrows through an Oehler Model 36 chronograph and averaging the velocities. We used the arrows and field points that came with the crossbows (all models we tested were package deals), and total arrow weight varied from 403 to 416 grains. That may be a little unfair, but chances are you're going to use the arrows you get with the crossbow when you buy a package, so you'll want to know how fast those arrows fly.
Next, we determined how much noise each crossbow made when it was fired. We held a sound-level meter 3 feet to the side of the crossbows and noted the peak reading on the meter when they went twang. We averaged the readings from three shots taken outside on a fairly calm day (again using the arrows included with each model) to come up with the final decibel level.
We tested the trigger pull weight of each model with a Lyman digital trigger pull scale, averaging the weights from three consecutive pulls. In addition, we noted the crispness of each trigger and the length of travel perceived while shooting.
Of course, we tested accuracy. Each of us shot three, three-shot groups with every model from 30 yards—not only from a bench, but also from a seated position with no support other than what we could muster with our bodies. The latter was intended to simulate a shot from a treestand or blind where additional support is often not available. We averaged our nine groups, measured to the nearest .25 inch, from each position to arrive at the final spreads for each model.
In addition, we evaluated characteristics that are more subjective and not easily measured. We noted things like felt vibration and recoil, ergonomics, design, ease of cocking, etc. We also commented on the quality of the accessories—scope, arrows, cocking aid—that came with each model.
Barnett Raptor FX
MSRP: $399.99
Draw Weight: 150 lbs.
Weight: 6.5 lbs.
Length: 34.5"-35.5"
Width (Axle to Axle): 16.5"
Chronographed Speed (416 grains total arrow weight): 328 fps
Noise: 74 dB
Trigger Pull Weight: 4.21 lbs.
Accuracy @ 30 Yds: 2" from rest, 2" from unsupported position
The most compact and lightest crossbow in our test, the Raptor FX was also one of the most accurate. In fact, the first 30-yard group we shot with it included a "Robin Hood," with the third arrow center-punching the nock of the second and boring into half of the shaft. Surprisingly, we shot the well-balanced Raptor FX nearly as accurately (no Robin Hood) from the seated, unsupported position as from the bench. If there's a negative here, it's that the scope rail sits well to the rear, and gaining the correct eye relief was easier when shooting offhand than from the bench. Recoil seemed snappy, but it wasn't as pronounced as with other models we tested. Although we used a rope cocker during testing, recesses in the buttstock accommodate Barnett's Crank Cocking Device (sold separately) to make cocking almost effortless.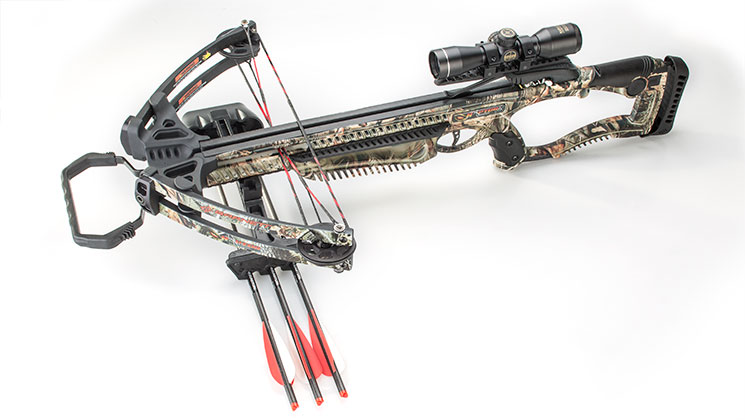 Cabela's Vindicator
MSRP: $549.99
Draw Weight: 160 lbs.
Weight: 7 lbs.
Length: 35.75"
Width (Axle to Axle): 19.5"
Chronographed Speed (416 grains total arrow weight): 348 fps
Noise: 74 dB
Trigger Pull Weight: 3 lbs.
Accuracy @ 30 Yds: 1.75" from rest, 2.25" from unsupported position
Manufactured by Barnett for Cabela's, the Vindicator is a prime example of how much value can be packed into a crossbow that retails for less than $550. It was the fastest model we tested and nearly took home the top rank for accuracy, too. Trigger pull was light, but Heggenstaller and Draper both noticed creep. Draper thought the Vindicator was the most difficult model to cock, perhaps due to its 160-pound draw weight being coupled with relatively compact limbs. All the shooters liked its smooth, quiet safety.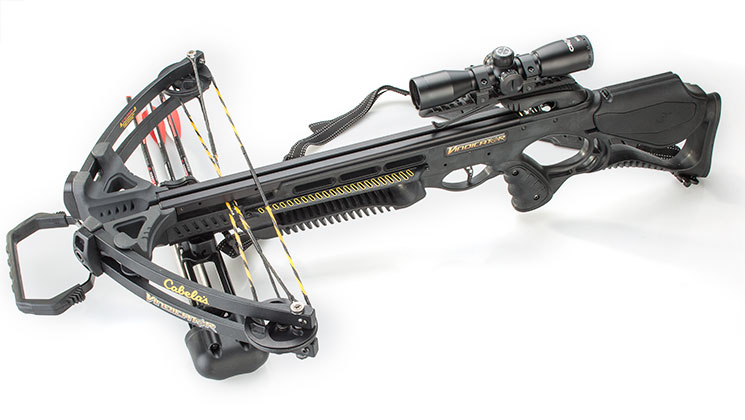 Parker Enforcer
MSRP: $549.95
Draw Weight: 160 lbs.
Weight: 7 lbs.
Length: 36.75"
Width (Axle to Axle): 20.25"
Chronographed Speed (403 grains total arrow weight): 319 fps
Noise: 71 dB
Trigger Pull Weight: 5.73 lbs.
Accuracy @ 30 Yds: 1.5" from rest, 2.25" from unsupported position
Despite the Enforcer's heavy trigger pull, Rickwalder and Heggenstaller thought this model was the easiest one to shoot. Both managed 1-inch groups with it, and the Enforcer ended up being the most accurate crossbow we tested. It was also the quietest, and although the Enforcer finished near the bottom in terms of speed, it produced the least vibration and felt recoil. The location of the safety on the rear of receiver, where it was easy to see and operate with either hand, was another hit. Rickwalder also liked the high visibility provided by the illuminated reticle in the included Red Hot 3X-32mm scope.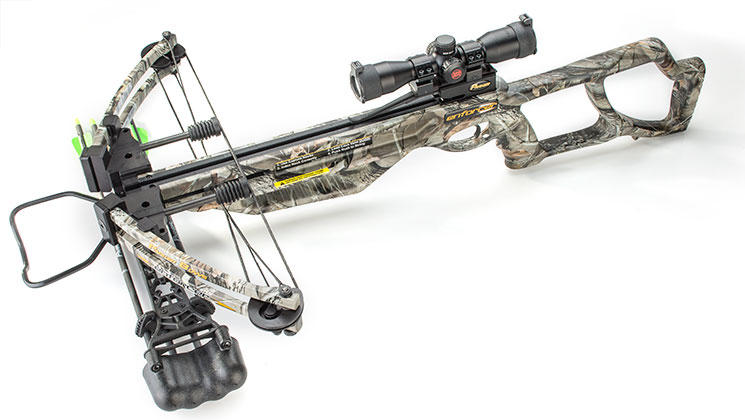 PSE Fang
MSRP: $329.99
Draw Weight: 165 lbs.
Weight: 6.8 lbs.
Length: 35.75"
Width (Axle to Axle): 19"
Chronographed Speed (416 grains total arrow weight): 326 fps
Noise: 74 dB
Trigger Pull Weight: 4.48 lbs.
Accuracy @ 30 Yds: 3.25" from rest, 3.75" from unsupported position
The Fang was the most affordable model in the test, and considering it came with a scope, quiver, cocking rope and three carbon arrows, it was a pretty good deal. In terms of speed, the Fang beat two models that cost $200 more. Accuracy was somewhat disappointing compared with the other models we tested, but as Draper pointed out, this crossbow still turned in groups that measured well inside a whitetail's vital zone. The Fang's light weight made for easy carry, but we also found it made keeping the crossbow steady when shooting offhand difficult. The scope rail came loose halfway through the test, which served as a good reminder to check the components of any crossbow before shooting or hunting.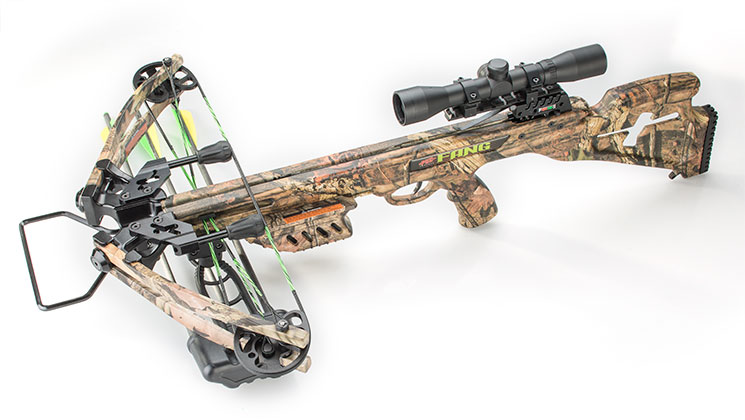 Wicked Ridge Invader G3
MSRP: $569
Draw Weight: 165 lbs.
Weight: 6.6 lbs.
Length: 37.75"
Width (Axle to Axle): 22.75"
Chronographed Speed (403 grains total arrow weight): 314 fps
Noise: 77 dB
Trigger Pull Weight: 2.94 lbs.
Accuracy @ 30 Yds: 2" from rest, 3" from unsupported position
Thanks to the ACU-52 cocking mechanism integrated into the buttstock, the Invader G3 got high marks for how fast and easy it was to ready for a shot. You pay for this convenience, however, as the Invader G3 was the most expensive model we tested. Rickwalder found the Invader G3's ergonomics to be comfortable, but both Heggenstaller and Draper thought it produced more recoil and vibration than the other models. The Invader G3 was light, but it was also loud. We thought the trigger was the best of the test in terms of both pull weight and crispness, but we didn't like the sharp click that the safety made when sliding back and forth.