Support NRA American Hunter
DONATE
The story goes that in 1816, 23-year-old Eliphalet "Lite" Remington II asked his father for money to buy a gun, and Dad refused. Dad owned a forging company, so Lite used the water-driven trip hammers to make his own barrel. He then walked to nearby Utica, N.Y., to visit a gunsmith who would ream and rifle the bore for him. It's said that the gunsmith had high praise for Remington's work, which encouraged the young man greatly.
The tale holds that he went home, built a rifle, took it to a shooting match where he won second place and left with so many orders for rifles from his neighbors that a gunmaking dynasty was launched. Great story, but like most legends it's probably not entirely true. Most legitimate sources believe the gunsmith probably built the rifle, as it was doubtful Lite had the skills or the tools to complete the job. Also, for many years Remington produced barrels, but not completed guns. In 1860, J. Leander Bishop published History of Manufactures in the United States. It is thought that Bishop was quoting Eliphalet Remington II when he said that for many years "the business was restricted to the manufacture of rifle barrels." That makes sense because the surrounding Mohawk Valley was soon infested with gunsmiths making rifles using Remington barrels.
No matter. Whatever Eliphalet Remington II did to turn his barrel into a rifle, it launched a gunmaking dynasty. This year, 2016, is the 200th year for Remington in the gun business. That makes it America's oldest gunmaker. It is the largest U.S. producer of shotguns and rifles, and has developed or adopted more cartridges than any other gunmaker or ammunition manufacturer in the world. Remington products are distributed in more than 55 foreign countries, making its distribution base and availability wider than those of its competitors. In short, Remington is the undisputed big dog in the American gun industry.
In 1816, rifle barrels were made through a long and tedious process using sledge hammers, strong men, high heat and a lot of muscle power. Remington figured out how to use water power to run big hammers and take the manual labor out of the process. His barrels were ground to octagon on the outside and rough reamed in the bore. The gunsmiths would finish ream and rifle the bores and then do all the finish work including installing the sights, breech plugs and other accoutrements.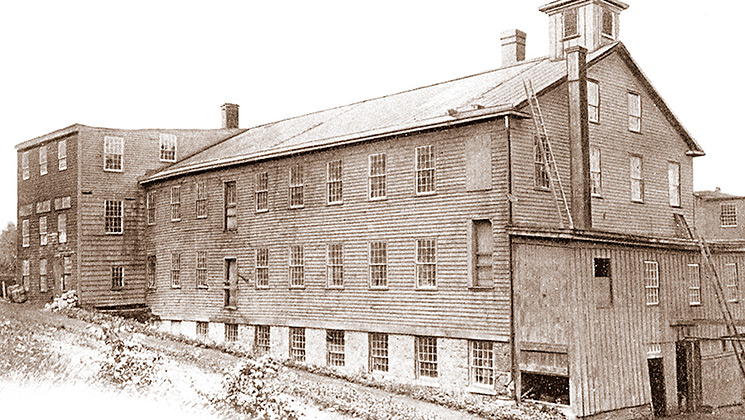 Perhaps the biggest advancement for E. Remington & Sons came with the completion of the Erie Canal in 1824 connecting the Hudson River with the Great Lakes. This 363-mile-long waterway was a big deal. Most materials were still being moved by horse-drawn wagons or pack animals with limitations of 250 pounds per load; on the canal, barges moved freight. Raw materials and finished product could finally be efficiently connected with the rest of the world. It may seem quaint today, but this waterway helped launch the Industrial Revolution that was key in growing America into the nation it became. Most economists understand that infrastructure is important to economic growth, and in 1824 the Erie Canal was the cutting edge of infrastructure.
In 1828, the Remingtons seized an opportunity to buy 200 acres of land in a place called German Flats, near the Erie Canal. They dug a canal to Steel's Creek and built a factory to run off the water power. Tragedy stuck during the move when the senior Eliphalet Remington was thrown from a wagon and run over. He died soon after, leaving Lite to get the new business up and running by himself.
In 1832, he built a large factory and soon employed 20 men building rifle barrels and other metal goods. Gunsmith shops opened all across New York as a result. In 1836, Remington built a large brick residence on Main Street in Ilion, N.Y., that served as the offices of E. Remington & Sons. By 1840, Remington dominated the barrel-making trade as most competitors had folded.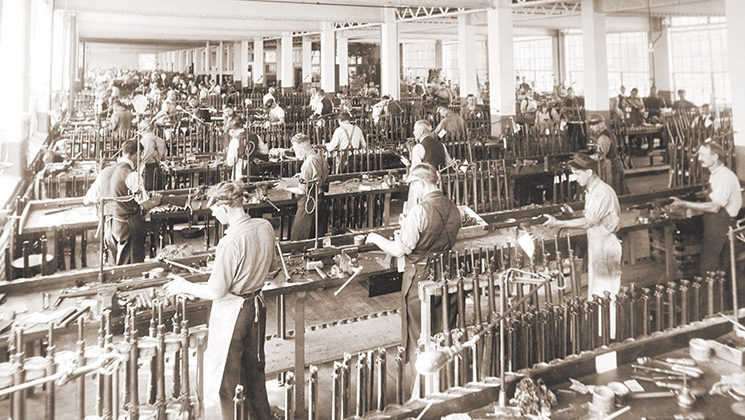 In 1850, Remington employed 50 people. Five years later it was 75. (The Remington Family of Companies today operates 12 facilities across nine states employing more than 3,500 people.)
In the mid-1840s, Remington decided to get into gun making by applying for some government contracts. That's a decision I suspect he later regretted. It grew the company, but caused a lot of headaches as well. From 1856-1865, the company grew tremendously, but Remington and the government had a love/hate relationship that lasted through the end of the Civil War.
Remington never neglected the civilian market, and in the 1850s it produced guns, including handguns, for American citizens. But military orders dominated production. By the end of the Civil War, E. Remington & Sons was the largest producer of firearms in the United States. However, with the end of hostilities, orders dropped to pretty much nothing.
When Eliphalet II died on July 12, 1861, his sons Philo, Samuel and Eliphalet III took over the company. Following the war, they shifted their focus to the civilian market in America, while continuing to pursue some military contracts overseas.
This was the transitional time in the gun world when breechloaders and self-contained cartridges were replacing muzzleloading firearms. With innovative firearms like the famed Remington Rolling Block rifle, they continued to grow in popularity with civilian hunters, settlers and explorers.
Still, the years following the war were troublesome. The country was bitterly divided and the economy was trashed in the North and South. Europe was experiencing severe economic troubles as well. Most people had little disposable income, and with every gunmaker trying to tap into the same limited markets, it was a bad time for all. Remington recognized the shift. In western expansion, it saw a marketing opportunity with the civilian population and went after it.
There were some huge successes. If you have ever watched a Western movie then you've probably seen someone, usually a gambler or a soiled dove, shooting a bad guy with a double-barreled derringer. That was undoubtedly a Remington. It was introduced in 1866 as the Remington Double Barrel Pistol. Later the name was changed to the Remington Double Derringer. It fired a .41 rimfire cartridge, and it was produced for 69 years.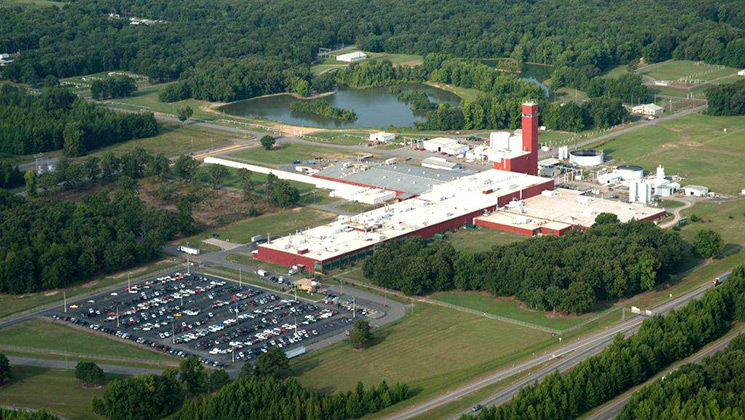 The Remington Hepburn target rifles also made the company a key player in the golden age of single-shot rifles in the 1870s and '80s. But these were expensive, specialty guns and not the answer to saving the company financially.
From the hunter's point of view, this period saw some other significant introductions. For years, Remington had been importing shotguns, mostly from England. The company saw a growing market with bird hunters and clay target shooters, so in 1873 it started making the Remington-Whitmore double-barrel shotgun. This was the first shotgun made by Remington. In 1878, it introduced its first bolt-action repeating rifle, the Remington-Lee. This was the first successful bolt-action. These two guns would lay the foundation for what would become the bulk of Remington's success in the next century and beyond: rifles and shotguns for hunters and sportsmen.
Also, from 1866-1887 the Remington Rolling Block was huge. As a rifle, shotgun or handgun, this single-shot was simple and fast to use. More than a million of these guns were made by Remington or by foreign manufacturers under license from Remington.
While the company continued to make a large number of handguns, rifles and shotguns important to the American hunter, there are far too many to list here, so I will jump ahead to the turn of the 20th century. This time period is significant, as Remington laid the foundation for its most durable legacy firearms.
The first American slide-action or "pump" shotgun was made by Spencer Arms in 1882. Winchester picked up on the concept with its Model 1893. That gun proved problematic and was soon replaced with the Model 1897, which became a million-seller.
Remington was undergoing some hard times back then. In 1886 it had been placed in receivership and remained there for two years. In 1888, Hartley & Graham, owners of Union Metallic Cartridge Company (UMC) and Winchester Repeating Arms, joined forces and acquired joint ownership of E. Remington & Sons, and renamed it Remington Repeating Arms Company.
Now Winchester, its main rival, owned half of Remington, which explains why Remington never entered the lucrative lever-action rifle market. Winchester also prevented Remington from entering the emerging pump-action shotgun market. The association ended in 1896, freeing Remington to start development of a pump shotgun.
Remington then hired John D. Pedersen, who would become a very important name in Remington history. The company soon announced its first pump-action shotgun: the Pedersen-designed Remington Model 1908 Repeating Shotgun. In 1911, the name was changed to the Model 10. The Model 10 was replaced by the short-lived Model 29. The Model 31, Remington's first side-ejecting repeating shotgun, came out in 1931. It was a fine shotgun but failed to compete well against the Winchester Model 12. Remington was struggling to get a toehold in the pump-shotgun market.
In 1950, using parts from the Remington Model 11-40 autoloader, the design team of L. Ray Crittendon, Phillip Haskell, Ellis Hailston and G.E. Pinckney developed a new pump-action shotgun. It was called the Model 870 Wingmaster, and it would go on to become the single best-selling firearm ever produced by Remington and the best-selling pump-action shotgun in firearm history. To date, Remington has sold more than 11 million Model 870s.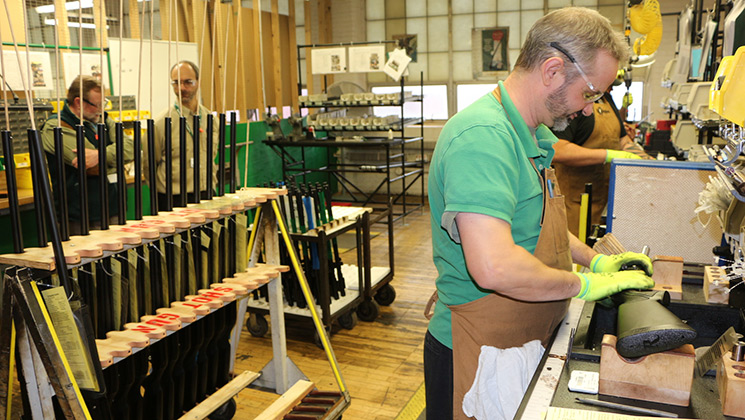 After World War I, it was clear the bolt-action rifle would soon dominate the sporting world. All those doughboys came back home with a serious crush for the Springfield and Enfield rifles they used in the war. Remington answered by introducing the Model 30 bolt-action rifle. It was based on the 1917 Enfield military action and was designed to use leftover parts from the Enfield rifles Remington built during the war. It was heavy and expensive, and only 2,900 of them sold between 1921 and 1925.
In 1926, the Model 30 Express rifle was introduced as an improved version. It was lighter and shorter, and the action cocked on opening, rather than on closing as the original Model 30 did. This rifle stayed in the lineup until 1949.
By 1944, Remington understood that World War II was winding down and it sent questionnaires to thousands of American sportsmen to help plan the company's reentry into the sporting-gun market. Before the war, Remington was in third place behind Winchester and Savage, and it wanted to change that.
In 1948, Remington introduced two new bolt-action rifles: the Model 721 Long Action in .270 Winchester and .30-06 Springfield; and the Model 722, a short-action version of the same rifle initially offered in .257 Roberts and .300 Savage.
The design engineer, Mike Walker, was a hard-core benchrest competitor and he focused on accuracy. The new rifles used a cylindrical receiver, which produced the "best out of the box accuracy" of any production-grade rifle.
Remington continued to produce these rifles until 1962, when they were replaced with an updated version that would become the best-selling sporting rifle in history: the Model 700 Bolt Action Rifle.
Remington advertised the Model 700 as the "world's strongest bolt action," focusing on its "three rings of steel" surrounding the cartridge head. The 700 was a better looking rifle than its predecessors. But perhaps more than anything else, it was hugely successful because it was launched in conjunction with a new and exciting cartridge, the 7mm Remington Magnum. This high-performance cartridge helped fuel the "magnum mania" that gripped the hunting world in the 1960s, and for many years it was the best-selling big-game cartridge in the Model 700.
Over the 54 years it has been manufactured, the Remington Model 700 has been offered in just about every modern cartridge produced, from .17 Fireball though .458 Winchester Magnum. The Model 700 has probably been offered in more versions than any other rifle in history, including just about any conceivable configuration imaginable. The gun has been made with light barrels and heavy barrels, long barrels and short barrels. It has even been offered with a triangular barrel. (I actually own the prototype rifle for that design.) Remington has made rifles for hunting, sport shooting, law enforcement and the military, including the M24 sniper rifle used today. There are even a couple of Model 700 muzzleloaders. In 54 years, Remington has sold more than 5.3 million Model 700 rifles.
There are lots of other guns made by Remington, of course. I do not wish to insult your favorite by ignoring it, but to cover them all would require a large book. I picked these two because I think it's inarguable that the Model 870 and the Model 700 have been the foundation of Remington's modern success.
Things have been changing fast for Remington in the past decade. In March 2007, a private equity firm, Cerberus Capital Management, formed a company called American Heritage Arms (AHA)and subsequently purchased Remington Arms in May of that year. Cerberus already owned Bushmaster Firearms International Inc. (BFI).
In December 2007, BFI purchased DPMS. In 2008, Remington purchased Marlin, which already had acquired H&R, so it was a package deal. On Oct. 15, 2008, AHA changed its name to Freedom Group Inc. In 2009, Remington acquired Dakota Arms, S&K, EOTAC and Advanced Armament Corp.
On July 1, 2011, FGI formed Remington Arms Company LLC, merging Remington, Marlin, H&R, BFI and DPMS.
Confused?
Me, too, and trust me, I have simplified the language here a lot. It gets even more confusing as the years progress, but suffice to say Remington has grown substantially through acquisitions in the past decade.
In 2012, Remington acquired Para Inc., LSR Manufacturing and TAPCO. Over the years, the company also acquired Nesika Rifles and Barnes Bullets. Some companies were merged into the Remington product line, such as Para-Ordnance. We can expect to see its designs in handguns with the Remington name stamped on them sometime in the future. Others kept their identity. For example, Dakota Arms continues to make rifles in South Dakota. In fact, Remington moved its Custom Shop from New York to the Dakota facility in Rapid City, S.D.
Remington announced plans for a new state-of-the-art plant in Huntsville, Ala., in 2014. In response to the New York Safe Act, which restricted gun ownership, the company moved production lines for AR-type rifles and handguns from Ilion, N.Y.
Huntsville is now building AR-style rifles including Bushmaster, DPMS and the Remington R-15 and R-25 rifles in Alabama. The Huntsville factory is also producing handguns, including the 1911-style R1 pistols and the RM380 compact pistol. There are plans to expand this handgun production, including a relaunch of the R51 compact 9mm handgun, which officials tell me is going to happen soon.
This facility hosts the latest in gun-manufacturing technology. Like most long-established gunmakers, the older Ilion factory is still using old tools and techniques. They work well and it's not cost-effective to replace them at this time. But with this new factory in Alabama Remington has an opportunity to install new CNC machines and to update the flow and process of making guns. That is without a doubt the future of Remington as it transitions yet again to keep pace with changing times, changing markets and changing manufacturing techniques. Just as Eliphalet Remington II brought new and more efficient techniques to barrel making to launch the company and then later moved the company to access the latest technology, the Remington of today is doing the same. With this state-of-the-art facility in Huntsville and its expansion of the ammo factory in Arkansas, Remington is incorporating the most advanced manufacturing techniques available. This increases innovation and quality while helping to keep costs in check. Those are good things for us, the end users, and for Remington as a gunmaker.
I recently had dinner with the new president, Jim "Marco" Marcotuli. He has a vision for Remington in the years ahead that will bring new levels of quality to the products his company makes. I have little doubt that with this innovative and insightful approach to leadership and manufacturing Remington will continue to be "America's Oldest Gun Maker" for at least another 200 years.
Other Ventures
Over the years Remington branched out into other products. It made farming tools, including the Ilion Hay Rake. It also made typewriters, sewing machines, cash registers and even trolley cars. One sister company, Remington Agricultural Works, made cultivator teeth, hoes, plows, cultivators, grain cradles and Scientific Churns (whatever the heck they are). Also made were hay elevators, scythes and more plows. It made hoes, mowing machines, garden rakes, hay tedders, reapers and cotton gins. It even made iron bridges, fire engines and printing presses.
The Remington Agricultural Works employed more than 300 people and was the first factory in America to use electric lights, which led to another endeavor called Remington Electric Light Company. Remington also has a long history of manufacturing cutlery that continues today.
Remington may have dabbled in a lot of other ventures, some that were extremely successful, but through it all it always returned to its roots: making guns and ammo.