by
posted on September 13, 2021
Support NRA American Hunter
DONATE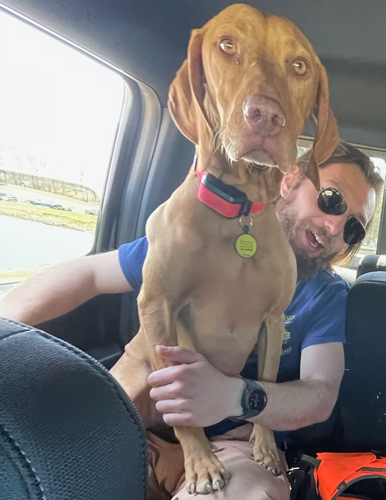 The whistle rang in my ears as the Vizsla wheeled on cue. No pheasant there. The lack of a bird didn't dim her spirits, however, as the dog's excited bounce belied. Onward she ran, down row after row of stiff sorghum stalks in pursuit of her prey. Suddenly, nose to the ground, her demeanor changed. Her pace slowed, as even the hyper trembling, a characteristic of the breed, faded to a dull, almost indistinguishable shudder. She was on a bird. Slowly she inched forward, not having quite pinpointed her quarry with her eyes, but with every olfactory organ telling her it was close. With a surprising suddenness, her forward progress halted completely as her head snapped level. Moments later, a pheasant rose into the air amid a flurry of feathers and ringed finery. It was a perfect flush. The bird passed barely five yards to my left, putting him on a collision course with my shot pattern. My old Franchi spoke, and the ringneck fell to Reioh's excited antics, cool winter sunlight glinting off his gilded plumage one last time. Recovering the luckless fowl from the ground, I took a moment to inspect this most elegant of gamebirds, before loading him into my vest and moving on. The day was young, and we had many more birds to find before the sun dipped west.
The morning had found me in a southern Pennsylvania sorghum field thanks to that rarest convergence of work and pleasure. While searching for an occasion to test out the Over/Under vest from Chief Upland, a company which promises to revolutionize the birdhunting market, I received an invite from some friends to chase pheasants at their favorite farm. Not only would this prove a fun day in the fields, but as upland hunters of some experience, I also sought their opinions on the vest's design. Four heads are always better than one, particularly when the group represents a range of sizes, sexes, and one hunter—Rick Olcese—who proved as comfortable behind a shotgun as I am behind a supper fork. Several decades spent handling dogs and dropping birds may just have had something to do with that.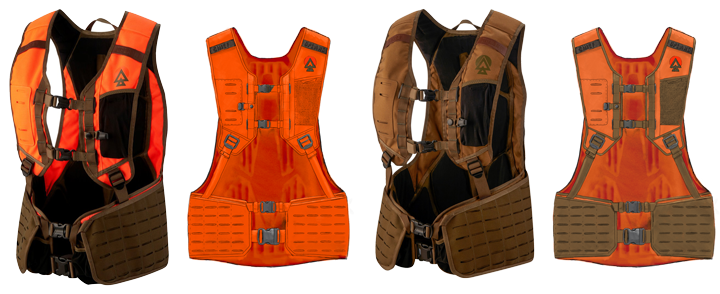 Colored in the buyer's choice of Full Blaze Orange, Blaze and Coyote Brown, Earth Tones, or Blaze and Olive (like mine), the vest is a well-made affair, constructed primarily from water- and briar-proof 1000-denier Cordura. Despite this durable material, standard size (S-XL) weighs in at a paltry 2.56 pounds, making it a fairly lightweight option. On top of the Cordura at the waistline is a wide swathe of Molle netting, allowing for the attachment of six or more accessories. Behind the Molle layer opens the pocket into which you can load birds, before shoving them around to the rear of the vest for secure storage. Speaking of the rear, there is a separate hydration pocket back there, which unzips to accept a standard-size water bladder, for those extra-long hunts on extra-warm days.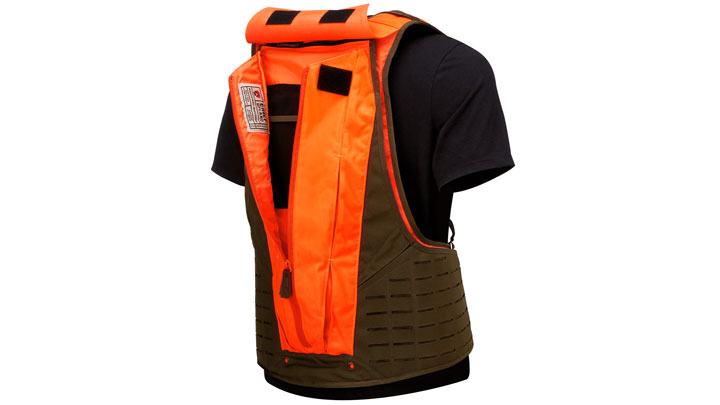 The straps of the vest, far from simply supporting it, boast even more features. The righthand strap bears Molle attachment points, while the left sports a mesh pocket perfectly sized for a phone, radio, or dog controller. Finally, several buckles across the chest, two at the waist, and two straps linking the chest and waist are all adjustable for the perfect fit.
While the vest itself is well-made and well designed, where the Chief Upland Over/Under really shines is in the vast array of attachable accessories. To be sure, the standardized nature of Molle webbing means there's no need to limit yourself solely to Chief Upland gear, but the company goes a long way to ensure you simply wont want to use anything else.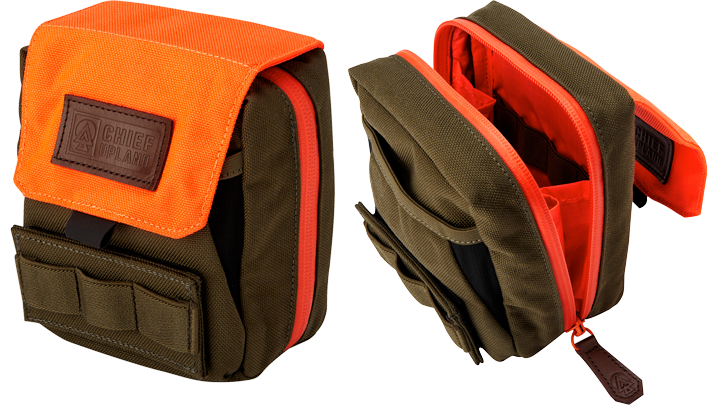 First up is the company's waterproof ammo box. A rigid-sided ammo carrier that accordions open with Velcro and zipper closure, this is one of the most useful pieces of kit you can strap to the Over/Under. The hard sides make it incredibly easy to grab shells out of, and the Velcro flap mean you don't have to zip the box shut when you're not worried about waterproofing. Further, the carrier is large enough to fit a standard box of shotshells, container and all, and three elastic shell loops are included on the front to hold several shells in reserve for quick access. This can be a real boon for anyone, but double-barrel shooters in particular will enjoy the feature.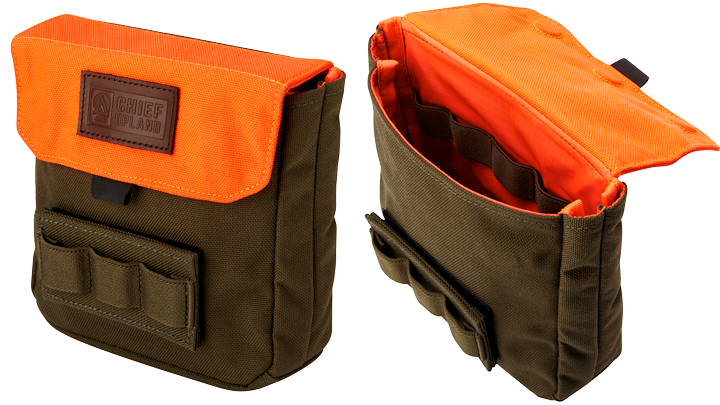 Next up, the company offers a quick grab ammo pouch. Similar to the waterproof xox in dimensions (it too will hold the contents of a box of shotshells, though not the container), it is designed for quicker access. To such ends, the rear remains rigid, to prevent collapsing when you push your hand in, and the front still sports three elastic shotshell loops. The top, however, now has a simple magnetic closure, and the front, sides and bottom are now flexible. Additionally, there are shotshells loops on the box's interior, but I never felt the need to use those, as it was already the perfect receptacle for quick and easy access to loose shotshells, without having to worry about locking any upright on the inside.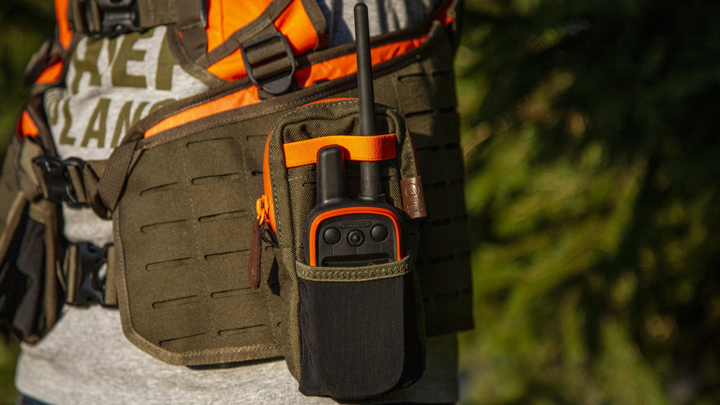 For those with more than just a gun and shells to carry, a waterproof electronics pouch works great for a cell phone, dog controller, or anything else you'd like to keep dry. For added storage, the front boasts more Molle loops, and an elastic pocket big enough to securely hold a controller in its own right. This means you can keep a phone or camera in the pouch, and still keep your (usually waterproof) dog controller safely outside. A strap is even included to go around the antenna, for maximum security. Dimensions are seven inches tall, by three and a quarter wide, by an inch and a half deep.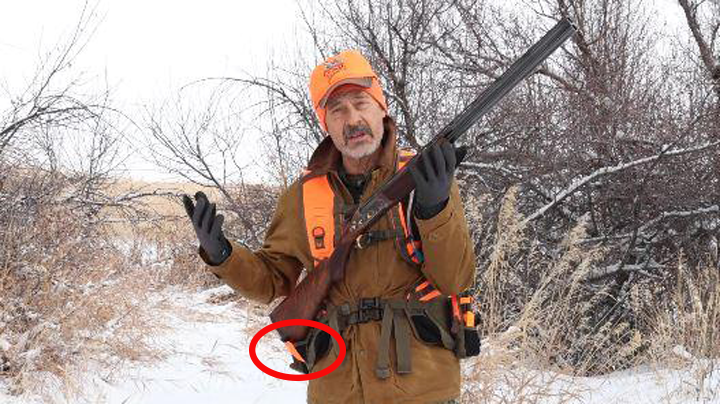 Targeted at those who like to rest their shooting arm in the field, Chief Upland also makes a gun stock rest that attaches to the vest. With a magnetic and elastic closure, this handy device folds out to accept the corner of your buttstock, then automatically folds away for a snag-free profile when not in use.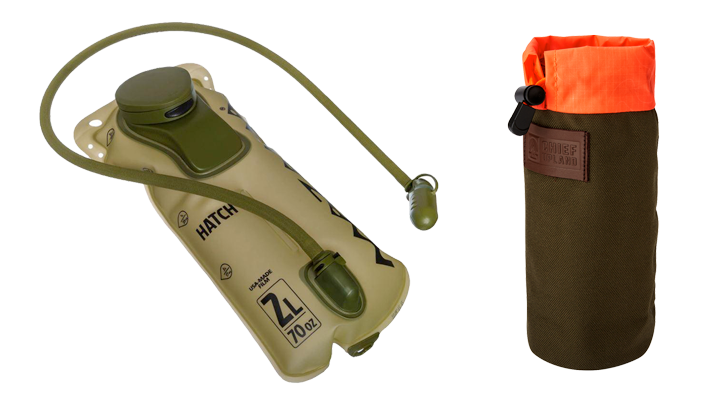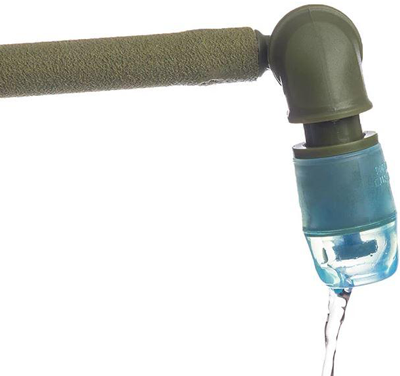 While I did not have the opportunity to test out either, the Over/Under Vest utilizes two different hydration solutions. The first, a traditional water-bottle pouch, connects to the Molle surface like the other accessories. Constructed from 1000D Cordura with rip-stop around the top, the pouch can hold up to a 32-ounce bottle, and is sure to withstand the rigors of the field. The second hydration option, of course, is the company's Hatch 2L Hydration Reservoir. While I did test out the hydration pocket, and found it to be well-balanced and unobtrusive, I did so with an old, off-brand bladder of mine. The Hatch 2L Chief Upland Hydration Reservoir, however, boasts a few more features that upland hunters are sure to love. It comes with an insulated drink tube, a rapid fill-and-lock sealed port for single-hand filling, and a free-flow mode on the mouthpiece, enabling hunters to waterfall the hose when giving their canine companions a draught.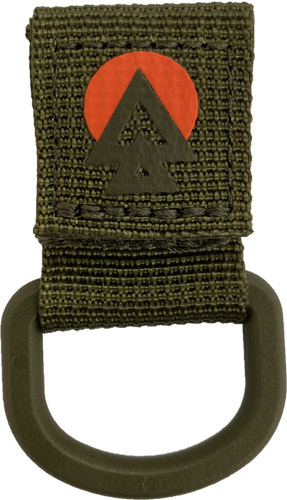 Clearly the vest has a lot to offer, but the real question for a field day, is how well does it really work? Happily, we found it to be a well-thought-out and well-balanced vest, fully modifiable to almost any hunter's personal specifications. The aforementioned 2.56 pound weight really doesn't do the thing justice, as even with a full complement of accessories attached, the vest hangs without imposition. The durability is just as good as you'd expect based on the heavy-duty construction, shedding water and briars with effortless ease. Adjustment can be customized to the exact size of the shooter, with up to three lateral straps, and two longitudinal. We did, however, encounter a snag or two with adjustment.
For starters, as everyone knows, "one size fits all" always has its limits, and the Over/Under Vest is no exception. While it fit myself, Rick, and my friend Liz quite well, our fourth compatriot, Ethan, stands just under the height of a small skyscraper, and the vest was ungainly and uncomfortable on his frame. Chief Upland has already remedied this issue, however, as a second size—2XL & Up—is listed on their website as "Coming Soon." The original size (S-XL) is now relegated to hunters with a "Navel under 49-inches."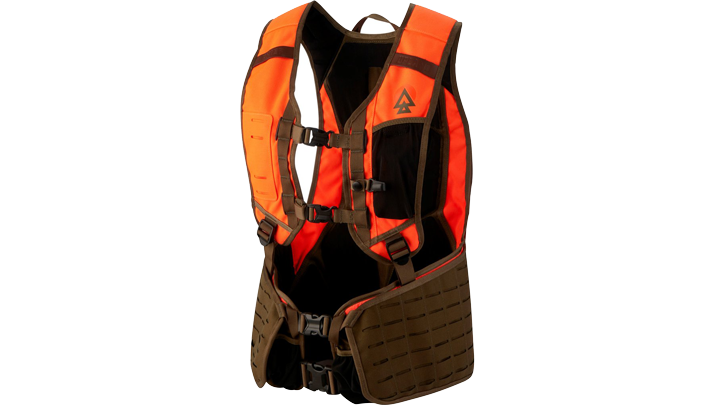 The second issue we (thought we) had was with what appeared to be an upper waist-adjustment strap. Instead of running along the back of the frontloading pouch, tight up against the wearer, this top strap actually runs along the outside of the pouch, meaning it cinches the bag shut when pulled tight. As it turns out, this is not a waist strap at all, it is part of the Over/Under's expandable frontloading system, which I mistook for a secondary waist strap until in the field. Realization made, we got the strap loosened up, and the bag accepted birds without a hitch, but as it is an easy mistake to make, I figured I would mention our misidentification here. I will say that for my part, I enjoy shoveling the bird into the front before pushing it into the rear storage area rather than leaving the creature in front of me. But to each his own.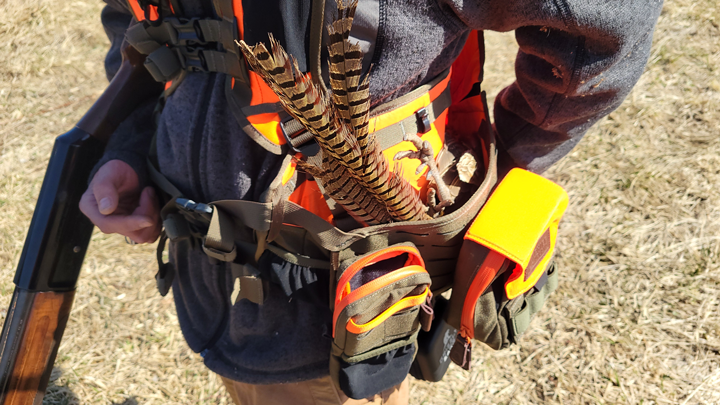 Two final notes on adjustment. First, the vest comes with four sternum straps: two short, and two long. These are both capable of sliding up and down the vest, and are fully removable, so you can use as many or as few as you wish (Chief Upland itself recommends not more than two). Second, the (actual) waist belt can be routed through one of two interior tunnels: the upper is better for shorter hunters, the lower is meant for taller. Play around with it and see what you like best.
Accessory-wise, we loved the ability of the waterproof container to accept a full box of ammunition, so this quickly became my go-to shell carrier. The Molle webbing made even in-field adjustment of accessories quick and easy, meaning I never had to deal with uncomfortable positioning of an accessory for more than a shot or two. Finally, rear bird storage was ample, making it comfortable for me to tote my share of birds out of the sorghum fields. Thanks primarily to the scattergun skills of my companions, you can be sure this was more than a few.
For more information on the Chief Upland Over/Under, and the various accessories that are sold for it, check out chiefupland.com. MSRP: $198.99. MSRP as Tested: $302.70