by
posted on August 21, 2021
Support NRA American Hunter
DONATE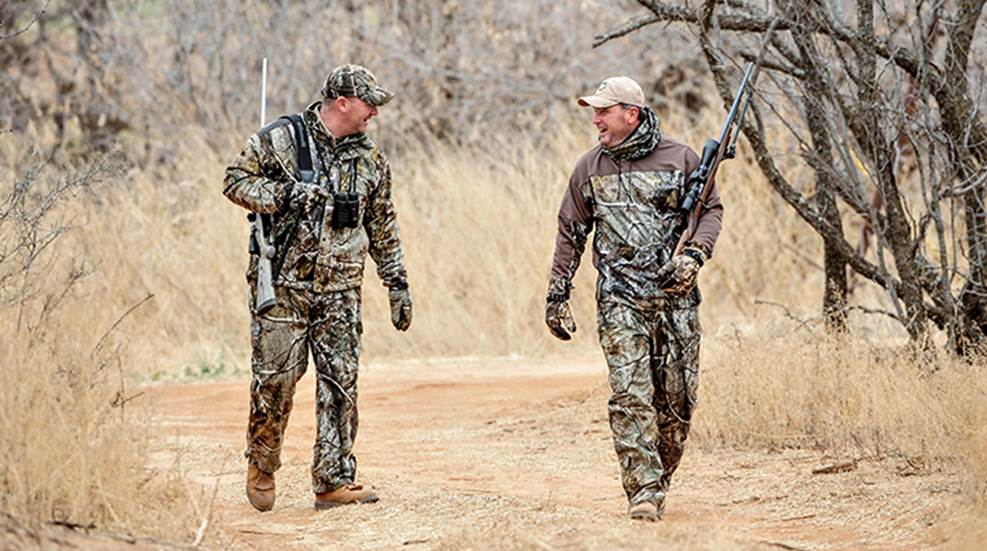 Americans' attitudes toward the use of animals exist on a continuum of acceptability, and understanding this continuum is essential to being able to communicate about hunting effectively. At one end of the continuum is the animal rights mindset, which is the belief that animals have rights like humans and should not be used in any way. At the opposite end is the "dominionistic" mindset, or the belief that animals can be used by humans regardless of the animal's welfare or rights. The middle of the continuum represents animal welfare—the idea that animals can be used by humans, as long as the animal does not experience undue pain and suffering. Each mindset is accompanied by various beliefs and behaviors concerning the extent to which animals may be used by humans.
Research shows that most Americans identify as proponents of animal welfare—the middle of the continuum. When given definitions of animal rights, animal welfare and dominionism and asked to select the one that best describes their beliefs, 82 percent of Americans choose animal welfare, compared to 14 percent who select animal rights and just 4 percent who identify as proponents of dominionism.
By itself, though, the term "animal rights" is frequently misinterpreted by the public as referring to animal welfare. When simply asked outright whether they support animal rights (i.e., based on the term alone, before hearing any definition), eight out of 10 Americans say that they do.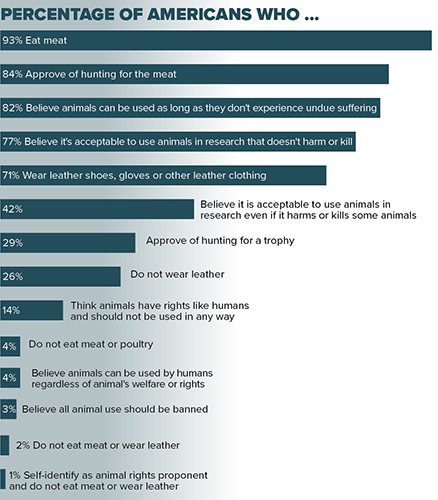 Another two-thirds of Americans say they have family members or friends who are supporters of animal rights (again, this high percentage appears to be due to a misunderstanding of the terminology, given that most Americans are actually supporters of animal welfare). Survey findings that are based on the respondent's perception of a term rather than an understood definition of it (as in these examples with the term "animal rights") can lead to inaccurate conclusions about how the American public feels about the use of animals. Animal rights organizations, in turn, may enthusiastically report such findings to imply that the animal rights movement has more support from the public than it actually does.
The fact that so many Americans claim to support "animal rights" (at least based on the term alone) might suggest that most people do indeed believe that animals have certain rights—those entitling them to reasonable and humane treatment by humans. Of course, the actual commonly held definition of "animal rights" dictates no use of animals by humans whatsoever, and this is not something most Americans agree with: the overwhelming majority identify more with animal welfare after hearing the definitions of the terms. This distinction is important, as many animal rights groups misleadingly use the concept of animal welfare to promote and fund an animal rights agenda. Television commercials, print and digital advertisements, and solicitations for donations from animal rights groups may imply that support is needed to ensure the humane treatment of animals in various unethical and emotionally charged situations; in actuality, the missions of such groups typically discourage the use of animals altogether, whether for food, medical research or other purposes.
Proponents of hunting should not cede the middle ground—the belief that animals can be used by humans, provided they are treated humanely—to proponents of animal rights. As the vast majority of hunters are ethical and care about the humane treatment of wildlife, legal hunting is consistent with animal welfare. Despite animal rights claims to the contrary, legal and ethical hunting is not a dominionistic activity.
Most Americans hold attitudes consistent with animal welfare, not animal rights. For example, pet ownership and meat consumption hold little controversy for most Americans: nine out of 10 approve of owning a dog or cat and the same number consume meat. At the same time, Americans are less approving of practices perceived as being potentially inhumane: only about half of U.S. residents approve of consuming veal or wearing fur.
Beyond their stated beliefs, Americans' lifestyle choices also reflect a predominantly animal welfare mindset. More than nine out of 10 Americans consume meat, and approximately three out of four wear leather shoes, gloves or other clothing made of leather. Among all Americans, only 2 percent do not eat meat or wear leather. What's more, just 1 percent of Americans actually follow a strict animal rights lifestyle by not consuming meat or wearing leather (while 13 percent hold the animal rights position yet eat meat and/or wear leather).
Communications about the use of animals must be based on what Americans actually think and how they behave. This means that the most effective communications will embody the animal welfare philosophy, consistent with the beliefs and behaviors of most Americans. Characterizing the American public through labels alone, absent context or definition, can be misleading. For example, it would be incorrect to conclude that most Americans are supporters of "animal rights"—rather than accurately describe the opinion of most people with regard to the use of animals, this conclusion instead simply reflects widespread misunderstanding of the term "animal rights."
What matters is the meaning behind these labels and whether people actually live according to the underlying philosophies. In this way, talking about the use of animals, including through hunting, is not a matter of changing Americans' values but of affirming them.
When communicating about hunting and the use of animals, keep the following in mind:
• All communications about hunting must be viewed through the prism of the continuum of acceptability regarding animal rights, animal welfare and dominionism. Communications that appear to be aligned with the dominionistic side of the continuum will be rejected; messages built around animal welfare, on the other hand, are more likely to be accepted.
• Hunters must communicate respect for animals, including when posting pictures of hunters with game on social media.
• While irreverent comments from hunters may seem harmless, non-hunters may interpret them as disrespectful toward wildlife. Foul language and phrases like, "If it flies, it dies," and, "If it's brown, it's down," are perceived as dominionistic and will likely turn people away from hunting.
• Hunters should strive to show people they care by demonstrating empathy and concern for the humane treatment of animals.
• Hunters should share their game meat with others while highlighting the quality of the game meat. Hunting animals for meat is consistent with animal welfare—remember that most Americans eat meat, and many people view hunting for meat as more humane than obtaining meat through factory farming.
This article is based on research commissioned by the NRA-HLF conducted by Responsive Management Inc.