Support NRA American Hunter
DONATE
Warden Todd Long can receive the call at any time, but odds are it will be a nighttime call. "It's really about using the resource," said Long, whose jurisdiction is Gregg County in East Texas. "I just hate to see these deer and hogs rot on the side of the road when we have so many people who can really use the meat."
The call will come at night because that's when deer and other wild animals tend to be more commonly involved in vehicle accidents. Long, a veteran game warden with Texas Parks and Wildlife (TPW), has created a network of people who receive and use the roadkill that would otherwise go to waste.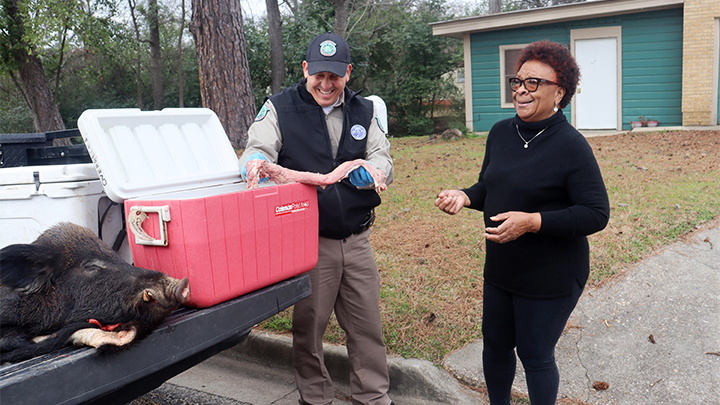 A lifelong hunter, Long started his game warden duties with TPW 14 years ago. Not long after that, he discovered road-killed deer and hogs were regular occurrences. During the fall deer rut, for example, Long says he can get 10 calls a day regarding deer-vehicle accidents—and those are just the deer he hears about.
So, Long started field-dressing road-killed game, when it was feasible, then donating the meat to local people. As his efforts went forward, Long enlisted the help of area law enforcement and road workers who let him know about fresh roadkill. As he began asking personal contacts and social service agencies, he discovered a wide range of needy folks grateful to accept the wild game meat. Long soon added to the mix illegally taken game that he confiscated in the course of his work.
I rode along with Warden Long for three days and nights in February. I'd met him in October 2020, through a mutual friend, while hunting East Texas. Long mentioned his game meat distribution. He also told me he wanted to give meat to a number of other people but was in need of a piece of equipment: a meat grinder.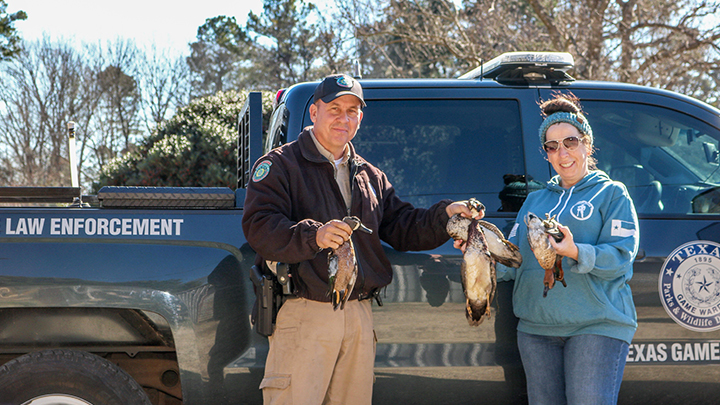 "I can give some people a field-dressed deer or hog and they have no problem butchering it themselves," Long explained. "But there are a lot of people who could use the meat but simply don't have the means to handle a deer carcass. I'd really like to be able to grind up deer and hog meat, put it into 1- and 2-pound packages and give it out that way."
That got me thinking. Once I was back home, I began calling and emailing industry contacts to see if I could line up a donated grinder for Long. Greg Ray, co-founder of Outdoor Solutions, asked if a slightly used grinder might work. It would, I told him.
Ray donated a 1.5 HP grinder made by MEAT!, and on my way to see Long in Texas in February, I stopped at Ray's "Outdoor Solutions Field to Table" location and picked up the almost new grinder to deliver it the next day.
Outdoor Solutions sets up hunts and fishing trips for clients, and it also runs several "field to table" classes in Texas every year. At the Texas locations, people hunt for a couple days then a chef who specializes in game meat preparation shows the students how to butcher and prepare the deer, hog or turkey they hunted.
"We think what Warden Long is doing is really important and we wanted to help," said Ray. "I ran the idea by the people at MEAT! and they wanted to help, but were completely out of grinders. So I decided to donate one of our class grinders, and MEAT! will replace it when their inventory is back up."
"Awesome!" said Long when I pulled the grinder out of my vehicle to present to him. "Now I'm in the meat packing business! A lot of people are really going to appreciate this."
When I was with Long, no roadkill animals were reported, though a local hunter donated a hog he'd killed to Long, who helped butcher the animal and then gave away the fresh pork.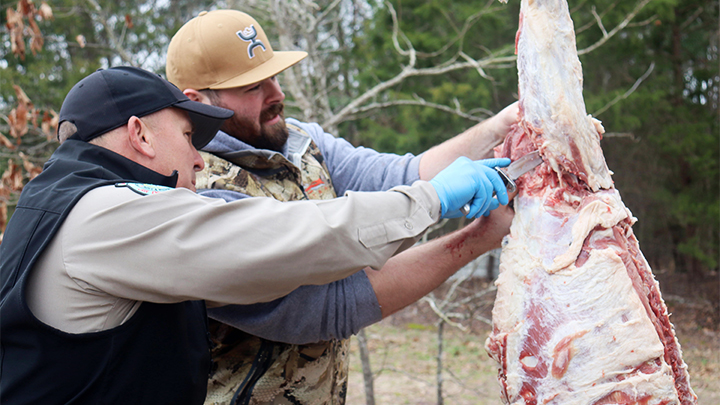 Long and I also attended a youth fishing derby. Long collected the extra trout that were caught, and we drove around Gregg County delivering fresh fish to several different people. One of the people we visited was a building contractor, a good friend of Long's and an important figure with the local Hispanic community. He had a long list of people who were eager to get some wild meat, fowl and fish.
First and foremost, though, Warden Long is all about law enforcement and protecting the public. As I discovered our second night on the road together when a call came in over his radio asking for help. A deputy sheriff had responded to a domestic disturbance call and was threatened with a firearm. Long immediately told the dispatcher he was on his way.
"You need to stay in the truck when we get there," Long told me as we roared down the highway, lights flashing.
"That was my plan," I assured him.
Fortunately, the situation was diffused before we arrived, and no one was hurt. But it was a reminder that Long and his colleagues face real challenges and physical threats while on this job. Long has busted drunk drivers and drug dealers, domestic abusers and burglars in addition to those who flout the Texas game laws.
Not surprisingly, local law enforcement personnel in Gregg County are among the first to let Long know when roadkill is spotted. He has become so well-known for his game-meat distribution that some locals fondly call him the "Deer Meat Santa Claus."
"People really love the venison," he told me, "especially those who were hunters but age or disability stops them from going out now. In some small way, I feel like giving them the venison keeps them part of the hunting community."