Support NRA American Hunter
DONATE
Neither my father nor his father were farmers, and neither am I. But over years of trying to plant food plots for whitetails, I have gleaned a few tips from the experts. If you're like me and wish to install a small plot or two on your property to attract, hold and provide deer with supplemental nutrition, follow this dumbed down, nine-step guide for success without breaking the bank—or quitting your day job.
August/Early September
1. Decide on your crop. Great whitetail-supplementing forages such as clover, rye, oats, turnips and/or winter wheat should be planted after peak summer but before the first frosts of fall. In most areas, this is early September.
2. Choose a location that gets plenty of sunlight then clear it of rocks and trees. If you can build it by a water source, that's even better due to the possibility of irrigating your plot in the future as time and money allows.
3. Contact your ag-extension office or Whitetail Institute to order a soil testing kit. Take soil samples and return them to the office.
4. Prep the land. In these modern times where herbicides and fertilizers are proven and readily available, traditional plowing is becoming a holdover of the past. With proper weed-ridding and prep, plots can be planted without the laborious step of plowing. If your plot is small (less than 1 acre) you'll need a $25 hand sprayer from any farm store. (Large, tow-behind sprayers are more efficient, but you'll spend $500 or more.) Next, buy a glyphosate-based herbicide; while the Roundup brand name is more expensive, many generic products perform great for less money. Mix/dilute the product precisely according to the directions on the label, choose a windless day and spray your plot thoroughly. (While this herbicide has been used for decades in nearly every part of the world to safely grow crops, if you don't like the thought of putting any chemical on your property, you'll need to mow the plot, plow it to kill weed roots then kill any surviving weeds by hand and/or burning.)
5. Check that all vegetation is brown and dead after a few weeks. If not, spray it again. If there is copious dead weed mass covering the soil, you'll need to burn, rake or drag the plot to expose the soil and scratch its surface.
6. Supplement the soil with lime to lower its acidity, if recommended by your soil sample report, then fertilize it. Buy pelleted lime and fertilizer then broadcast it with either a hand ($30) or a push-type broadcaster ($60).
7. Buy seed and plant it. Choose customized seed from specialists such as Tecomate, Whitetail Institute, etc., or buy it from your local feed store. While the name-brand seeds are touted as specially engineered for whitetails—and some are even called "No Plow" for their ease at which they germinate—many hunters do fine with the cheaper local feed store seeds. Consider buying several types of seeds (see step 1) and mixing to provide deer with options and to hedge against one seed type failing in your soil, then broadcast the seeds generously over your plot.
8. Ensure seed-to-soil contact by dragging the plot or packing. Using a 6x6 piece of cattle fencing with several cinder blocks wired on top for added weight, drag the field manually or with an ATV until the seeds are covered lightly with dirt.
9. Pray for rain. Or, if you were clever enough to build your plot close to water, consider irrigating it. But if your plot doesn't perform well, don't give up. It'll be easy to improve upon it next year with what you have and have learned. In time, you'll be a food-plot master!
---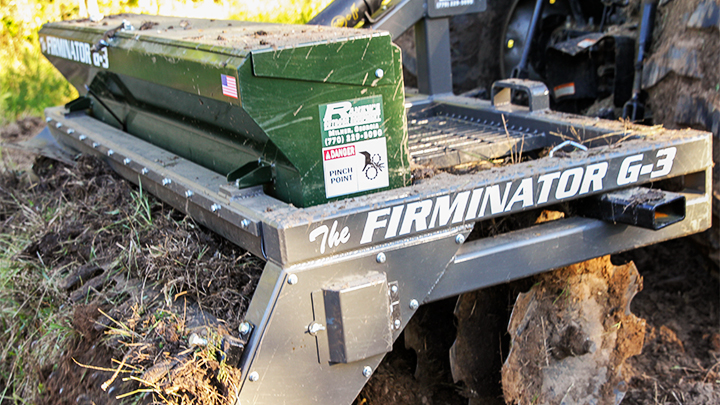 The Firminator G3
For hunters whose rarest commodity is time, there's no better implement than the Firminator cultipacker. This versatile tool would make Eli Whitney beam by the way it plows before dropping seeds from its hopper and packing them into the soil—all in one pass. It adjusts for plow aggressiveness, seed size, seed volume and packing depth. Annually, I simply spray for weeds then attach the Firminator to my tractor and fill it with seed and fertilizer. With it I can plant all my plots in a day. It's not cheap at $6,000-$7,500, but it's glorious for saving time. For more information, visit thefirminator.com.