by
posted on February 16, 2019
Support NRA American Hunter
DONATE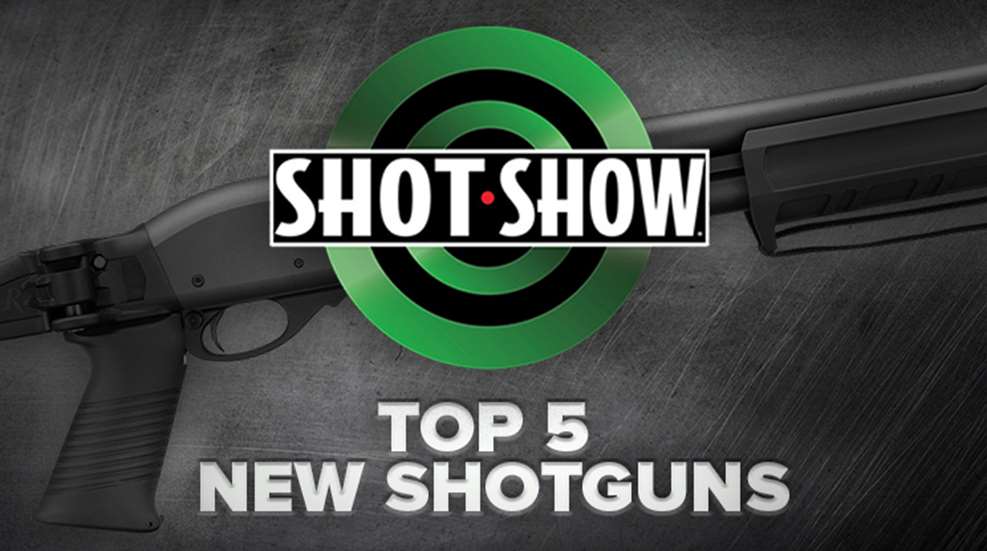 Some may be wondering how one can possibly narrow all the shotguns introduced at the 2019 SHOT Show down to the top five. The answer is simple; by picking up, handling, mounting and shooting each of them. Without further ado, here are what I feel are the best new shotguns on the market this year.

1. Remington V3 Tac-13
We all know how popular the V3 has become in the last few years since its release in 2016. With the huge success of the 870 Tac-14, Remington's decision to introduce V3 to its Tac series this year was a smart one. The V3 Tac-13 includes an accessory rail at the end of the barrel and a user-adjustable hand strap on the fore-end to help control muzzle flip and improve handling. Its 13-inch barrel has a fixed choke and a front bead sight. It has a 5+1 magazine capacity, an overall length of 26.5 inches and weighs 5.94 pounds. It wonderfully combines the reliability of the V3 with the "coolness" of the Tac style design. MSRP: $915; remington.com.

2. Franchi Instinct Sporting II
Franchi is known for their high-end over/under and sporting shotguns. The newest addition to the company's over/under lineup is the Instinct Sporting II. This beautiful semi-auto sports a A-Grade satin walnut stock and a 30-inch barrel that is perfectly balanced to provide the user the best experience. The Instinct Sporting II features auto ejectors and knurled extended choke tubes (IC, M and F). The ported barrels feature a wide vented rib to allow heat to dissipate quickly, and the fiber-optic red bar front sight allows for quick target alignment. Additionally, the stock features an adjustable comb that can be raised or lowered as needed to suit the user's specific needs. It has 14½-inch length of pull, an overall length of 48.125 inches, and weighs 7.85 pounds. MSRP: $1,999; franchiusa.com.
3. TriStar Arms Hunter Mag Bronze
For 2019, TriStar introduced its new Hunter Mag Bronze, an over/under built specifically for waterfowl hunting. The 12-gauge is chambered for 3.5-inch shells with extractors. The synthetic stock cuts the weight down to 7.6 pounds and is decked out in Mossy Oak Shadow Grass Blades. The receiver and barrels feature a bronze Cerakote, not only making the shotgun look great, but preventing barrel rust. The new TriStar Hunter Mag Bronze comes standard with a fiber-optic front sight and a full set of five Beretta Mobil choke tubes(SK, IC, M, IM, F). MSRP: $745; tristararms.com.

4. Remington 870 Side Folder
Many argue that the popular Remington Model 870 is the world's most reliable pump-action shotgun platform, and in the company's latest version, the 870 Side Folder, it is available with a folding stock, SuperCell+ recoil pad and an adjustable length of pull kit. Built to exceed law enforcement requirements, the folding stock makes the shotgun extremely compact—ideal for easy transport through the woods as you pursue game. Additionally, the 870 Side Folder's Versa Max soft-touch cheek piece inser is completely adjustable to fit the user. It has an overall length of 38.5 inches (reduced by approximately 11 inches when folded), and weighs 6.8 pounds. MSRP: $569; remington.com.

5. TriStar Raptor Youth Muddy Girl Serenity 20-Gauge
Last year, TriStar released the 20-gauge Raptor in Muddy Girl camouflage. This year, they have refined many of the shotguns features for better performance, and have dressed it up with Muddy Girl Serenity camo. Weighting in at only 6.7 pounds, this youth shotgun is perfect for introducing a new hunter to the outdoors. Featuring a 24-inch barrel, the Raptor series comes standard with a fiber-optic front sight and three Beretta Mobil chokes (IC, M, and F). Don't let its "youth model" tag fool you, this semi-auto can stand with the big boys, and the shorter length of pull is more forgiving when wearing bulky hunting jackets. MSRP: $460; tristararms.com.