by
posted on June 14, 2018
Support NRA American Hunter
DONATE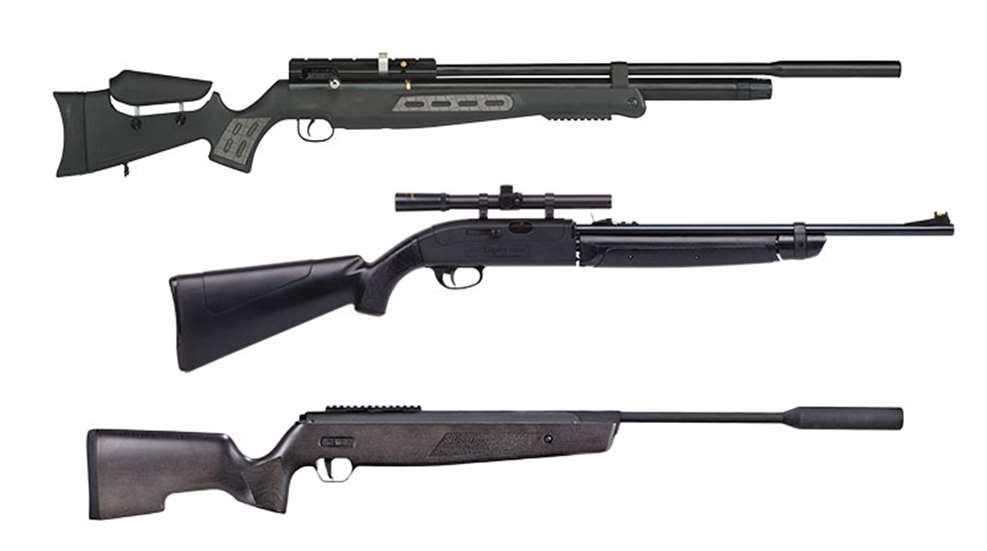 Air rifles today are more Iron Man than Red Ryder. Just like the Marvel character Tony Stark, air rifles have harnessed improved technology to become amazingly powerful, and they have a sophisticated quality about them that means business. They've become specialized and in some cases pricey.
Online retailers such as Pyramyd Air stock hundreds of models from dozens of brands. Choosing one that best serves your purpose starts with understanding the main types of actions, or power sources, utilized in modern air rifles.

Multi-Pump Pneumatic 
The air rifles most of us graduated to after outgrowing our Red Ryder carbines had multi-pump pneumatic actions. They remain the next logical step up in terms of power and continue to be popular because of price. Most retail for less than $100, although some brands cost twice that.
A built-in pump—usually part of the fore-end—charges a reservoir with compressed air. Pulling the trigger releases a hammer or striker that moves a rod to open a valve, releasing compressed air into the chamber and propelling the pellet or BB down the barrel. The more times you pump the rifle, the more compressed air enters the reservoir and ultimately pushes the pellet. You can somewhat tailor pellet velocity and power to suit your needs.
Most multi-pump pneumatics shoot BBs and .177-caliber pellets at velocities up to 800 fps. Some shoot .22-caliber pellets at about 650 fps. Either is powerful enough for small rodents. This action produces little recoil; it's perfect for youngsters. But it takes usually eight to 10 pumps to bring the rifle to full-power status.


Spring Piston or Gas Piston 
Spring-piston or gas-piston guns often are called break-barrels because the barrel on them pivots on a hinge just behind the chamber. Pulling downward on the barrel compresses a large spring or gas piston. When the piston is released by the firing mechanism, it pressurizes the air in the air chamber and drives the pellet out the barrel.
Spring- and gas-piston guns are available in .177, .22 and .25 caliber, and they can be powerful enough for groundhogs and raccoons. Velocity and energy levels range from 900 fps and 30 ft.-lbs. with .25-caliber pellets to 1500 fps and 24 ft.-lbs. with .177-caliber pellets. Piston guns were the first to be marketed as serious hunting tools because of their power levels.
Expect to pay $200-$500 for a quality spring- or gas-piston gun. These rifles usually are longer and heavier than multi-pump pneumatics, and it takes a bit of force to cock the piston. While they may not be ideal for young shooters and the bi-directional recoil caused by piston movement can make them tricky to shoot accurately, they hit the sweet spot for price and power.


Pre-Charged Pneumatic 
A .45-caliber air rifle? The pre-charged pneumatic (PCP) action makes it possible. These rifles get their air from a pre-filled, highly pressurized source—a mini tank typically mounted beneath the barrel or in the buttstock, and filled to 3,000 psi or more. They can drive a .45-caliber lead slug fast enough to produce more than 500 ft.-lbs. of energy, making some PCP rifles viable for big game such as whitetails and hogs. Versions that fire .30- and .35-caliber pellets can take coyotes.
In smaller calibers, PCP guns are popular for their accuracy and repeater-type action. A full tank of air provides 20-30 shots with .177- and .22-caliber pellets. Some models feature magazines that hold multiple pellets and regulators that adjust power.
Expense is the major knock here. Models in larger calibers cost more than $1,000; smaller bores are about half that. Also, you'll need a place to fill your tank, like a scuba shop, though some makers now offer miniature air compressors to fill tanks as the popularity of PCP air rifles grows among hunters.