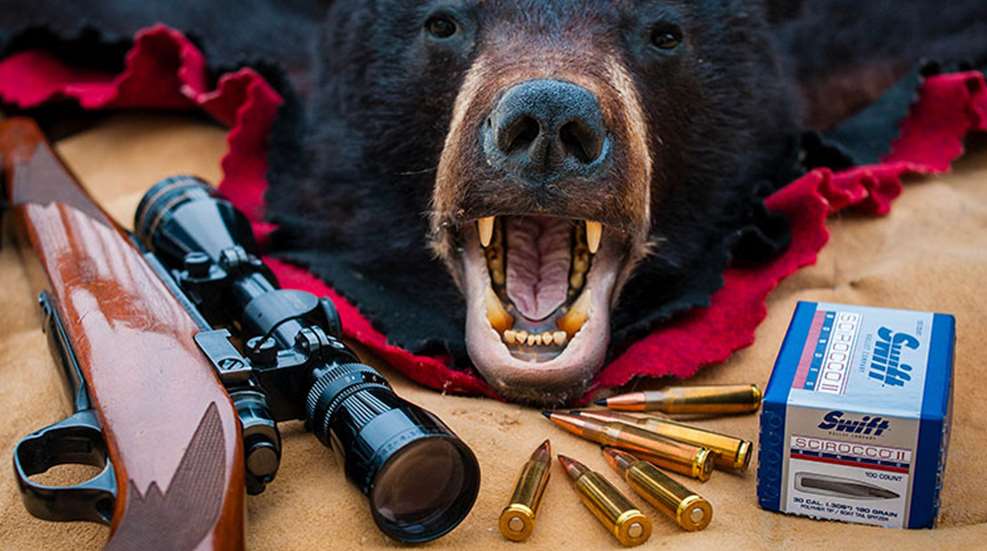 I sat overlooking a beaver swamp, with a bait barrel full of fish heads and moose bones, waging war on the black flies. The temperature had risen to nearly 70 degrees that afternoon, and I was being eaten alive. I'd packed a couple of sandwiches and a can of soda for the evening vigil, and though I'd just gotten to my stand, I was hungry already. I had just unwrapped one of the dainties when I saw—for it did not make a sound on approach—a decent boar come into the bait site. Flies be damned, this was exactly what I was waiting for.
I raised the handy .308 Winchester and put one 180-grain bullet into his boiler room, turning the black bear into an infuriated beast, but a second bullet ended the affair. It was my first bear, and I was immediately hooked. I've spent much more time hunting for bears than actually shooting bears, but it's a hobby I enjoy very much. That spring, among the beautiful lakes that make up the Quebec landscape, was the first I'd hunted big game here in the States, and it was something that would become part of my life. Let examine the reasons to book a spring bear hunt.
1. It'll take to you to a different part of the world. 
Much of the spring bear hunting is done in Canada, with our U.S. opportunities being in Alaska and a few Western States. A change of scenery represents an adventure—at least in my book—and for many of us, a trip to those areas that allow spring bear hunting can be a great time. I know that you need not ask me twice to begin planning a trip to a different destination, and more than likely, the country you'll see will become a very fond memory.
2. It's halfway to deer season. 
It's been quite a while since deer season closed—in most areas anyway—and if you're like me, you're starting to feel that itch. Yes, turkeys offer great sport and will always be a part of my spring ritual, but bears offer a reason to grab a rifle and experience a whole new type of big-game hunting. Whether it's black bears over bait or glassing for brown bears, a spring bear hunt will help ward off the irritability and shortness of breath that is usually experienced when one realizes how far off deer season actually is.
3. It's not just about the bears.
Many of the areas in which spring bear hunts are conducted also offer great fishing. Where I hunted in Quebec, the early morning was usually spent checking the bait stations, and a good part of the day—up until about 3:00 p.m.—was spent fishing the numerous lakes. Fresh fish, neatly fried up, was a delicious treat in bear camp, and with a minimal amount of fishing gear, we had a great time. Depending on the area you're hunting, deep sea fishing may be involved, or perhaps fly-fishing for trout in a Western stream, but no matter, you'll be outdoors all day long.
4. Bear hunting is an amazing experience. 
Be careful, you may end up with a new favorite hobby. Bear hunting can be addictive, as they are after all dangerous game. Even a black bear can turn the tides on a hunter, especially if hit wrong, so hunting them requires a bit of a different level of attention than other animals. They're smart, wary and silent. They can be brazen—I'm sure you've seen videos of a bear climbing the very tree that a hunter occupies—and they can be as witty as they come, circling the bait station, just out of range, until they feel comfortable coming in. Sometimes they'll wait until well after dark, especially the big boars that have been educated, and though you'll find tracks, you'll never get a glimpse of him. Only when you've seen a bear will you get an idea of exactly how quietly they walk on those large pads, adding to the mystique. If it's a brown bear you're after, well, that alone is an amazing experience, and one I'm keen to have. It's beautiful, rugged country and just being there is worth the price of admission.
5. It just might be an excuse to buy a new rifle. 
Well, not that any of us really need an excuse to buy a new rifle—I'm a firm believer in 'the-more-the-merrier'—but this is as good a justification as any. Been wanting that .35 Whelen? Perhaps that sweet .300 Magnum you've been eyeing is just an excuse away from joining the team. No matter, so long as it's a bear-worthy caliber—usually .270 and up for the black bears, and .300 on up to around .375 for the browns—I say go ahead and set up your own bear rifle. Maybe a rugged, all-weather affair makes sense for the locale you plan to hunt, or it may just be a familiar design in a different caliber. You could also experiment with a different projectile in a rifle you already have, something good and strong that can easily break those large shoulder bones. At any rate, the planning and purchasing of gear can be an awful lot of fun, and booking a bear hunt is a good impetus for just that.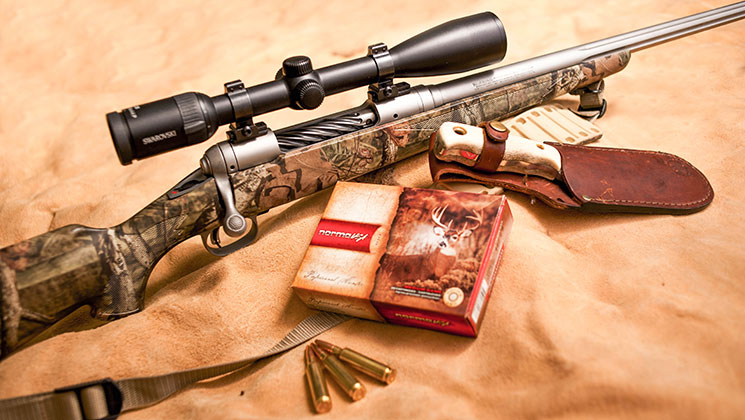 I wish more states would open up a spring season for bears. Populations are most definitely on the rise, and the additional license money would help keep our public lands well-funded. There are some very affordable bear hunts available. I know I've seen some good deals for black bear in Idaho, Quebec and Alberta, and some very expensive ones as well—an Alaskan Kodiak bear hunt is no small financial investment—so there should be something for almost everyone's budget. Get on the computer, make some phone calls and start planning your great adventure.