by
posted on November 10, 2018
Support NRA American Hunter
DONATE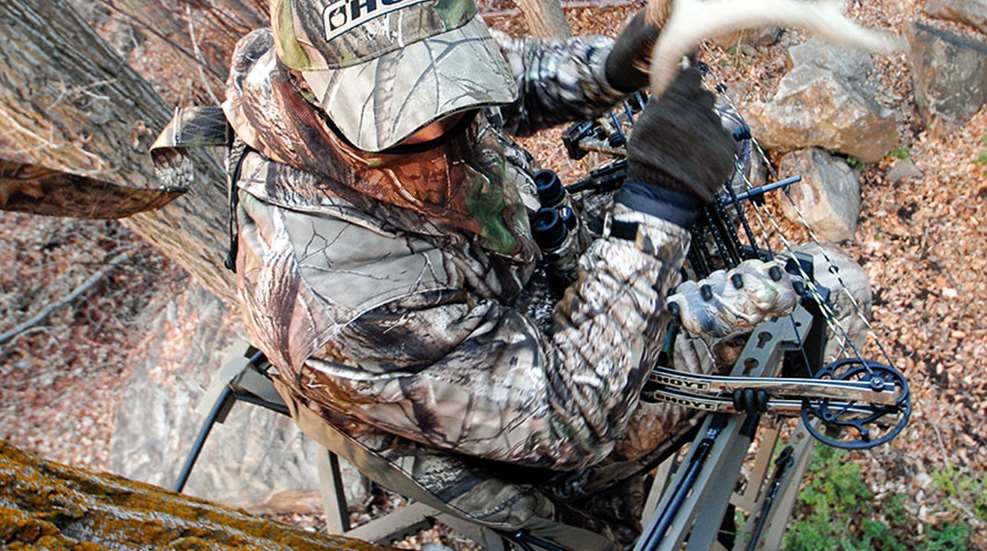 Treestands became synonymous with white-tailed deer hunting after the 1970s; today more than 80 percent of firearm hunters and 90 percent of archery hunters go aloft. Unfortunately, researchers predict 5,000 to 6,400 deer hunters nationwide will require medical attention this year after tumbling from trees and treestands, far surpassing gunshot wounds as the greatest peril we face in the whitetail woods.
Recent studies found roughly five of every 10,000 deer hunters (.05 percent) annually require medical attention after falling from treestands. The chances of suffering a gunshot wound while hunting are at least 90 percent lower.
That's partly because risks incurred by stand users are cumulative. Two recent Wisconsin studies found the more you hunt aloft, the more likely you'll fall and require medical care. If you're a serious hunter who's up in trees from late summer to early winter each year, your lifetime odds (over 50 years) of needing medical attention after falling are 1 in 20 (5 percent). If you bowhunt only, your odds improve to 1 in 36 (2.7 percent); and if you gun-hunt only, your odds become 1 in 91 (1.1 percent).
Conservative Estimates
Those findings come from two scientific studies by the Marshfield Clinic Research Foundation and the Wisconsin Department of Natural Resources that analyzed five years (2009-2013) of hospital data from north-central Wisconsin. Researchers deemed their estimates "conservative," including one that set the lifetime risk of a "potentially debilitating treestand fall injury" at 3 percent for all-season hunters. When researchers included injuries that didn't require medical care, the lifetime probability of a fall jumped to at least 30 percent. If that sounds familiar, it's because it resembles the oft-quoted 37 percent risk calculated 25 years ago in a nonscientific study by Deer & Deer Hunting magazine.
Of the 39 documented treestand tumbles Wisconsin researchers analyzed from 2009-2013, two caused death and one caused paralysis; 35 fall victims (90 percent) were overweight or obese, a rate 30 percent higher than the region's general population. Bowhunters accounted for 30 of the falls (77 percent) even though Wisconsin's gun-hunters outnumber them 6-4. Bowhunters also take at least twice as many falls and near-falls (28 percent) than gun-hunters (13 percent). That's probably because the state's archery season lasts nearly four months, with archers hunting 4.5 times more than gun-hunters, on average.
Consistent Problem
Wisconsin's findings align with research across whitetail country. A study of Vermont and North Carolina in 2002 found 7 percent of deer hunters fell from treestands; 22 percent of victims required medical care. A 2010 Ohio study of 10 years of data found half of all deer-hunting injuries were falls requiring medical attention, and 92 percent of those involved stands. In contrast, gunshot wounds accounted for 29 percent of treated injuries.
Treestand-related injuries are usually serious, given that victims can be falling at 30 mph upon impact. The Ohio study reported 81 percent of victims required surgery; 59 percent of their injuries involved spinal fractures, 47 percent involved "lower extremities," 18 percent involved the head and 8.2 percent involved permanent neurological problems.
In New York, officials reported six fatalities in autumn 2017 involving treestand falls. A 1987-2006 Pennsylvania study of hunting accidents documented 499 treestand-fall victims. Although its injury rates—2.73 per 100,000 licensed hunters—appear relatively low compared to other studies, it still included seven fatalities. It's difficult, however, to pinpoint annual treestand fatalities nationwide. One nationwide review found 62 treestand-related deaths from 1980 through 2001.
Theories Debunked
Most studies, however, debunk common theories and stereotypes that assume drugs and alcohol cause treestand accidents. The Wisconsin researchers found little evidence of alcohol consumption. Of the nine incidents that included blood-alcohol tests for victims, only one detected alcohol consumption. Of the 325 blood-alcohol tests available in the Pennsylvania study, only 24 showed legal intoxication, and only seven detected illegal drugs.
How do treestand accidents occur? As Deer & Deer Hunting's surveys found in 1993 and 1999, roughly half occur while hunters climb to, step in, step out of or descend from treestands. The Wisconsin studies also noted 36 percent of falls occur as hunters descend after dusk, and 18 percent result from structural failures such as broken straps and steps.
Most deer hunters, unfortunately, don't heed advice to use a fall-restraint device the entire time they're off the ground. The Wisconsin studies found only 33 percent of bowhunters and 23 percent of gun-hunters reported always wearing a "safety harness or fall restraint"; in fact 14 percent of bowhunters and 20 percent of gun-hunters did not own a safety harness.
Persistent Problem
That might explain why no study verifies progress in reducing treestand accidents, despite 20-plus years of increased safety training, nearly universal availability of full-body harnesses, and nearly 20 years of industry-enforced gear-testing standards on treestands and harnesses.
That's in stark contrast to improvements in firearm safety and hunter-orange requirements. As the Wisconsin researchers note, during the state's 1914 deer season, one in every 3,100 deer hunters was accidentally shot, resulting in 24 fatalities. Nearly a century later, only one in 95,143 hunters in 2012 was accidentally shot, and only one accidental shooting was fatal.
If anyone knows how to make deer hunters 31 times safer when using treestands today, they're keeping it to themselves.
---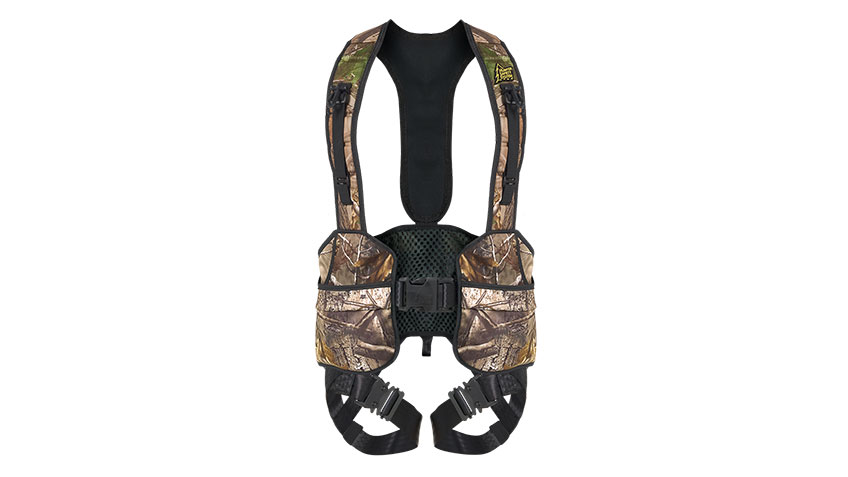 HSS-Hybrid
Safety harnesses from Hunter Safety System are AH staff favorites (see our 2015 Golden Bullseye Awards). The HSS-Hybrid harness is easy to use; its design eliminates dangling straps and weave-through buckles. Sitting or standing, it's comfortable without having to make adjustments for posture. Soft-touch binding resists neck abrasion; its tether is 1.25 inches wide to absorb shock; and Elimi-Shield technology controls human scent. Two security pockets, two hand-warmer pockets and two deep-well pockets hold gear. Weight is only 2.5 pounds. MSRP: $119.95; huntersafetysystem.com.