by
posted on October 1, 2018
Support NRA American Hunter
DONATE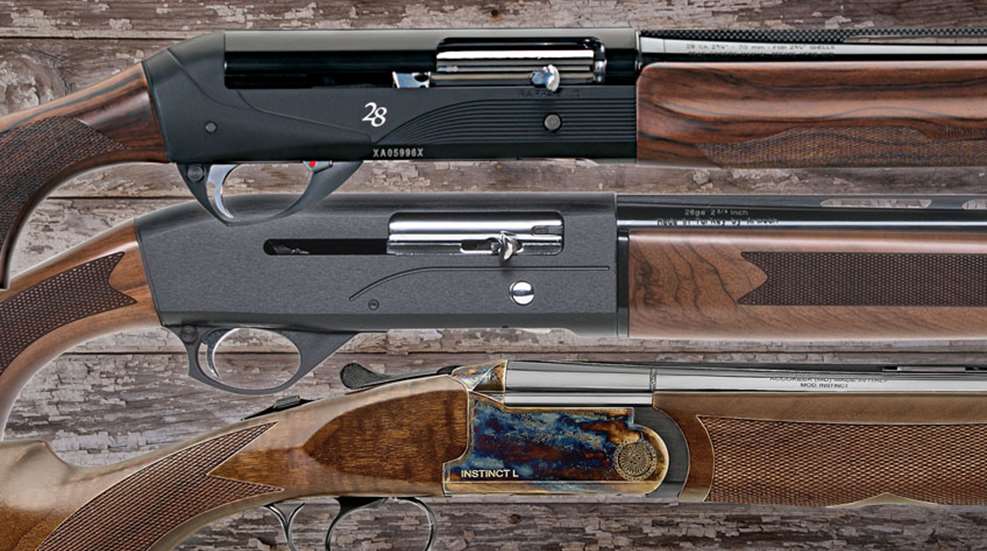 A surprising number of shotgun manufacturers currently offer 28-gauge models—response to a renewed interest in hunting upland birds with the sub-gauge. You'll notice semi-automatics, pumps and over/unders represented below, but there are also many side-by-sides such as the Barrett Sovereign Beltrami, CZ Sharp-Tail and Rizzini Round Body on the market.

Benelli Ultra Light
Benelli claims this is the world's lightest semi-auto shotgun, and since it weighs right at 5 pounds in 28-gauge, we won't argue. An aluminum-alloy receiver houses the company's Inertia-Driven system. A short, two-round magazine tube and a carbon-fiber top rib on the 26-inch barrel also cut weight. MSRP: $1,799; benelliusa.com.

Browning BPS Field
Lefties who want to run a pump on the prairie will like the BPS Field's bottom-eject action and tang-mounted safety. The forged steel receiver makes the BPS Field vault-door tough, but it also puts the gun on the heavy end of 28-gauge models at 7 pounds. Then again, felt recoil will be next to nothing. MSRP: $639.99; browning.com.

Franchi Instinct L
The action and fore-end of the Instinct L are exactly what they should be on a 28-gauge gun: trim, slim, nimble. Besides its color-casehardened receiver and A-grade walnut stock, this 6-pound wand of an over/under has an automatic safety with barrel selector, automatic ejectors and chrome-lined, 28-inch barrels. MSRP: $1,569; franchiusa.com.

Mossberg International SA-28
Manufactured in Turkey to Mossberg's specifications, the SA-28 hits a sweet spot for looks, function and price. The gas-operated action and 26-inch barrel are dressed up with a glossy walnut stock and polished-blue metal finish. Plus, the SA-28 comes with five choke tubes. Two SA-28 Bantam youth models are also available. MSRP: $654; mossberg.com.

Stevens 555
If you're looking for a 28-gauge over/under and don't want to spend a grand, or even $700, the Stevens 555 is your gun. The only things you'll give up are ejectors and an automatic safety. You'll get a scaled aluminum receiver, mechanical trigger, chrome-lined barrels and an oil-finished Turkish walnut stock on a 5.1-pound gun. MSRP: $692; savagearms.com.

TriStar Viper G2 Silver
The bright, anodized-aluminum receiver gives the Silver its name. It also reduces the gun's weight to less than 5.5 pounds with a 28-inch barrel. TriStar says it handpicks the Turkish walnut used for the stock on the Silver, and the gun comes with a shim kit for adjusting drop and cast. Here's another example of a great value in 28-gauge form. MSRP: $689; tristararms.com.