by
posted on August 12, 2017
Support NRA American Hunter
DONATE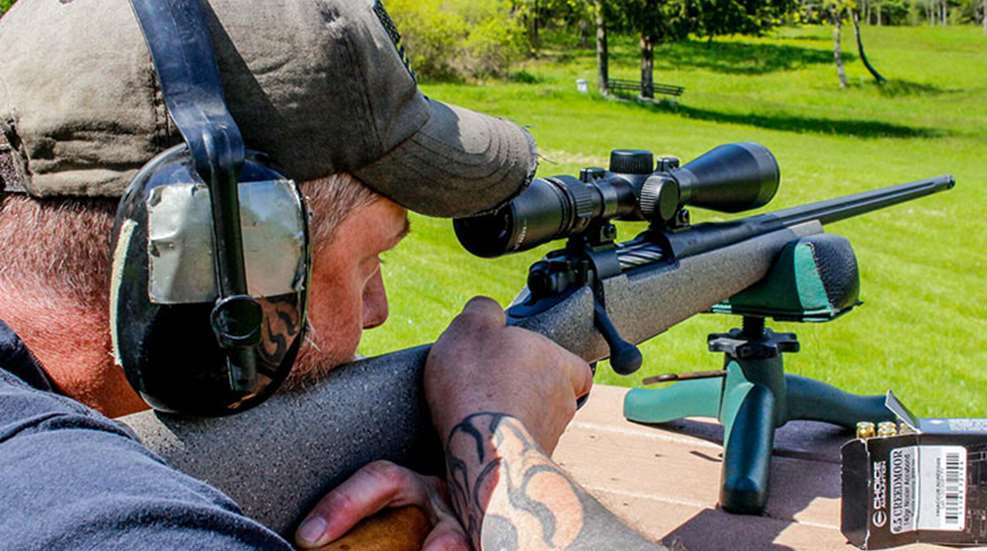 I am a proponent of fine walnut and richly blued steel; when I see a rifle with the proper appointments I am mesmerized. However, I cringe with equal intensity when taking a rifle so bedecked on a hunt where rain, snow, rocks and all the other goodies Mother Nature has to offer will swell that sweet walnut and rust the best bluing job. I've sat in the Adirondacks, while camping out on an extended bear hunt, watching the rust develop on a favorite Model 70.
Modern synthetic stocks and weather-proof finishes are certainly a cure for this ailment, but some are, well, downright ugly. I have learned to hunt with them, but few are something you could refer to as attractive. But, as the old saying goes, form must follow function, so if I'm forced to hunt with a rifle that is truly weather-proof, I want the best features possible.
I was introduced to Legendary Arms Works rifles a few years ago—their Big Five and Professional rifles have served me very well—so I was instantly intrigued when Mark Bansner, one of the owners of Legendary, told me of the Capra. "Phil, this is the rifle we always wanted to produce. It's more expensive than previous rifles of this type, but I feel the improvements are well worth it. It's a hardy, weather-proof, lightweight rifle that will go anywhere you can." We discussed the available calibers—the Capra comes in seven sensible long and short action cartridges—and settled on the 6.5 Creedmoor. I've spent a considerable amount of time behind the trigger of a 6.5 Creedmoor, and like so many others, am under its spell, in spite of my affinity for the 6.5-284 Norma. Combine this cartridge with the LAW Capra, and I get visions of sheep mountains and distant rams.
The Capra has all you'd want, and then some. The drive train of the Capra is the Ed Brown M704 action, a rather ingenious design in and of itself. I'm definitely in the controlled-round-feed camp; yes, I have push feed rifles that I like, but given my druthers I prefer CRF. The M704 is a CRF action that doesn't use the conventional Mauser-style claw extractor. The bottom section of the bolt face is open, to pick up the cartridge, and an oversized (in comparison to other push feed designs) on the rim of the bolt face handles the extraction duties. A blade-style ejector reliably kicks the cartridges out of the action. The bolt is one piece of steel, manufactured on CNC machines for tight, uniform tolerances. A strong and reliable magazine follower—which puts the first cartridge down to the left, not the right—helps the smooth feeding that Legendary rifles are known for. A three position wing safety, in the style of a Winchester Model 70, is located at the rear, right side of the receiver, and the whole deal is run by a Timney 502 trigger. That trigger is crisp and clean, with very little creep and virtually no over-travel.
The Capra's bolt is easily disassembled for cleaning and/or lubrication, and disassembly will reveal that all the parts—with the exception of the springs—are Cerakoted, in the same fashion the external metal is. Yep, the Capra is completely weatherproof, right down to the firing pin. The trigger guard and floorplate are crafted out of aluminum, to keep weight down, and the fluted barrel is triple lapped to enhance accuracy. All this handily crafted metal is housed in a hand-laid fiberglass stock of Mr. Bansner's design, one that not only feels comfortable to the immediate touch, but one that reveals its benefits the moment a scope is mounted on the rifle.
The Capra, like other Legendary models, comes equipped with Talley bases—unequivocally my favorite brand of bases and rings—and I mounted a Vortex 3-15x42 Razor scope in a set of Talley one-inch rings to test the accuracy potential of this rifle. Mounted as low as possible to the bore, this scope will cover hunting scenarios from deer at 15 yards to a sheep or elk at 450 yards, with no issue whatsoever. Armed with a very useable crosshair, allowing for trajectory holdover and windage adjustments, the Vortex Razor is a breath of fresh air in a market swollen with confusing reticles, and for a hunter/shooter in the know, will allow for precise shot placement at a variety of ranges. With an adjustable objective—fully capable of dialing out any parallax issues—the Razor makes a logical and sensible companion to the Capra.
After removing all the rust preventative materials applied for shipping the rifle, I proceeded to bore sight and then zero the rig. That took all of four shots to verify the 100-yard zero. I had a couple of different boxes of factory ammunition, as well as some handloads prepared for accuracy testing. The Hornady ELD Match ammunition has proven—at least to me, in more than a few rifles—to be well worth its cost, as it has given sub-MOA performance time and time again. This rifle was no different, showing ½-inch groups at 100-yards, and 7/8-inch groups at 200 yards. Driving a 140-grain ELD Match bullet at 2675 fps on the Oehler 35P chronograph, the Hornady ammunition was a winner yet again, delivering hair-splitting accuracy.
Next up was some ammunition from Choice Ammunition, a custom handloading company hailing from Montana. Built around the 140-grain Nosler AccuBond, with a muzzle velocity of 2690 fps, the load certainly showed the accuracy potential—groups were at or just under one-MOA—but I did experience some excess pressure in the form of flattened primers and sticky extraction. Nonetheless, the rifle was showing its true colors, in that bullets were printing the tiny little groups that the Creedmoor is known for. My handloads showed the same type of accuracy; the 130-grain Swift Scirocco II and the 125-grain Peregrine PlainsMaster both gave superb accuracy, and I wouldn't hesitate to take either on any hunt where a 6.5mm bullet will suffice.
So with a rifle that is completely weather-proof, and has demonstrated the fact that it can deliver the accuracy goods, why would a hunter invest an MSRP of $3,099? I mean, can't a guy get this kind of performance out of a rifle costing much less?
Well, as a hunter who travels the globe and who has seen a rifle go wrong at the most inopportune time conceivable, I have come to rely on the Legendary Arms Works rifles in all sorts of conditions, from cold and frozen, to unbearably hot and dry, and pretty much all conditions in between. The Capra, upon immediate inspection, and knowing the previous product line, impressed me with having a 'smoother' action, if you will. Mr. Bansner explained that a considerable amount of R&D time was spent in working out the geometry of the bolt rails, and upon shooting the rifle, it was evident in both feeding and extraction; working that action rapidly was as smooth as I've felt. The stock, with a light gray speckled finish, felt like one of Mark Bansner's conceptions—rugged, yet open and smooth shouldering; solid, yet allowing the use of optics without adjusting the vertical alignment of the shooter's head. The integral muzzle brake resulted in the 6.5 Creedmoor feeling much like a .243 Winchester, allowing shots to be placed precisely, and I could easily see where a long-range shot on the sheep or goat of a lifetime would be made with extreme confidence. A trigger that breaks likes an icicle, with an action that behaves impeccably, makes for a combination that any marksman would be proud to own. Legendary has taken the time to think out just about any situation that may be encountered in the field, and compensated for it in the design of this rifle.
There are many choices in the rifle market, but I feel a hunter would be very well served by a rifle of this design, with a level of attention to detail that Legendary applies. The Capra is available in the following calibers: 6.5 Creedmoor, .270 Win., .280 Rem., 7mm Rem. Mag., .308 Win., .30-'06 Sprg. and .300 Win. Mag., and those choices cover just about all the bases in a lightweight rifle—weighing between 6.5 and 7.0 pounds—designed for the nastiest terrain on earth.