by
posted on May 21, 2016
Support NRA American Hunter
DONATE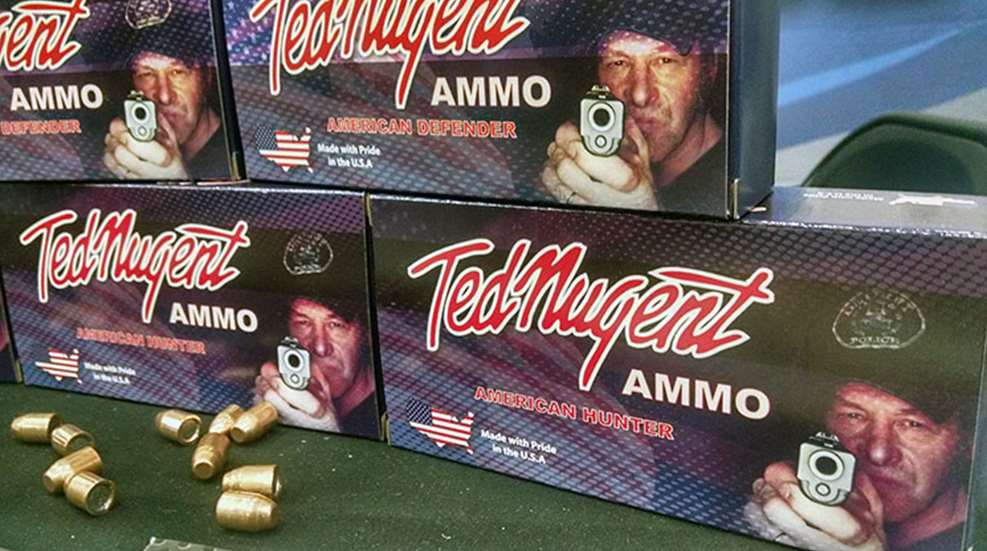 When you're pursuing an estimated 11 acres of guns and gear, you see a lot of new products. Unfortunately, a lot of stuff tends to run together, especially when you're viewing it alongside a probably record-setting crowd like the one we've got here in Louisville for the 145th NRA Annual Meetings and Exhibits. So when something catches your eye and makes you do a double take, it's usually worth talking about. The new Ted Nugent "American Hunter" ammunition from DoubleTap is one of those things.
No, The Nuge didn't name his new ammo line after what I'm assuming is his favorite hunting magazine. That's just a happy coincidence. But his name and face are planted front and center on the packaging for two new lines, aptly named American Hunter and American Defender. They don't want you getting confused as to what each is for, obviously. DoubleTap officially announced the Ted Nugent line at SHOT Show 2016, but we didn't get an opportunity to cover it—for that, I apologize. But we're covering it now, and I absolutely think it will warrant a full-fledged review in the coming months.
Between the two lines, Ted and DoubleTap are offering a bevy of popular rifle and handgun cartridges. The rifle cartridges include .223, .243, .270, .30-30, .3006, .300 Win. Mag. and .308. The handgun offerings include 10mm, .357 Mag., .40 S&W, .44 Mag., .45 ACP+P and 9mm+P.
"Like our sacred 2nd Amendment, Ted Nugent Ammo is as all-American as it gets! It's 100% tested, manufactured, bought, sold and enjoyed right here in the good old USA. Doubletap's Mike McNett and I would have it no other way," Nugent said in a release.
Utah-based DoubleTap, mind you, produces a full line of rifle and handgun cartridges for defense, hunting and target use with 360 loads available in more than 70 cartridges. 75 new loads featuring products from Swift and Sierra are being added to the company's catalog in 2016, alongside the Nugent line.