Support NRA American Hunter
DONATE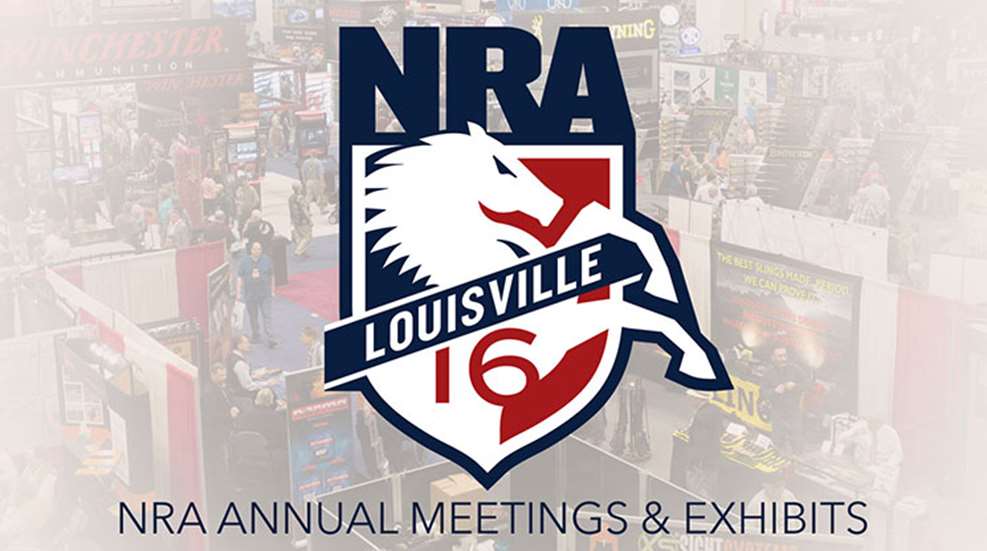 The 145th NRA Annual Meetings & Exhibits are upon us. When the clock strikes 9 a.m. on the morning of Friday, May 20, tens of thousands of dedicated NRA members will enter the Kentucky Expo Center and begin the festivities. If you're one of the many members making the trek to Louisville this weekend, we thank you. If you're not, we hope you can join us sometime in the future. Either way, I've compiled a short list of "must-see" items in Louisville over the course of the show. If you're attending, put these on your list. If you're not, think of it as a reason to consider joining us next year in Atlanta. Here we go.
11* Acres of Guns and Gear
OK, so don't quote me on the acreage yet, but I'd wager I'm pretty close. The 500,000 sq. ft. Kentucky Expo Center will be packed to the brim with all of the guns and gear you could ever expect to see this weekend. The major manufacturers are all here, and most of the smaller ones are, too. And they're all here to see you, the NRA member. This isn't an industry expo, like SHOT Show—it's a consumer show. Representatives from throughout the industry are venturing to Louisville to put their wares on display for NRA members. Take advantage of it.
NRA Country Presents Toby Keith
It's hard to imagine a country artist resonating much more with NRA members than Toby Keith does. His fame is bolstered by patriotic songs like "American Soldier," "Courtesy of the Red, White and Blue," "Beer for My Horses," and others that resonate with blue-collar, freedom-loving Americans. I have a feeling that there will plenty of Americans just like that in town for the Annual Meetings. So there's no act more befitting NRA's epic night of live music on Saturday, May 21—a day better known as Armed Forces Day. Toby will be performing at the nearby KFC Yum! Center. If you don't already have a ticket, I'd suggest you get one. Yes, they are still available.
NRA-ILA Leadership Forum
The NRA Annual Meetings & Exhibits tend to unite the Second Amendment's fiercest defenders, and this year is no exception. The NRA-ILA Leadership Forum, being held on Friday, May 20, will feature appearances by no shortage of big names. Naturally, you can count on Wayne LaPierre and Chris Cox to be in attendance—but they won't be alone. Donald Trump, Rand Paul, Mitch McConnell, Matt Bevin, Marco Rubio, Mike Pence, Jeff Sessions, Trey Gowdy and Paul Ryan are among the many names that will on hand. Again, this is an event that NRA members are greatly encouraged to attend. Tickets can be purchased here.
NRA Youth Day
NRA Youth Day is an event for the entire family—it's just focused on younger NRA members, as the name kind of suggests. Held at the Expo Center on Sunday, May 22, the event sports a bevy of youth-driven activities. Among the interactive exhibits you'll find YHEC's Wildlife Identification challenge, the 3 Gun Experience Airsoft, an Eddie Eagle coloring table, face painting and more. Athletes from USA Shooting will be on hand for a meet and greet, and free six month NRA Junior Memberships will be available for all youth attendees.

The NRA Booth
This may seem like a copout, but it's not—hear me out. Everything begins and ends with NRA, and the Annual Meetings & Exhibits is an opportunity for members from throughout the nation to speak with our representatives, in person. Have a question or concern? Folks will be on hand to discuss it with you. It doesn't hurt that the NRA booth will also play host to a few celebrity visits, either. Plus there's always the exhibit put on by the National Firearms Museum. Trust me, take the time to swing by. And be sure to grab a copy of American Hunter, while you're at it...
You can trust that American Hunter's editors will be on the floor, bringing you live coverage of the event all weekend. Stay tuned to our Facebook and Twitter accounts for more information.