Support NRA American Hunter
DONATE
We zoomed into the ranch property from the northwest in our Robinson R44 helicopter, clocking in right around 100 miles an hour and at a height of 200 feet. Below us lay freshly plowed fields, pastures and deep-green blocks of forest. I sat in the helicopter's left front seat, headphones on and a DPMS Compact Hunter rifle across my lap, barrel facing down and out the doorway, per my pilot's instructions. 
Our first destination was a strip of brush alongside a pasture, and my pilot, John Dumont, slowed the helicopter, swung it around and hovered above the area.
"Load up and swing out on your side, Brian," said Dumont, chief pilot for Heli-Bacon, over the headphones. "I'll tell you when you're good to fire."
I slapped in a magazine of .308 Win rounds, engaged the bolt release and made sure the rifle was on "Safe." Then I swung my legs out of the helicopter and planted my feet on the rails below.
"Further," Dumont said. "Lean out!"
Easy for him to say, I thought. Yes, I had a seat belt around my middle. But leaning into the wind and backwash of the rotors, feet out the door, while you are perched 20 yards off the ground on a vibrating, bouncing platform? I love the many and varied Texas landscapes, but this was my first time experiencing it at this angle!
Dumont buzzed the trees along edge of a field, hoping to kick out a hog or a coyote. Then we came to a creek bed outlined in thick vegetation. Dumont turned the aircraft so that it straddled the creek, eased the helicopter down until we were 10 yards from the ground and then, to my amazement, began moving us sideways down the creek line.
"Look for movement in the brush," Dumont said. "You're not going to see a whole pig in this stuff. Too thick."
Dumont spotted something below, dropped the helicopter another several yards and swung the nose around to bring my side into possible shooting position. At that moment, the boar burst out of the brush. He was over 300 pounds and coal black, with a mane of bristly hair that signaled a strong Russian boar influence.
Dumont stayed right after him, pushing the hog towards the nearby pasture, while I repositioned my feet on the rail below, raised my rifle and made sure the EOTech 518 holographic sight was on.
The boar dropped into a brushy ditch, disappeared for a second and then launched himself into the pasture, his head down, legs pumping hard.  The helicopter pivoted around and shot forward. 
"Clear to fire, Brian, clear to fire!" Dumont's voice told me.
I snapped off the safety, shouldered the rifle and swung the EOTech reticle onto the black hog. For a split second. We were only 20 to 30 yards away, an easy shot, but between the bounce of the helicopter and the hog bounding over the uneven field, I couldn't stay on target.
I pulled off my first shot several seconds later, saw it hit the ground above the boar's back. I shifted forward in my seat, and further out into the thin air, put the reticle just ahead of where I thought the boar would be in a split second and squeezed the trigger. The 168-grain Remington Hog Hammer .308 bullet drilled into the boar's shoulder and flipped him over. He was dead before we could swing back around.
■■■
That was the first day of my helicopter hog outing with Heli-Bacon, based out of Bryan, Texas. That morning, I took three hogs and three coyotes with Heli-Bacon, on different properties the company has permission to overfly. Most animals hit the ground with one to two shots. It took me all of ten rounds, though, to get on one big sow as she dashed between live oaks and the Heli-Bacon copter swung back and forth at tree top level.
But is it a "hunt?" I asked Dumont between flights, adding that many would reject this affair as such. Too much technology, too much advantage to the shooter…too little fair chase. Dumont's reaction to that criticism?
"They are absolutely correct," said Dumont. "This isn't hunting. This is depredation."
"Pork Chopping," as some call it, was made legal in Texas in 2011. Hog populations are booming in Texas, have been for some time, doing millions of dollars every year in damage to crops and property. Seen from the air, that damage was large and obvious on this newest property Heli-Bacon had just begun to fly—huge, tan circles of rooted up pasture grasses. Some of those circles, I'd guestimate, were a good quarter-acre in size.
"We've had farmers we work with lose a 100 acres or more of their crops to hogs in a year," Dumont noted. "You know how many tens of thousands of dollar in loss that represents?"
Heli-Bacon's customers get the thrill of riding in a helicopter, often just feet from the ground, and testing their shooting skills on running hogs and coyotes. For added excitement, most Heli-Bacon customers use the company's full-auto M16's.
And Heli-Bacon generates a business income, charging $3,850 for two people and two hours of flight time, firearms and ammunition provided, and another $1,675 per additional hours.
"It's a three-way win," says Dumont. "For us and our customers, of course. But the landowners are also getting hog damage reduced on their properties—free of charge!"
■■■
I'd carried my PARA Elite LS Hunter 10mm pistol on two previous hog hunts and never had the chance at a shot. When I asked Chris Britt, Heli-Bacon's managing partner, if we could get within 30 yards so I could get a shot at a pig with the PARA, Britt said, "We can do a lot better than 30 yards!"
We didn't get airborne on the second day until after lunch, and after more than an hour's flying and scouting, I figured we'd turned out too late. And then a sounder of hogs dashed out from a clump of trees and the chase was on.
The PARA Hunter is a 1911 long-slide with a six-inch barrel, and I had fitted it with a Burris FastFireIII red dot sight; it was loaded with Barnes' new 10mm 155-grain TAC-XP rounds. Back home, practicing at the range, I'd gotten to where I could put multiple shots into the kill zone at 40 yards. And 50 yards was not out of the question.
But during my Heli-Bacon ride? It was a very different story.
The sounder included two good sized sows, a number of yearlings and a handful of small pigs. Dumont got on them fast and hard and pushed half the hogs into a muddy, recently plowed field. He made a tight circle in the air and sliced in, putting me within 15 yards of the lead sown. I was given the go-ahead to shoot. Two, eight-round magazines later, I had the sow and one small hog down. To say that I was frustrated with my shooting was a massive understatement.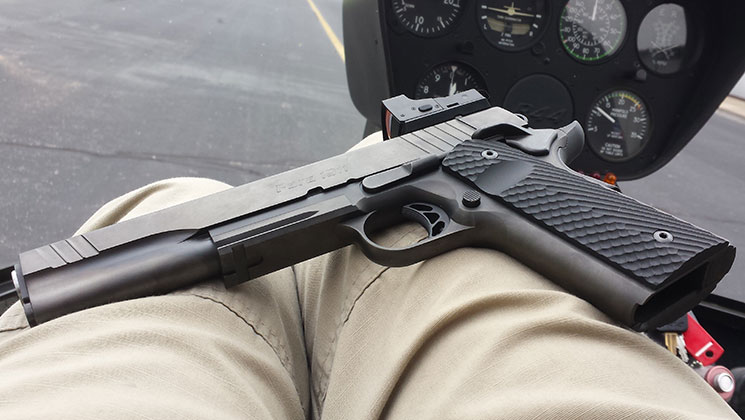 At the same time, I was shooting from a moving helicopter, in higher, buffeting winds than the day before, and the chopper was bouncing pretty good at times. Plus, the hogs were running like mad and my adrenaline was spiking. Dumont swung us around and went after the hogs that had split off, and two full 10mm mags later, I had bagged another four of them.
I didn't consider that second shooting sequence too terrible. Not great, but I was getting better.
The Barnes 10mm ammunition, I must note, flattened the hogs, usually with one shot if I hit it anywhere near the lungs and shoulder area. And the Burris FastFire got on target with little fuss (even if those targets wouldn't hold still!)
By the time this hunt ended, I was more than satisfied. Throughout my two days with them, Heli-Bacon took good care of me, always stressed safety first, and gave me a good chance with every hog we spotted. Surprisingly, as the helicopter came to a rest at the end of our hunt, I realized I was very tired, too. The sun, the wind, and the excitement of it all had worn me down, sitting though I was the whole time.
Okay, so we won't call it a "hunt." So let's just say it this way: shooting hogs from a helicopter is one hell of an awesome experience and, for a shooter, can be a darned humbling one, too. I'm glad I did it.