by
posted on April 15, 2016
Support NRA American Hunter
DONATE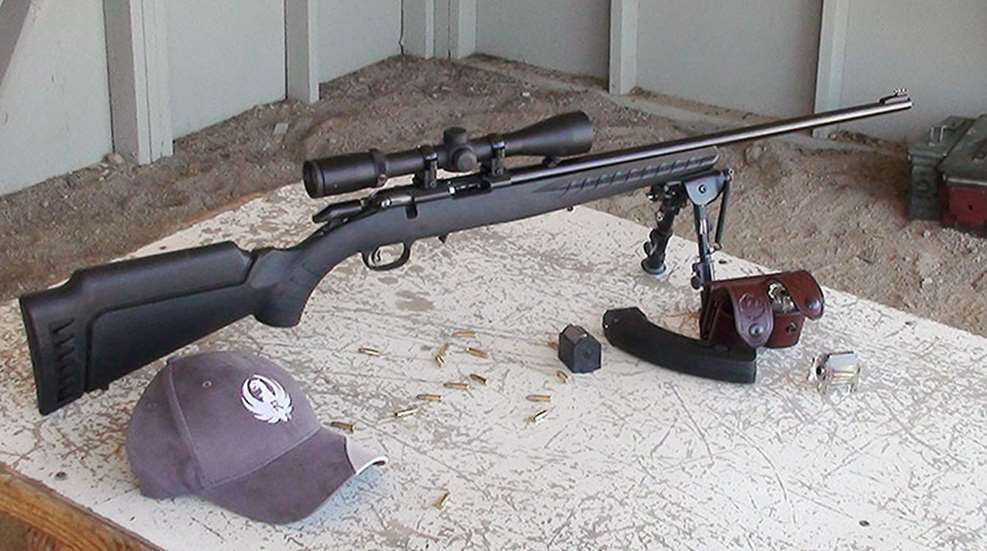 Even more so than a BB gun, a child's first .22 is like a ticket to adventure, allowing entry into the serious, but exciting, world of shooting. Today's parents have a crop of .22 rifles to choose from, ranging from starter single-shots to compact rimfire versions of the most modern of big-game rifles. All have come a long way from that old Montgomery Ward special many of us from the older generation inherited from our older siblings. Here are three very different models on the market designed to meet the needs of a varied ground of shooters, from the young beginner to the experienced adolescent.
Crickett
Although this downsized plinker may look like toy, it's actually a serious shooter that will surprise you with both its handling and accuracy. Sized right for small hands and easy to operate with several built-in safety features, including a keyed safety on the underside of the action that, when locked, prevents the bolt from operating. The checkering on the synthetic stock is stamped with "My First Rifle" and this is exactly the target market the Crickett hits as it's simple to use for even the most novice of small shooters. When unlocked, the bolt opens the action for loading a single cartridge, then users must pull the plunger back to cock the rebounding firing pin. Fifty yards was a little long for the pinhole-sized peep sight, but at 25 yards the Crickett was plenty accurate for beginning plinkers, shooting ragged cloverleaves measuring less than three-quarters of an inch.
Technical Specifications
• Caliber: .22 Short, Long or Long Rifle standard or high velocity
• Action: Manually cocking single-shot bolt action made from Alloy Nickle Plated Steel
• Trigger Pull: 2 1/2 - 3lbs. (approx.)
• Safety: Rebounding firing pin automatically blocked to prevent accidental discharge.
• Length Of Pull: 12"
• Sights: Standard with Iron Sights
• Barrel Length: 16 1/8 inches.
• Barrel Diameter: 1/2"
• Overall Length: 30 1/2 inches
• Weight: 3 lbs.(approx.)
• MSRP: $129.99

Henry Lever Action Youth .22
Today's young gun enthusiasts have been introduced to modern firearms through realistic video games, but there's still a place for the lever-action. After all, what kid doesn't dream of becoming a cowboy and this classic rifle is designed to help achieve that. With a crisp action and solid heft, it handles and shoots just like its grown-up sized counter-part. Lever-actions are also a great way to accommodate southpaw shooters, something that's difficult to find in a world of rimfires built for righties. Quality fit and finish delivers a sense of pride, though, at 4 lbs. with a 13-inch LOP, it might be a bit wieldy for smaller-framed shooters. Fitted with a 12-round tubular magazine that feeds smoothly with a flick of the lever, the Henry makes plinking even more fun. The receiver is milled for a scope should you feel the need to add one and you might has the front blade is a bit too wide, obliterating the target at even 25 yards.
Technical Specifications
• Action Type: Lever Action
• Caliber: .22 S/L/LR
• Capacity: 12 rounds .22LR, 17 rounds .22L, 18 rounds .22 Short
• Length: 33"
• Pull Length: 13"
• Barrel Length: 16.125"
• Weight: 4.25 lbs.
• Stock: American walnut
• Sights: Adjustable rear, hooded front sight
• Finish: Blued barrel and lever
• MSRP: $360

Ruger American Rimfire Compact
For the experienced adolescent wanting to hunting small-game with a "real" rifle, Ruger's American Compact in .22 LR is an excellent choice. From the integral bedding in the synthetic stock to the adjustable Marksman trigger and tang safety to the hammer-forged barrel with 1:16 rifling, the downsized rimfire is built for accuracy and it doesn't disappoint on the range. Scoped, it delivers accuracy that's unmatched among production-grade rimfires, and does so at an affordable price-point. For the growing shooter, an innovative, if somewhat homely, stock system can be switched between the included straight and raised comb inserts or optional modules that increase the length of pull from 12½ to 13¾ inches. The factory-set 3 ½ pound trigger pull seems a little too light for inexperienced shooters, but it is adjustable up to 5 pounds. Added up, all this performance may challenge the longstanding popularity of Ruger's 10/22 as a first rifle for young shooters.
Technical Specifications
• Stock: Black Synthetic
• Capacity: 10
• Overall Length: 35.75"
• Barrel Length: 18"
• Front Sight: Fiber Optic
• Rear Sight: Adjustable
• Length of Pull: 12.50"
• Weight: 5.3 lb.
• Material: Alloy Steel
• Finish: Satin Blued
• Twist: 1:16" RH
• Grooves: 6
• MSRP: $359