by
posted on April 22, 2015
Support NRA American Hunter
DONATE
Winchester Repeating Arms has announced an immediate recall of select 3½" chamber SXP (Super X Pump) shotguns. Under certain circumstances, the shotguns may unintentionally discharge upon the closing of the action.
A mechanical failure of that magnitude is likely to create a severe risk of harm, personal injury or death, so owners of any of the following SXP models should contact the Winchester Consumer Administrative Center pronto. There's no fooling around with this kind of issue, folks—get your serial number out, call the company and see if your shotgun needs to be returned for repairs. It's the only responsible course of action. Winchester can be reached by phone at 1-800-945-5372, or by emailing [email protected].
The following models may be affected. Pay particular note to the turkey shotguns, which you or a hunting buddy may well be planning on putting to use this season.

News began to break last week after a YouTube video surfaced showing an allegedly brand-new SXP displaying the malfunction at an outdoor range.
Going forward, affected shotguns that receive repairs from Winchester Repeating Arms will be inconspicuously marked on the front of the receiver, as shown in the illustration that the company has provided below. If an SXP already has this marking, the firearm has been inspected and/or repaired. To view the mark use a flashlight or other light source to peer past the action bars to the front of the receiver. To view the mark more easily, you can remove the barrel. After assuring your shotgun is unloaded, unscrew the magazine cap. Pull the barrel forward and off the magazine tube, away from the receiver. Look for the indented dot on the front to the receiver, on the left side. When the inspection is complete, return the barrel to its original position and tighten the magazine cap.

Illustration below shown with the action bars removed for clarity.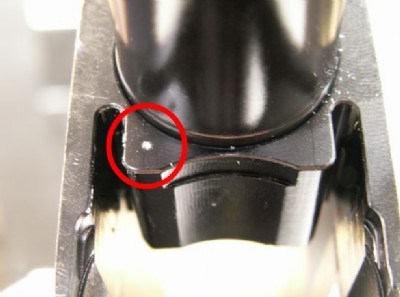 If you purchase one of the aforementioned models secondhand in the coming months, be sure to check for the repair work before completing your transaction.
As ever, accident chances can be reduced by following NRA's three cardinal rules. In this case, No. 1.
1. ALWAYS keep the gun pointed in a safe direction.
2. ALWAYS keep your finger off the trigger until ready to shoot.
3. ALWAYS keep the gun unloaded until ready to use.
For more information, go to WinchesterGuns.com.