by
posted on September 21, 2014
Support NRA American Hunter
DONATE
For years, Winchester has been making it easier than ever for hunters to walk into the store and find the ammunition they need at a price they like. Beginning in 2015, the American Legend will offer deer hunters the same opportunity, with the release of its new Deer Season XP line.
The new deer-specific centerfire rifle brand will be officially introduced at SHOT Show 2015, and Winchester plans to have it on shelves by next April. Like the company's Varmint X and Razorback XT brands, its name was chosen to reflect its intended target.
The brand's leading characteristic is the inclusion of the new Extreme Point Winchester bullet. The over-sized polymer tip is designed to produce rapid expansion and provide massive impact trauma. All told, the bullet's build is crafted to deliver deer-specific knockdown power.
Deer Season XP should find its home somewhere between the well established Power-Point and Ballistic Silvertip lines. It's still one of Winchester's "gray boxes," and will be offered at a value price point. The MSRP is expected to be within $1/box retail of the Power-Point line.
Initial Caliber Offerings:
• .243 Win.
• .270 Win.
• .270 WSM
• 7 mm Rem. Mag.
• .308 Win.
• .30-06 Sprg.
• .300 Win. Mag.
• .300 WSM
American Hunter Editor in Chief J. Scott Olmsted had a chance to talk about the upcoming release with Winchester's Mike Stock during a recent presentation at NRA HQ. You can check out their discussion in the video embedded below.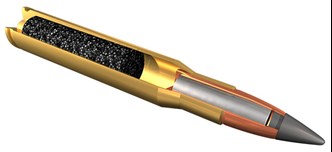 Editorial Director John Zent, meanwhile, had a chance to put the then unannounced and unnamed load to the test last winter on a Texas whitetail hunt.
Again, we stress that you won't be able to find Deer Season XP on shelves until spring 2015. In the meantime, stay tuned to AmericanHunter.org this fall for further coverage of the upcoming release.
For more information, go to Winchester.com.