Once upon a time, Sunday hunting in the United States was about as common as a Monday morning service. Long ordained a day of rest through puritanical prohibitions held over from the 19th century, restrictions on Sunday hunting prevent the exercise of one of America's foundational pastimes, already tightly restricted by season and sunlight, for a full seventh of the week—not to mention half the time an ordinary person may be free from work. Now, thanks in part to the tireless efforts of your National Rifle Association (NRA), the prohibition on Sunday hunting has almost disappeared, with all but 11 states having lifted any bans on the practice, and the majority of the 11 in question allowing some form of Sunday hunting. While there is much work still to do, let's take a look at the realities of Sunday hunting, and the subsequent effects of ban repeals across the country.
One of the most visible of the blue laws thought to encourage church attendance, bans on Sunday hunting came about concurrently with bans on the Sunday drinking of alcohol, opening of stores and tilling of fields, though the latter three have long since been jettisoned in the majority of areas. It is curious, therefore, that bans on hunting still remain in place. Far from holding true to their original intent, modern Sunday hunting bans effectively single out the practice, relegating hunters to the position of second-class citizenry, and using state power to endorse and enforce an anti-hunting stance.
Even further, it would appear the bans no longer work as intended (if they ever, in fact, did). All one need do is consult the statistics regarding statewide church attendance, and cross-reference it with the list of laws regarding Sunday hunting. According to a 2014 Gallup poll of church attendance, three of the bottom 10 states for attendance fully prohibited hunting on Sundays (Connecticut has since slightly weakened restrictions), while only a single state in the top 10 (North Carolina) restricted Sunday hunting. Thus, it would seem the practice has little to no bearing on people's private religious predilections.
While some arguments remain about the potential noise and disruption caused by Sunday hunting, reality, again, does not bear out these concerns. In Virginia, where restrictions on Sunday hunting were softened in 2014, the Department of Wildlife Resources reported far fewer complaints on Sundays than Saturdays during the initial Sunday season. This, of course, makes sense, as Sunday hunting in practice is far less noisy and intrusive than many other popular Sunday activities. Even mowing a lawn makes more of a prolonged ruckus. Similarly, in the 39 states where Sunday hunting is allowed on both private and public property, no significant increase in conflicts or safety incidents with other outdoor practitioners, like hikers and horseback riders, has been reported.
Your NRA's Institute of Legislative Action (NRA-ILA) is and has been at the forefront of repealing these unnecessary and detrimental bans. When the aforementioned laws softened in Virginia in 2014, it was due in large part to the work of the NRA-ILA, encouraging support for the legislation for years through education, grassroots outreach and the collecting of signatures. While this allowed for Sunday hunting on private land, public land still remains off limits. Thus, the NRA-ILA continues to fight to expand the rights of Virginians, with the most recent effort having been made in January 2021, though it was unfortunately defeated in the House Agriculture, Chesapeake and Natural Resources Committee.
A recent NRA-ILA success has come about in Pennsylvania. There, Senate Bill 147 garnered overwhelming bipartisan support in the Pennsylvania General Assembly, providing the state's hunters with three additional days of hunting on Sundays during the season. The Pennsylvania state lawmakers who helped get the bill passed, Sen. Dan Laughlin (R-49th), Sen. Jim Brewster (D-45th) and Rep. Bill Kortz (D-38th), were honored with the NRA's first ever "NRA-ILA Defender of Hunting" award.
Next up is Maine, where in late April 2021, the Inland Fisheries and Wildlife Committee held public hearings on several Sunday hunting bills, including Legislative Document 1033, which would allow Sunday hunting on private property with written landowner permission. As one of only two states that, at the time of this writing, allows for absolutely no forms of Sunday hunting whatsoever (the other being Massachusetts), Maine is long overdue for a softening of its laws, and this bill would be a large step toward opening hunting opportunities to a wider segment of the Maine citizenry.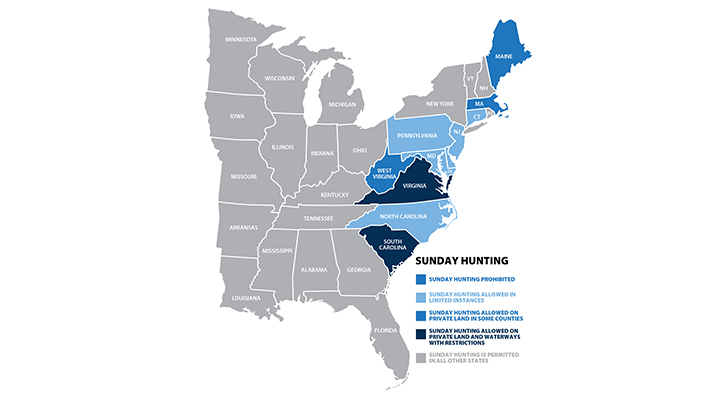 For more information on current Sunday hunting bans, visit the NRA-ILA website, which keeps a list of states categorized by ban in its Hunting and Conservation section, along with this helpful infographic map.
While these are the current states moving forward with a common-sense restructuring of hunting laws, it should not be forgotten there are many more with strictures still unchanged. Maine, Massachusetts, Connecticut, Pennsylvania, New Jersey, Delaware, Maryland, West Virginia, Virginia, North Carolina and South Carolina all have some form of Sunday restriction on the books, be it all-out prohibition, limited prohibition, allowance by selective counties or allowance on private land only. Countless hunters curtail their activities, or even worse, never bother taking up the pastime, thanks to these sorts of limitations.
What's more, hunters are singlehandedly one of the largest sources of revenue for the great outdoors through the Pittman-Robertson Act, which sees hunting and fishing license fees, as well as federal excise tax revenues from firearms, ammunition and archery tackle applied to conservation. Restrictions on Sunday hunting not only impede those who contribute most from using the very resources they help preserve, they also limit the funds that are collected, as folks are disincentivized from participating due to this massive time constraint. As an example, the most popular hunting is generally a firearm deer season, which ordinarily runs from several weeks to just over a month or so (depending on state and county). Removing Sundays from this already limited length of time creates a serious barrier to entry for a weekend hunter.
The wheels of change on this issue seem to roll in the proper direction however, and with the support of the NRA-ILA, we can look forward to a future in which Sunday hunting restrictions are a thing of the past.