by
posted on October 15, 2014
Support NRA American Hunter
DONATE
Hornady has announced that it's expanding its .17-caliber lineup in 2015, with the addition of the .17 WSM. Earlier this year, Web Managing Editor Shawn Skipper had the opportunity to put the new offering to work on some prairie dogs during a Wyoming varmint hunt. Get an inside look at that trip with the gallery provided here, and be sure to check out our video for even more information.
Gallery
Wide Open Spaces
The wide open Wyoming prairie had no shortage of varmints for our hunters to put Hornady's new load to work on—and the scenery wasn't bad, either.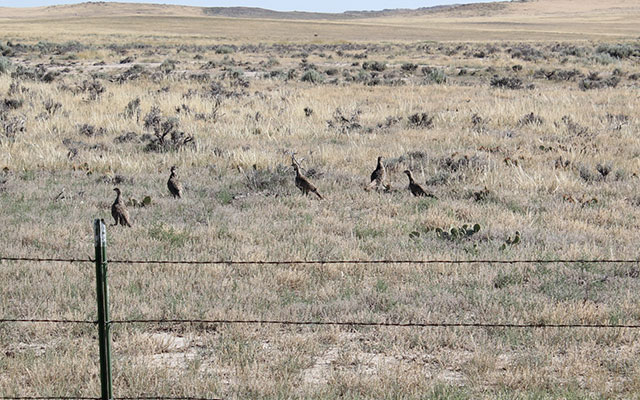 Not Alone
Prairie dogs were our target, but a fair few other local species would occasionally stop by for a visit. These sage grouse were particularly photogenic.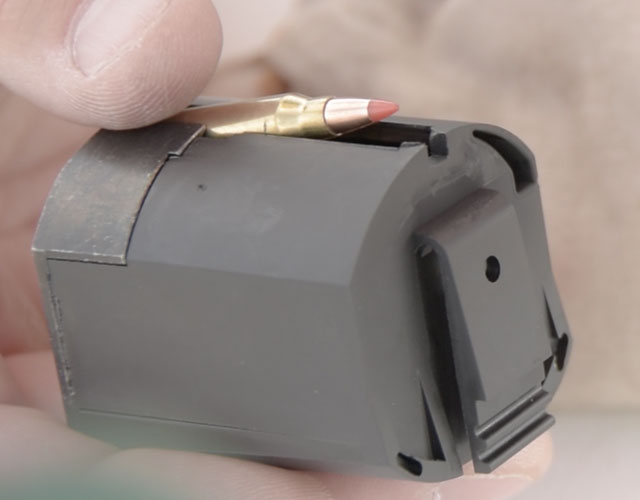 .17 WSM
The advent of .17 WSM elevated rimfire ballistics to a new level, so it was a no-brainier for Hornady to add the cartridge to its already impressive .17-caliber line.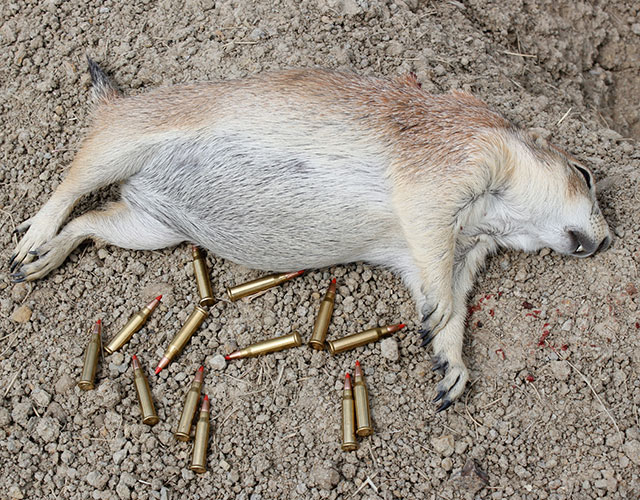 Dog Days
Quite effective out to 200 yards—though you could certainly reach out longer, when required—the .17 WSM brought an end to many a prairie dog's day.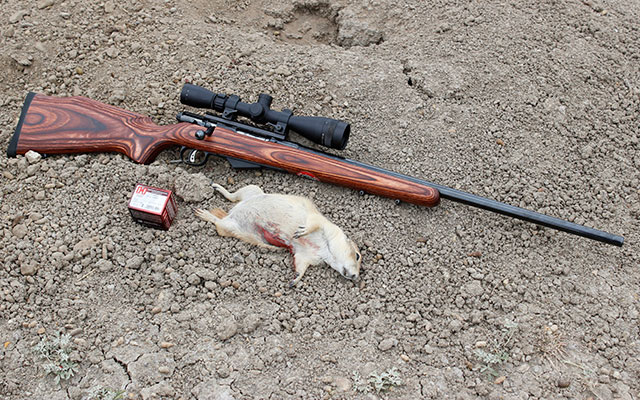 .17 Hornet
The new .17 WSM load wasn't all that the trip had in store. Hornady reps also brought along plenty of .17 Hornet, which made quite the impression on all in attendance. That's a Savage Arms Model 25 Lightweight Varminter, by the way.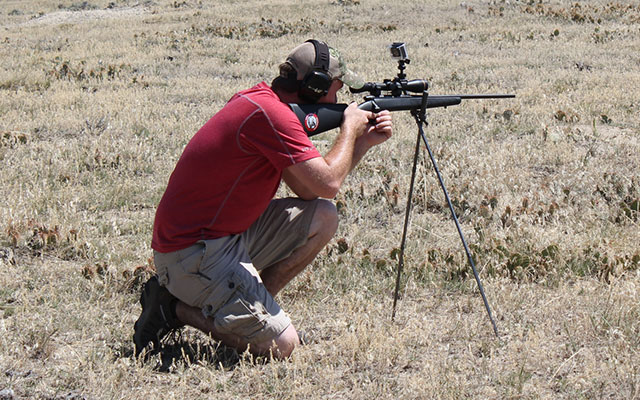 Break Out the Sticks
A good set of shooting sticks made it easy to go on a varmint safari of sorts, as we prowled the prairie in search of untapped towns. Here, Hornady's Judd Jarzynka sets up a shot.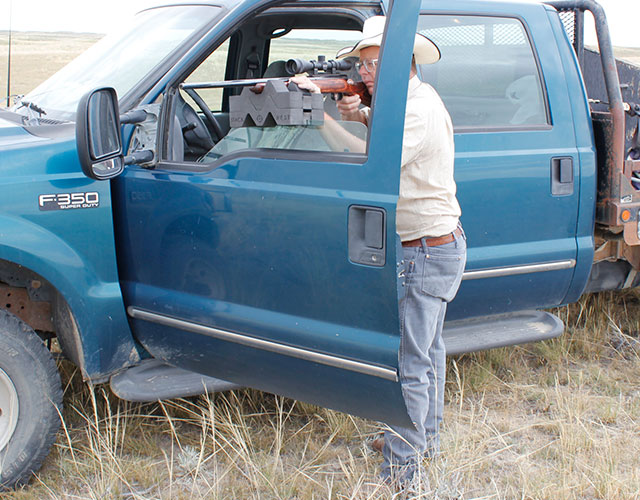 The Stack-A-Rest
A fair bit of the action was on private land, which made tagging varmints from the truck an option. Here, guide Kelly Glause lines up a shot from behind the driver's side door. That's the soon-to-be-released BPI Outdoors Stack-A-Rest he's using for support.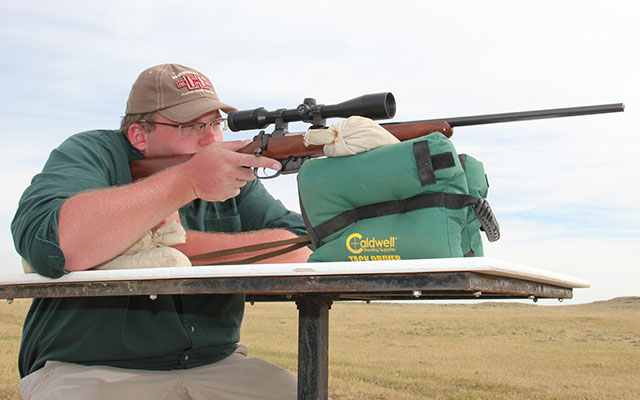 On the Bench
By the final day of the hunt, it was time to break out the benches and really reach out and touch some varmints. The calibers got a little larger, but fortunately there was still plenty of Hornady product to go around.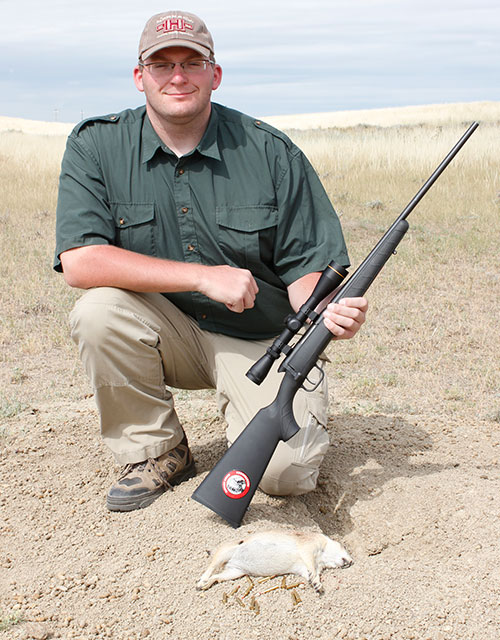 Victory Pose
When a hunt's successful—even a varmint hunt—a victory pose is required. And, yes, the author casts quite an imposing shadow over his prairie dog "trophy."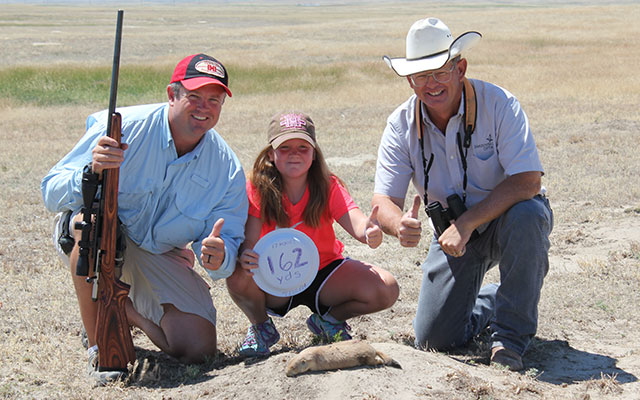 A Girl and Her Dog
Hornady rep Neil Davies brought his daughter, Alyssa, along for the ride. We're happy to report that she bagged her first-ever prairie dog on day one, taken at 162 yards. Congrats, Alyssa!